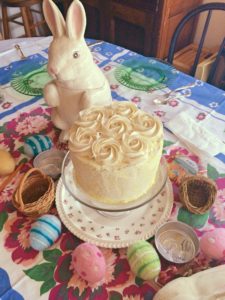 With so many sweets around at Easter, it might be overkill to make an Easter Cake but a small pastel cake on a cheerful cake stand can be a perfect focal point for the dessert table.  Plus, never pass up a chance to bake a cake.  I wanted to make a layer cake that would be sweet and light with a bit of a crunchy coating.  After looking through umpteen yellow cake recipes, which always seem to taste like cornbread when you make them from scratch, I decided to try the banana chiffon cake from Martha Stewart's CAKES book.  This recipe was designed as bundt cake and promises great height and the subtle flavor of real bananas.  Since I'm such a genius I decided to make it into a layer cake.  Turns out that was not such a hot idea.  It was all very promising at first.  The batter looked like it would have amazing volume.  So amazing I make this bowl choice to fold in the beaten egg whites.  Amateur hour!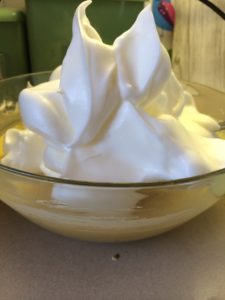 As you can see in the picture of the finished cake, the layers fell a bit as they baked, mushrooming the tops and making the finished product more dense than it should have been.  I used a cream cheese frosting for the filling flavored with Lorann Oils' Princess flavored baking emulsion.  It has a fruity, nutty flavor that kids seem to really like.  I also tinted it with some pink food dye for that extra "surprise inside".  It was fun to cut into!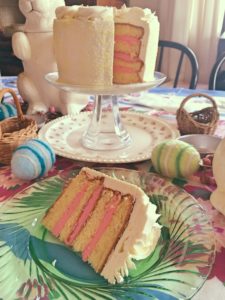 The best part of this Easter treat was the Swiss Meringue Buttercream on the outside of the cake.  I used this recipe from Sweetapolita.  She does a great job of explaining the technique and has lots of trouble-shooting ideas.  To give it a little extra crunch I sprinkled some yellow sanding sugar from the baking aisle at the grocery store and decorated the top with rosettes using a 1M star tip.  The trick is to start the rosette in the middle and then pipe a circle around that point.
.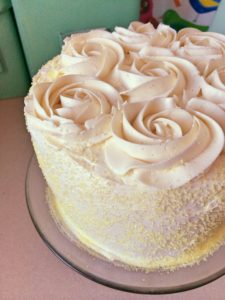 Not sure the end result was worth all the trouble on this one.  Next time I might just make the special frosting, use it for decorating AND filling and make the cake from a box of Betty Crocker white cake.  But as you can see, I had at least three satisfied customers and we had something special to bring for Easter at Garndma's so I'm still going to put this one in the win column.