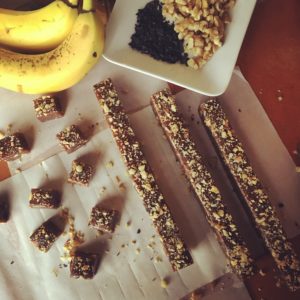 One of the best things about my new BFF caramel is that the flavor possibilities are so wide open.  Think of any dessert, candy or drink you like and then google that with the word "caramel" and you'll see what I mean.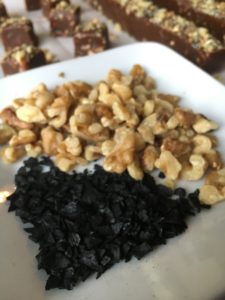 Plus, caramel is a great way to get that salty-sweet thing happening.  I happen to have about a dozen specialty salts that I almost never use because, like the fancy bathroom soaps, I am saving them for some future special occasion that does not exist.  But now!  Now I can use all the fancy salts.  Because caramel.  So yesterday I looked through my salt collection for inspiration and decided to try doing something with the black lava salt.  It looks almost like charcoal, forms in interesting pyramidal crystals and tastes pretty darn good.  I thought it would pair nicely with walnuts because of the slight bitterness and earthiness.  Now, I have this walnut liquor made by a local business, Koval, and I've never used it.  I bought it thinking I was going to make a banana bread-inspired cocktail but that never happened (like 99.9% of the stuff I think of).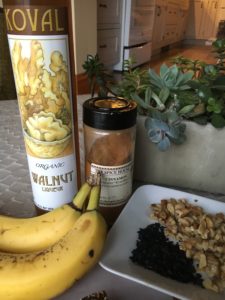 My convoluted train of thought finally pulled into the banana bread-inspired caramel station.  And I'm glad it did.  Because these are delicious.  For the banana flavor I used BARE baked banana chips which I whacked so hard with a wooden spoon to pulverize that I scared the children.  I stirred most of them into the caramel but reserved some to sprinkle on top.  For the walnut flavor I added walnut liqueur and sprinkled chopped walnuts on top.  I also added some cinnamon and finished the top with the lava salt.  Because I'm fancy and use "finishing salts".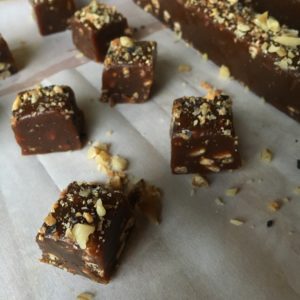 These had great texture and chew, loads of real banana flavor and actually sorta looked like banana bread.  Success!  I think you could use any old salt on top, like sea salt or a flaky salt.  And the walnut liqueur could also easily be replaced with another liquor of your choice.  Wouldn't whiskey or cognac be yummy?  I'm taking a bit of a caramel hiatus before my whole family pulls out their fillings but I'm interested:  What other classic desserts and drinks would you like to see caramel-ized?
A few things I learned from making caramel for the first time:
You have to work fast!  There is a lot of constant stirring so gather everything you'll need before you start.  Next time I will have spatulas, whisks, and all my pre-measured ingredients lined up and ready to go.
During the first stage, be patient and wait for a nice dark color to develop.  I was nervous about burning it but remembered reading that it should look like an old penny.  I waited the full 10 minutes after it came to a boil and I think I could have even let it go a little longer.
When you add the condensed milk and butter it bubbles like crazy.  My life flashed before my eyes and I thought it was going to overboil and splatter everywhere.  Nope.  It just bubbles like crazy.
Once it's ready to cut, use the longest-bladed knife you have and work quickly.  You need to separate the caramels as you cut them.  If you leave them next to each other they just stick back together.  They're cute like that.
I used a ruler and marked the top of the caramel with a toothpick every .75″ to get 10 rows of 10 caramels.  The depth of the caramel in an 8×8 pan is .75″ so this yields caramels that are exact cubes (squee!).  About 85% of baking success is just making everything the same size.
For wrapping the caramels, I cut waxed paper rectangles that were 2.5″x5″.  I put the caramel in the center then pulled up the two long sides until they met, then rolled them down to the caramel and gently twisted the ends.  Actually my six-year-old wrapped the caramels but it was MY IDEA to do it that way.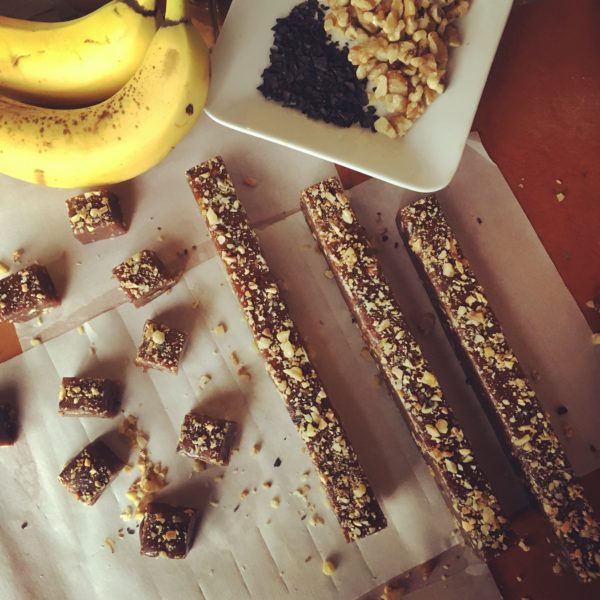 | | |
| --- | --- |
| | |
Lightly coat an 8×8" baking pan with nonstick spray and line with parchment paper, leaving a 2" overhang on 2 sides; spray parchment.

Bring sugar, corn syrup, and water to a boil in a medium saucepan over medium-high heat, stirring to dissolve sugar. Cook, swirling pan occasionally, until mixture turns a deep amber color, 8–10 minutes.

Remove pan from heat and whisk in sweetened condensed milk and butter (mixture will bubble vigorously) until smooth. Fit pan with thermometer and return to medium-low heat. Cook, whisking constantly, until thermometer registers 240°. Remove from heat and whisk in walnut liquor, cinnamon, kosher salt, and dried banana chips (reserving a few teaspoons for the top). Pour into prepared pan; let cool. Sprinkle caramel with chopped walnuts, reserved banana chips, and lava salt, cut into ¾" pieces, and wrap individually in waxed paper.

Caramels can be made 2 weeks ahead. Store wrapped tightly in plastic in airtight container at room temperature.