Over the next month I will be on a mission to post every cookie that's ever been a standard in my Christmas cookie boxes.  I try each year to send a box of cookies to our relatives that we won't be seeing during the season.  It's a special tradition for me because deep down, way way deep down, I'm sort of a softy.  And nothing says Merry Christmas From Your Secretly Sentimental (emphasis on mental) Relative like a box of cookies.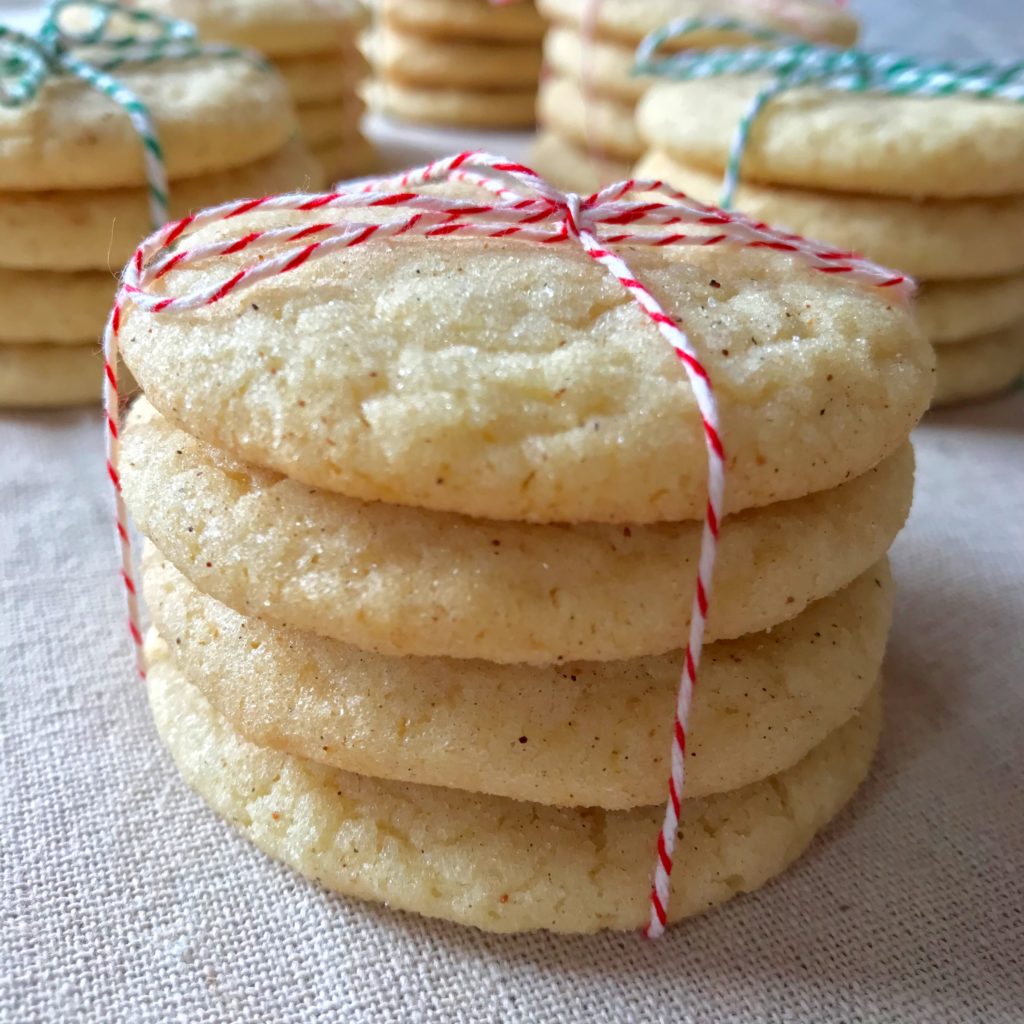 Cookie box cookies need to check a few boxes.  Of course they've got to be delicious.  And they should be seasonally appropriate.  They've got to be sturdy enough for shipping and stay fresh long enough to arrive in good condition.  They also need to be freezable because I'm not, except every once in a while, going to make 8 different kinds of cookies in one day.  Because that's MADNESS.  Unless that's your way of doing things, in which case it's a lovely tradition that makes you special.  And a little crazy.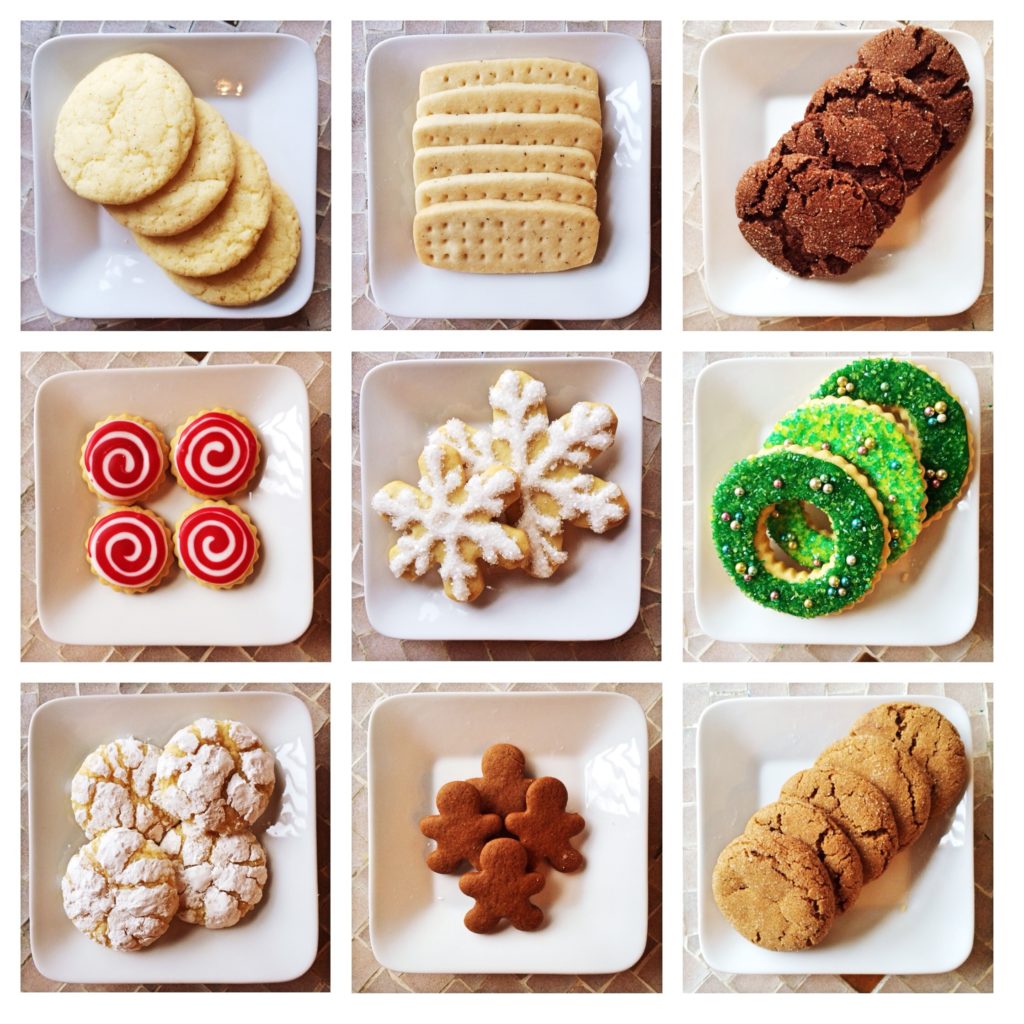 These Mexican Hot Chocolate Cookies are always on that list.  So are these Chewy Molasses Cookies.  And rounding out the holiday triumvirate are these amazing Eggnog Snickerdoodles.  Snickerdoodles and eggnog are a great pairing.  The eggy color of snickerdoodles, the creamy flavor of eggnog with a hint of nutmeg.  For my eggnog snickerdoodles I stick with a basic snickerdoodle recipe and simply add 1/4 teaspoon of eggnog extract, available here, and sub out the traditional cinnamon in the rolling sugar for a bit of nutmeg.  They are perfect and easy and just right for the holidays.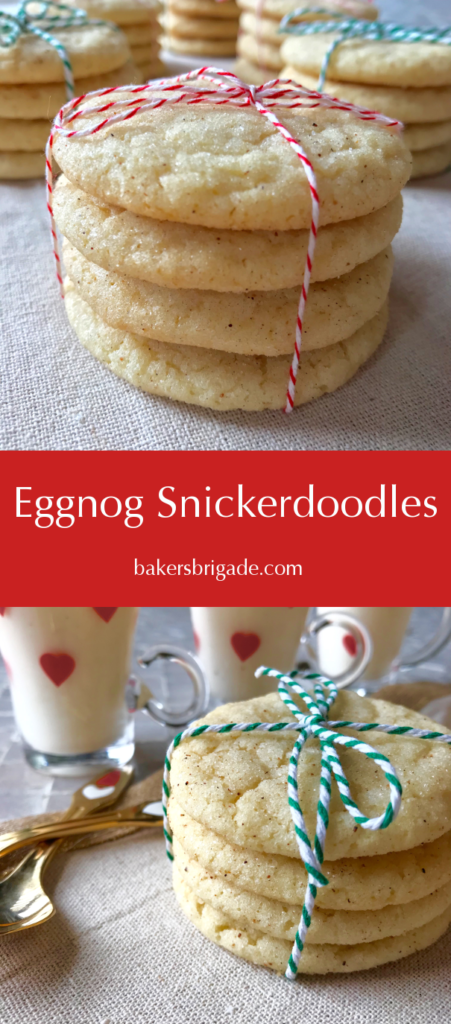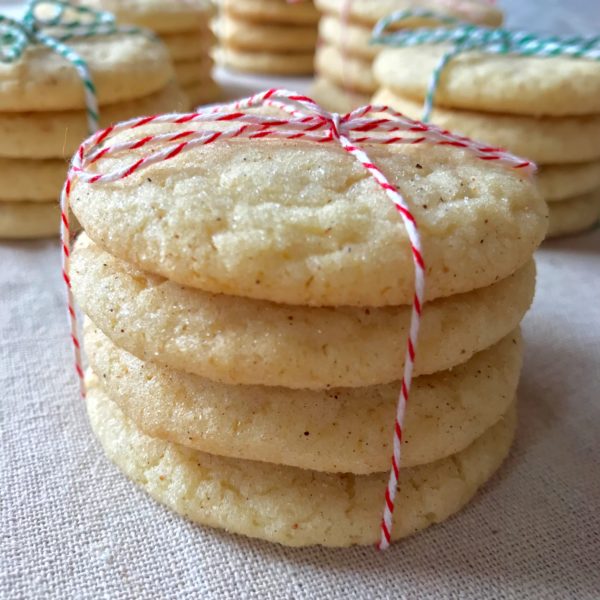 | | |
| --- | --- |
| | |
Cream butter and 1 1/2 cups sugar in a medium bowl. Add eggs, vanilla extract and eggnog extract. Beat to combine thoroughly.

In a separate bowl combine flour, cream of tartar, baking soda and salt. Slowly add dry ingredients into wet ingredients, mixing until just combined.

Preheat oven to 350 degrees. Combine 1/3 cup sugar and ground nutmeg in a small bowl. Roll 1 tablespoon of dough into balls (a cookie scoop is great for this), and roll them in the sugar/nutmeg mixture. Place cookies 2 inches apart onto ungreased baking sheets.

Bake for 10-11 minutes. Transfer to a wire rack and let cool completely.