I have drop-cookie issues.  I know they're tasty and easy and much beloved. But I really can't handle the uncertainty inherent in a cookie that just gets plopped onto a cookie sheet with a spoon.  I need cookies to be precisely scooped or rolled or cut out, not "dropped".  Making chocolate chip cookies leaves me deeply unsatisfied.  I've been thinking about a cookie with dried fruit and nuts but all my internet research led straight to drop cookies. So I got to work cooking up some delicious fruit-nut cookies that could be rolled out and cut into precise circles.  No blobs allowed!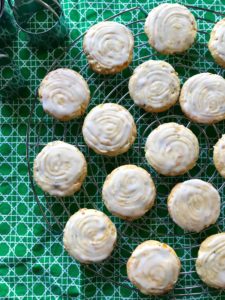 The pistachio-apricot flavors in my favorite biscotti (from this great book
) were a great jumping-off point.  Then I added some cardamom, extra eggs and a lemony glaze to my standard sugar cookie recipe and tweaked a few things.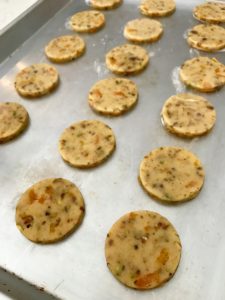 And, hooray!  I loved the results on the first try.  They have big apricot flavor and a toasty nuttiness that's not overly sweet.  The lemon glaze adds a bright note which makes them almost refreshing and not heavy at all.  I was a teensy bit shocked to find out that just one batch made NINE DOZEN cookies!  More for me.  Here are some things to know about these surprisingly light, subtly tart, nutty beauties:
I chopped my pistachios by hand, mainly because I really hate washing my food processor, but if that's not a hang-up for you, chopping the nuts in the food processor would be faster and probably yield more even pieces.
They really do need to chill overnight.  The extra eggs give them a beautiful golden color and rich taste, but yield a rather "wet" dough that really needs to chill down before it's manageable enough for the rolling pin.  
I used a 2-inch biscuit cutter because if you make the cookies small enough, you can eat as many as you want.  But it's fine to use a 2 1/2-inch round cutter if you prefer.  You just won't get the obscene NINE DOZEN 2-inch cookies I ended up with.  And you'll need to bake them for closer to the 10-12 minute mark.
When you bake these, check them at 9 minutes.  You want the edges to begin to brown but not the entire cookie.  I noticed this happened pretty quick, at around minute 10.
I had to experiment with the glaze to get it right.  When I dipped them, they were overwhelmingly sweet.  When I drizzled the glaze, it looked a bit messy and didn't set well.  To achieve the spiraled look I landed on, take a silicone pastry brush or any wide food-safe brush and brush the glaze across the entire top of the cookie.  Then drag the brush in a circular motion around the cookie.  Don't fuss too much, I found working quickly made them look the nicest.
In a smal bowl, combine the powdered sugar and lemon juice and stir until smooth.

With a silicone pastry brush, or any wide food-safe brush, cover the top of the cookie with a thin layer of glaze. Working quickly, use the bristles of the brush to trace a circular pattern around the cookie. Allow to dry until glaze is set, about one hour. Store in an airtight container for up to 10 days.