I'm still making my way through a bottle of mezcal (a smoked tequila) that a dear friend sent me when I was having a rough day.   Now that the New Year is upon us, I'm ready to celebrate past and future and it always puts me in the mood to go all out and be decadent. These Dark Chocolate Truffles infused with mezcal and dusted with cayenne powder are so rich and wonderful.  They have a nice snappy chocolate shell and a soft, melting, smoky center.  The heat of the cayenne comes through right at the end.  And of course they're topped with a bit of edible gold leaf.  Because DECADENT.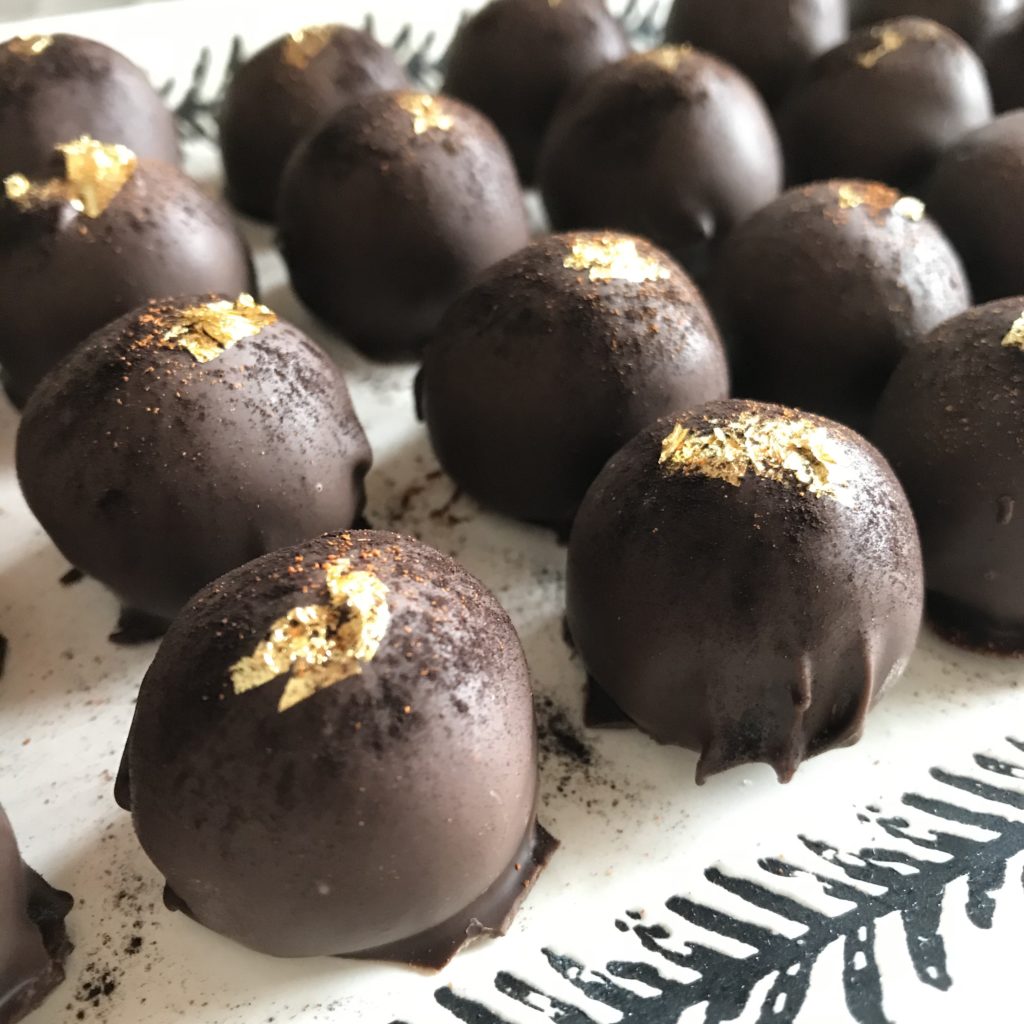 Now, I've been making truffles for years and have tinkered around with different recipes and methods.  At first I would just pour hot cream over chopped chocolate let them firm up and roll rough spoonfuls in cocoa so they wouldn't melt in your hands.  Truffles are like pizza, there's so many ways to get it right.  Is there such a thing as bad pizza when you're in the mood for a slice?  No, no there is not.  Same with truffles.  Emulsified chocolate, no additions, no fancy presentation.  It's perfect.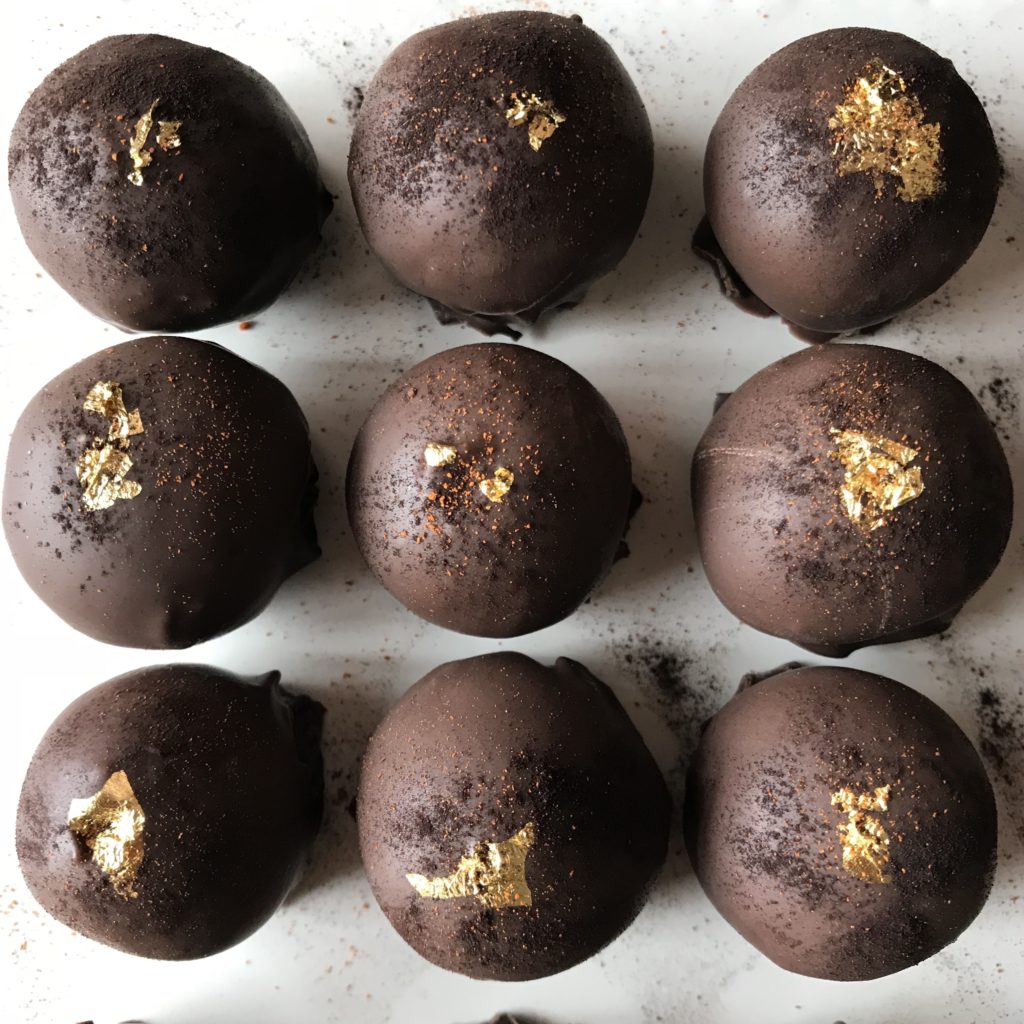 But I do so love to over-gild the lily.  Over time I've learned to use butter, add other flavorings, shape them into tidy spheres, and dip them in chocolate.  It doesn't have to be done, but it really makes you feel fancy.  I especially like dipping them because the contrast between the hard shell and the soft center is very satisfying.  And they're not as messy to eat that way, no cocoa all over your fingers.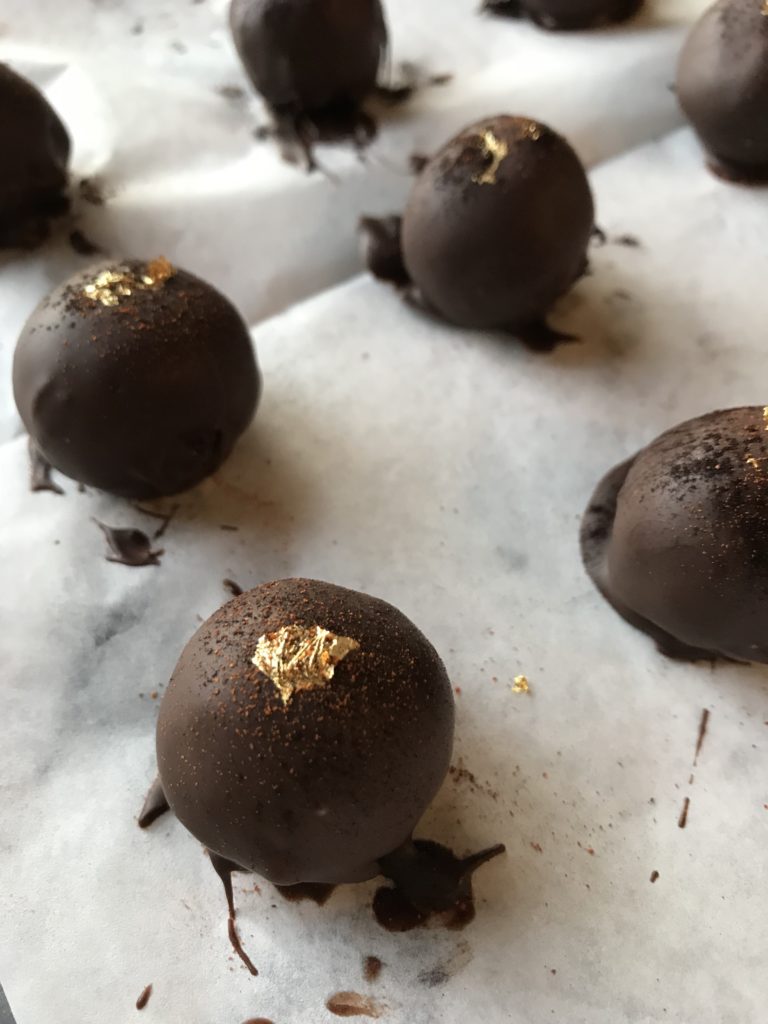 I try to simplify if I can.  Instead of chopping chocolate, I just used some Guittard Dark Chocolate Chips.  Truffle recipes always say to use the "best chocolate you can afford".  I think that is crappy advice.  I say use the cheapest chocolate you like the taste of.  If you like Hershey's Dark Chocolate, use it.  The truffles will taste like the chocolate you use, so pick something you like.  I also don't temper my own chocolate.  I use Ghirardelli Melting Wafers because they are easy to use and taste good.  You can just heat them in the microwave and rewarm them as necessary as you go.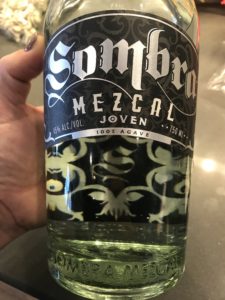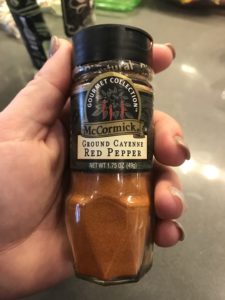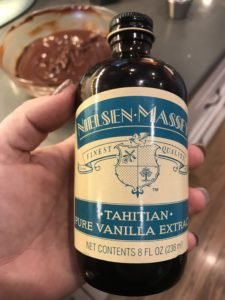 The only thing about these that was a total pain was the gold leaf.  I don't understand it, but it's been my experience that gold leaf will tenaciously cling to any surface except the one you want it to.  In the process of trying to get flecks of gold leaf onto my truffles, I managed to stick it to my hands, the counter, a toothpick, a paint brush and a spoon.  I finally figured out that if I put it on before the chocolate set it had the best chance of staying put.  I kid you not, I put saran wrap over these overnight with plans to take pictures in the morning and by the next day all the gold leaf had clung to the saran wrap, leaving the truffles bare.  SMH.  So I now consider the gold leaf optional.  The dusting of cocoa and cayenne is all you need to make these look special.  Gold leaf is just for showing-off.  I used a black onyx cocoa because I liked how it stood out again the dark chocolate and because it seems FANCY but that's also optional.  You could use regular or dark cocoa.  I like both Hershey's and Nestle.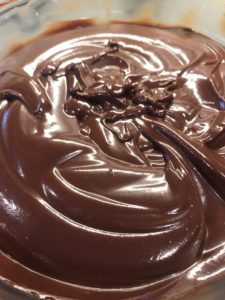 These really need to sit and set for awhile until they're thick enough to shape into balls.  If you're pressed for time you can put them in the fridge but check them every 15 minutes because it's hard to go backwards without breaking the emulsion.  I scooped these with a teaspoon then chilled the blobs a bit, then rolled them into balls and chilled again before dipping.  And if you just can't wrap your head around dipping, no worries. These will still taste amazing rolled in cocoa and dusted with a tiny bit of cayenne.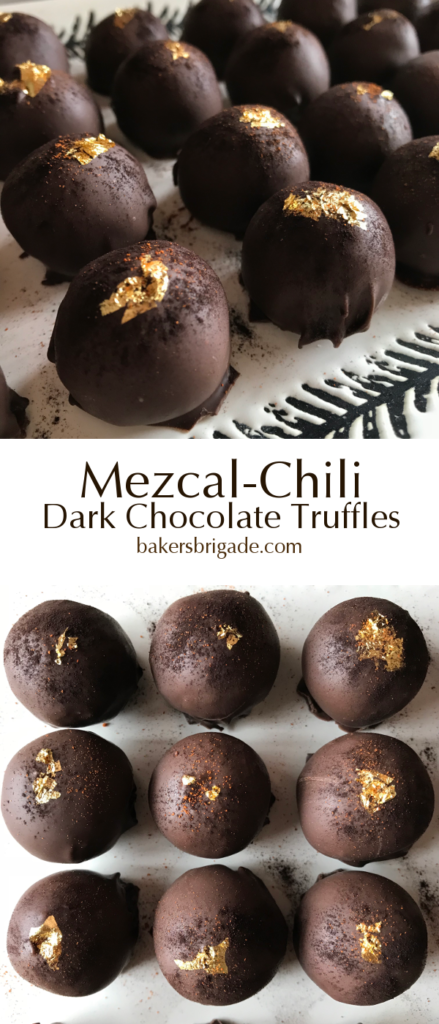 Happy New Year!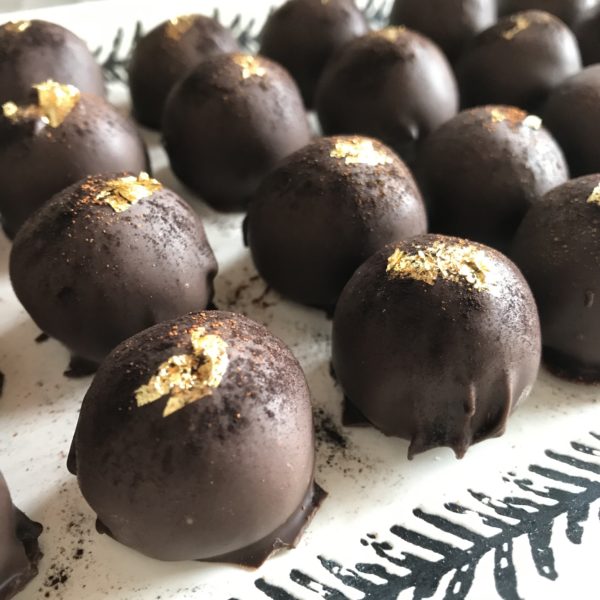 | | |
| --- | --- |
| | |
Place chocolate chips in a medium glass bowl. Heat the cream in a small saucepan until it just starts to boil. Pour cream over the chocolate then cover with a plate for 5 minutes. Stir with a spoon until smooth. If small bits of chocolate remain, microwave bowl for 15 seconds and stir until smooth. Repeat as necessary until completely smooth.

Let cool until the bowl is no longer warm to the touch. Then stir in the butter one piece at a time, stirring to incorporate each time. Then add mescal, vanilla and cayenne pepper gradually, stirring constantly so you don't break the emulsion.

Let sit, or refrigerate, until firm enough to hold it's shape. Scoop 1 1/2 teaspoon blobs onto a cookie sheet lined with parchment paper. Chill in the refrigerator until you can roll each blob into a ball. Chill again for at least 30 minutes before dipping.

In a microwave safe bowl, melt the Ghirardelli wafers for 2 minutes at half power. Stir. Heat in 1 minute increments at half power as many times as necessary to completely melt the chocolate, stirring in between each interval. Working quickly, put each ball into the melted chocolate, covering it completely. Lift it out with a fork tapping off the excess chocolate on the side of the bowl. Place it on a sheet of parchment. If using the gold leaf, put a dab on each ball before the chocolate sets. Once you've dipped all your truffles, dust each with the black cocoa and a bit of cayenne pepper.

Store in an airtight container at room temperature or in the fridge for up to two weeks.