My younger sister Eva, who I adore, has been living with us for four months and just returned to Olympia last week.  It was so lovely to spend all that time together and have an extra set of hands around to help with the kids. But one of THE BEST things about having Eva around was having a new chef in the house.  I'm pretty handcuffed when it comes to family dinners.  The kids seem to eat only things from two food groups:  beige and tube-shaped.  Hot dogs, bread, mashed potatoes, chicken tenders, sausages, pancakes.  If it's beige and/or tube-shaped, they are interested. So we adults often find ourselves eating things we don't much care for.  Enter the energetic, creative, foodie from the Pacific Northwest.  Now our house is a festival of kale, exotic dressings and homemade dips.  It's fun to have someone using the endless supply of spices and other ingredients I always have on hand.  Whenever she was making a shopping list I would stand close by and say, "We have that.  And that.  Have that."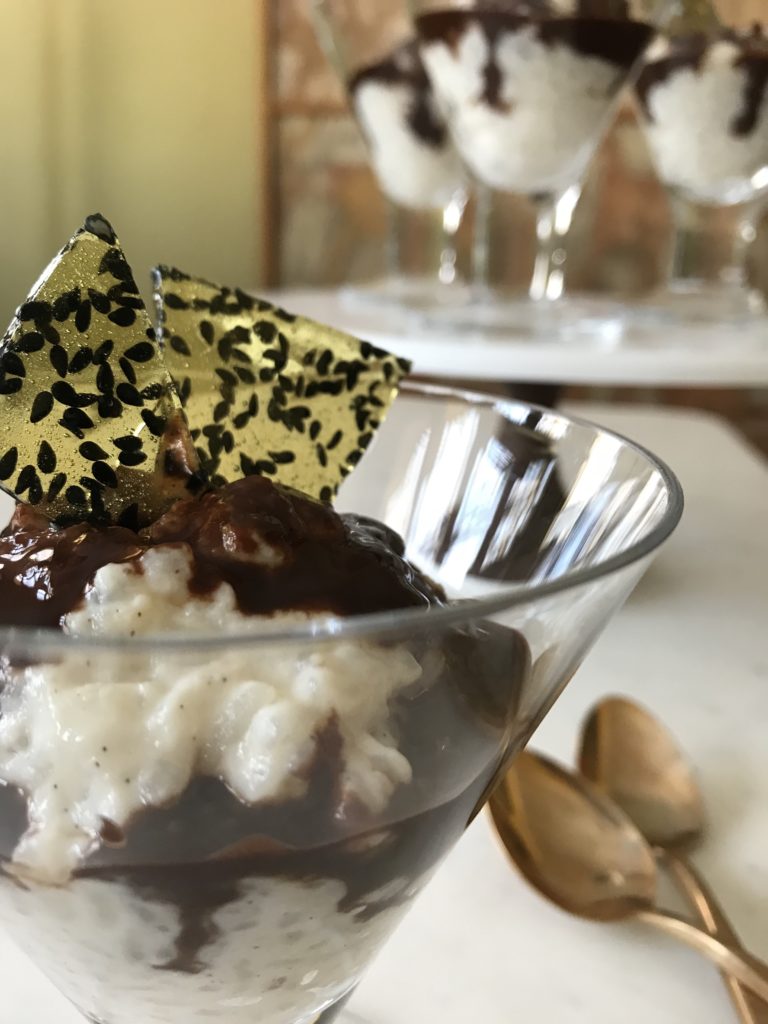 One of the ingredients she asked about was black sesame seeds.  Lo and behold, in the back of the cabinet were some black sesame seeds I bought last year to accent some fancy dish I made for company.  Since I only needed like 6 seeds per serving the jar was still almost full.  She used what she needed then put the jar back in the front of the cabinet.  It's been staring at me ever since, challenging me to use it in some exotic dessert.  This recipe is the result.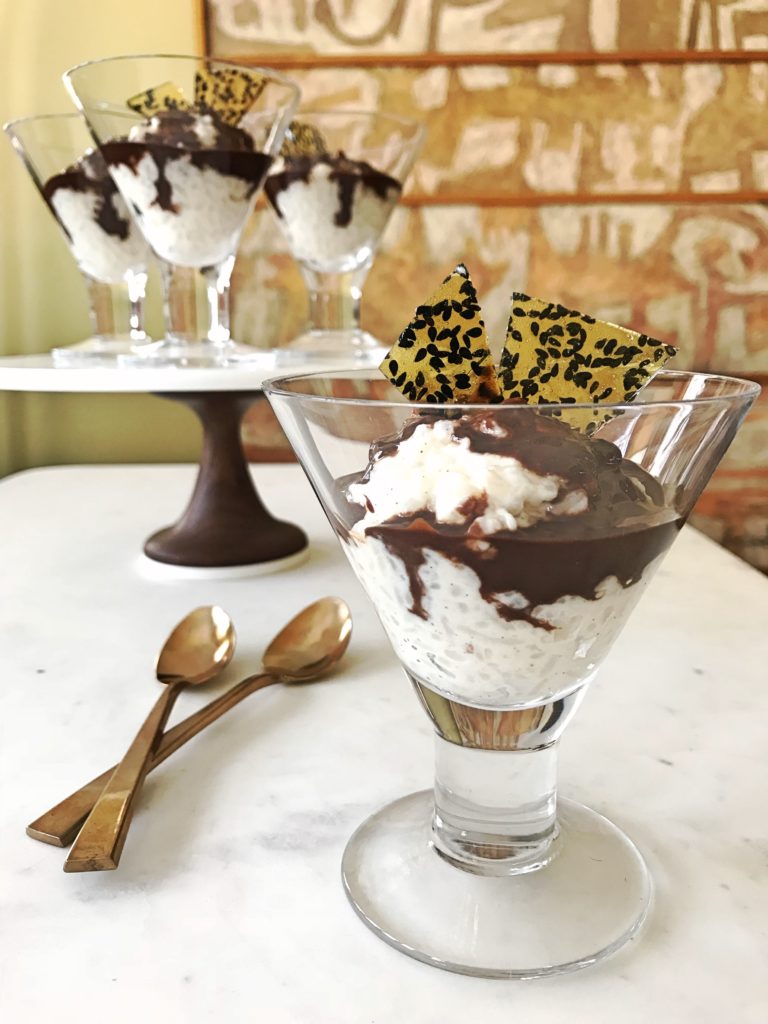 The base is a classic rice pudding.  Rice pudding is endlessly adaptable.  Add a bit of liquor, cinnamon, orange zest or dried fruit.  It's all tasty.  For my middle-easterm inspired dessert I added some white cardamom pods, cinnamon, and orange blossom water.  The sauce is a basic chocolate sauce with some tahini stirred in to give it a little nuttiness and some extra creaminess.  And to top it all off, a praline loaded with black sesame seeds that tastes just like the sesame candy you can get in any middle eastern market.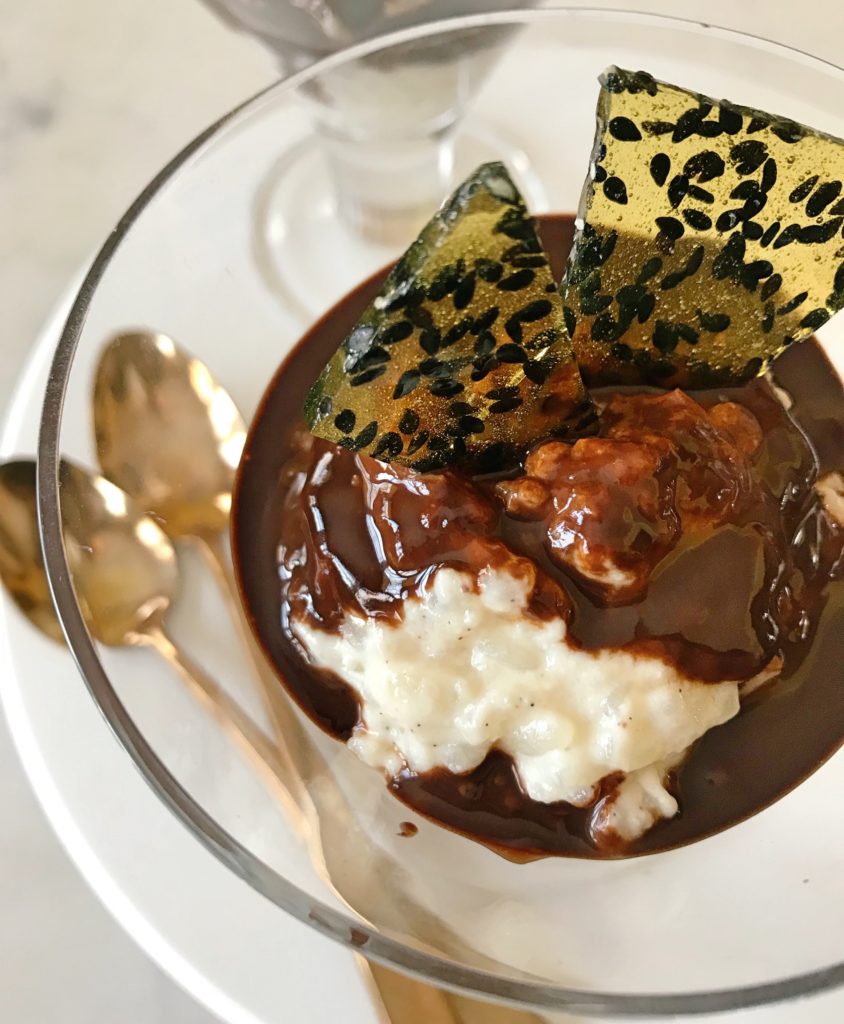 This pudding, with all the trimmings, is complex and balanced and just different enough without being too "weird".  If you want to skip all the bells and whistles, the rice pudding stands nicely on it's own.  It's surprisingly easy and everything can be made a few days ahead of time.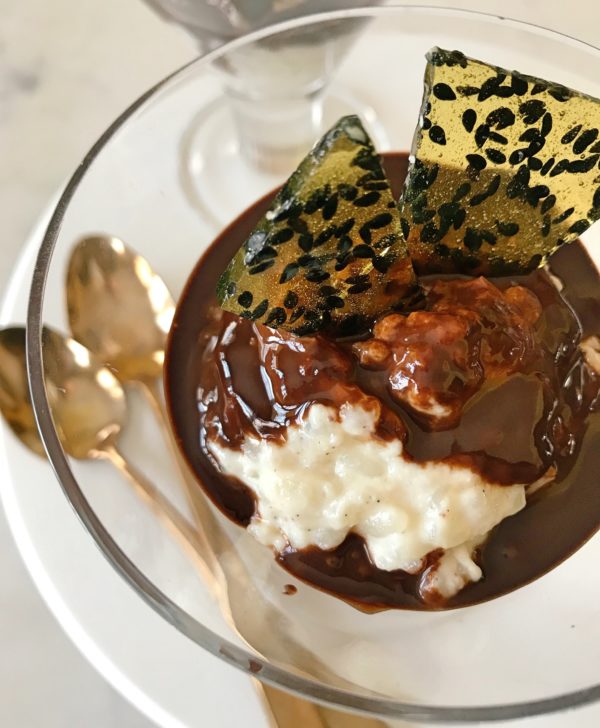 Rinse the rice under cold running water, put the rice in a medium saucepan and cover with water. Add the salt then bring to a boil. Reduce the heat to medium-low and cook for 10 minutes. Drain.

Rinse out the saucepan then pour in milk, sugar, and cardamom. Bring to a boil, stirring to dissolve the sugar. Keep a close eye on it as milk will boil over quickly. Lower the heat, then stir in the rice. Cook at medium-low for 30-40 minutes, stirring frequently, until the pudding is a bit thickened and most of the liquid has been absorbed.

Remove the cardamom pods and stir in the vanilla and orange blossom water. Scrape the pudding into a bowl and then cover and refrigerate until cold. It will keep up to four days.
In a small saucepan, stir together the first four ingredients.

Bring to a boil, then add the chocolate and tahini, stirring until smooth. Let sit for several hours, until thickened. It will keep in a covered container in there refrigerator for up to 10 days.
Put water and sugar in a medium saucepan and heat over low heat until sugar dissolves, about 2 minutes. Turn up heat to medium-high and cook until the mixture is a deep caramel color, about 5 minutes. Working quickly, stir in sesame seeds then pour into foil-lined cookie sheet. Let sit 30 minutes, then break into pieces. The praline should keep in an airtight container at room temperature for several months.
Spoon pudding into glasses or bowls, then top with chocolate sauce and a few shards of praline. Serve immediately.