I love my little weirdos.  All of my three kids have special talents and hilarious quirks.  My son has an insane amount of energy, charm, musical ability and dramatic flair.  If the entire cast of a cruise ship musical production could be crammed into one person, that would be Simon on a slow day.  My middle daughter, Ramona, is artistic, soulful and passionate.  Her art teacher once told me, "She's like a conduit, the ideas and inspiration just pour out of her."  I wish this were a kids' art blog because she is truly gifted.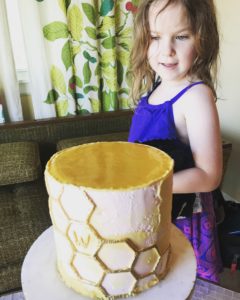 And my youngest, Weezy, is our little scientist.  She loves black holes, fractions, and biology.  She also loves baking.  I think it's the precision, the measurements and the chemistry that excite her.  One night in bed, she wrote down a recipe that was entitled "HONEY CAKE", along with an illustration.  When I looked at it in the morning I saw that it had all the components necessary for a yummy cake so we decided to try it.  We ended up having to add a little milk to take it from dough to batter ("I'm only six Mom and not a baking expert like you" she was quick to remind me), but other than that, it's just how she wrote it.
And to my surprise and delight, it's delicious!  It has the texture almost like an old-fashioned donut, big honey flavor, and a sweet shiny-ish crust that reminds me of a simple european almond cake.  She insisted we bake it up in a special heart pan, which I thought was going to look odd but of course is adorable.  And the GLAZE!  Again, we had to mess with the proportions a little but this glaze looks and tastes so good.  Honey flavor comes through and it's a perfect consistency for pouring or dripping.  She also elected to make her own little honeybee stencils, which are adorable but that is totally optional.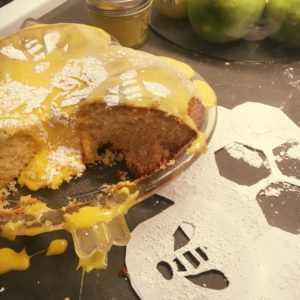 She had her birthday this weekend and requested I make her recipe again.  Of course I rarely make the same thing twice, so I decided to glam it up a bit and make it into a fancy layer cake with a honeybee theme.  Because it is a dense cake, I think it's better suited to a more humble form, but it was fun to make.  I used my yummy crusting cream cheese frosting for the sides.  If you make this, please leave a comment.  Weezy is dying to know what you think!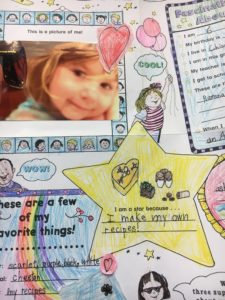 Some tips:
The batter will be very thick so you'll need to smooth the top before you bake it.
Let this cool completely before glazing or you will have a giant mess on your hands.
Careful about over-baking.  When moist, the density of the bake is rich and satisfying.  When dry, it is hard to swallow, literally.
If you choose to stencil, make sure the glaze is set and relatively dry to the touch or your pattern will just dissolve right into the glaze.
This homey cake has the texture of an old-fashioned donut. Try it in a bundt pan, loaf pan or for a layer cake. This recipe calls for an 8 or 9-inch round pan, make sure your sides are at least 2" deep as this cake will rise nice and high. Take it out when the top is deep golden brown.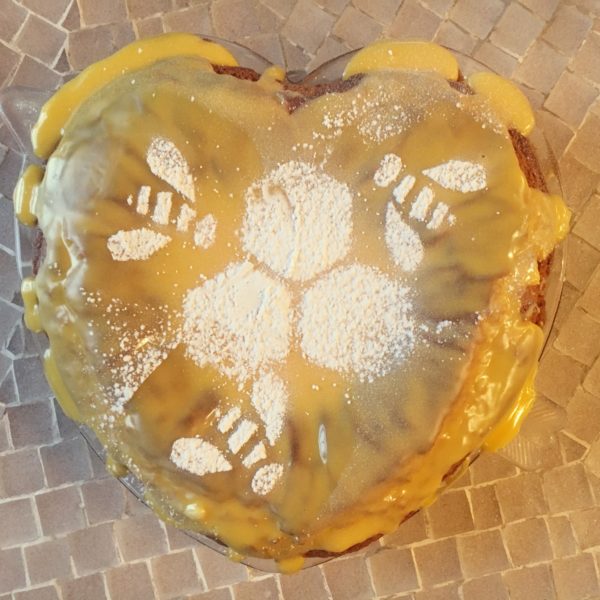 | | |
| --- | --- |
| | |
Preheat oven to 350F. Grease one 8 or 9-inch pan (at least 2 inches deep) and line with parchment.

Cream butter and sugar on medium-high speed. Add the eggs one at a time, beating to combine. Add honey and vanilla and beat until combined. Slowly add milk and beat for 30 seconds. Your mixture may look curdled.

In separate bowl combine the flour, salt and baking powder. Add dry ingredients to the wet, mixing on low until just combined.

Pour into prepared pan and smooth the top with an offset spatula. Bake for 45 minutes for a 9-inch pan, 45 for an 8-inch pan, or until the top is golden brown and an inserted toothpick comes out clean. After five minutes run knife around the edge of the pan. Cool ten more minutes before turning out of pan and allowing to cool completely on a rack before glazing.
Combine confectioner's sugar, honey, water and yellow food dye. If the glaze is too thick, add more water a few drops at a time.

Pour glaze over cake. Allow glaze to set before dusting with sugar or stenciling.