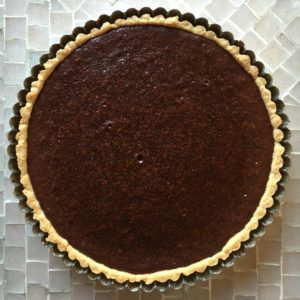 I've been wanting to try David Leibovitz's caramel-based chocolate tart for a while now.  For the crust he recommends a french pastry dough which I've also wanted to try.  Kismet!
But as lovely as his tart is, I'm always hoping to add a special touch to make it my own.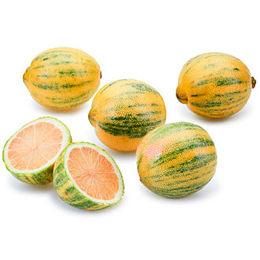 When I was at the grocery store I noticed a small bag of odd-looking lemons.  They were smallish and greenish and striped.  And they were labeled "pink lemons".  Color me intrigued!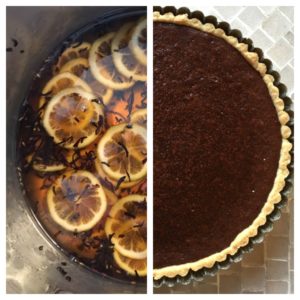 I used to love candied lemon peel dipped in chocolate when I was a kid, it seemed so fancy.  Honestly, it still seems pretty fancy.  And you can't just make plain candied lemon slices, right?  Obviously you want to make it as complicated as possible.  I'm on a tea kick and thought lemon slices candied in a tea-infused simple syrup would be just the thing, not only to complement the dark chocolate flavor, but to make my life needlessly complicated.  The candied slices I made are sweet, slightly chewy, with tons of big tea flavor.  The pink lemons made this more floral and spicy than a traditional candied lemon would be.  You can use any black tea for the simple syrup but I used Earl Grey because I'm obsessed with it and it's my new best friend.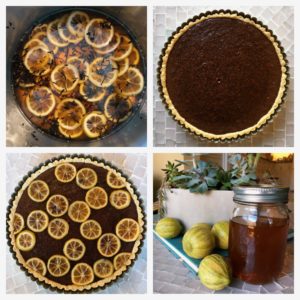 After baking and cooling the tart, I arranged the candied slices on top in a random pattern, cutting slices to fit at the edges.  The leftover syrup I used to make gin cocktails and flavor a batch of homemade ice cream.  I also brushed some cake layers with it before frosting to give my cake another dimension of flavor and keep the layers moist.  The leftover lemon slices would make a sweet addition to a cupcake or cocktail and I'm sure would be divine dipped in dark chocolate.
| | |
| --- | --- |
| | |
Heat the water in a medium saucepan to just boiling. turn off the heat and add the tea. Let steep for 5 minutes. Remove the tea or tea bags.

Add the sugar and bring back to a boil. Reduce to a simmer and let cook until all the sugar is dissolved, about 5 minutes, stirring occasionally.

Meanwhile, slice the lemons as thinly as you can. Once the sugar has completely dissolved in the syrup, arrange the lemon slices in a single layer (if possible) and let simmer for 15 minutes, or until the rinds are slightly transparent.

Carefully transfer the lemon slices to a sheet of waxed paper and let them air dry for 2-6 hours. They should be dry, and not sticky, to the touch. Reserve the tea syrup for another use.