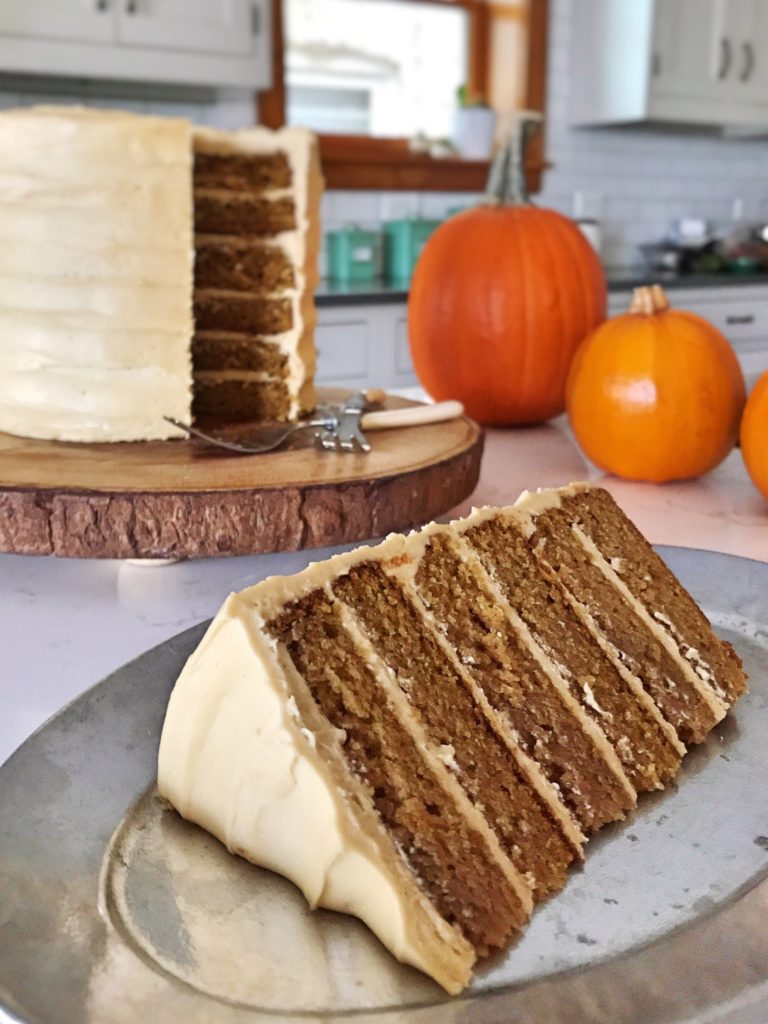 This frosting is the best baking idea I've had in like a year.  I'm sort of over pumpkin honestly so when I got a hankering for a cozy fall cake, I didn't really know where to turn.  I'm not an apple gal and carrot cake is made of vegetables.  And nuts.  And raisins.  Come on.
So I decided to go with a pumpkin cake but not just any pumpkin cake.  I wanted it to have the moist, dense crumb and warm spices of a carrot cake but with the uniform texture of a traditional pumpkin bread.  This cake gets it right.  It really does taste like a pumpkin-y carrot cake without the carrots.
For the frosting I was hoping to deepen the flavor by adding some brown sugar but couldn't think of an easy way to add it without the end result being grainy and gritty.  But then I remembered that when they process sugar from brown to white the delicious byproduct they remove is molasses! That's super easy to whip into a frosting.  I used the mild flavor because I find the full flavor and blackstrap flavor to have an odd metallic taste if uncooked.  That might just be me.  And to give it some tang to balance everything out, I adapted my Perfect Crusting Cream Cheese Frosting, omitting the shortening because the rustic decorating style this cake calls for doesn't require the frosting to crust.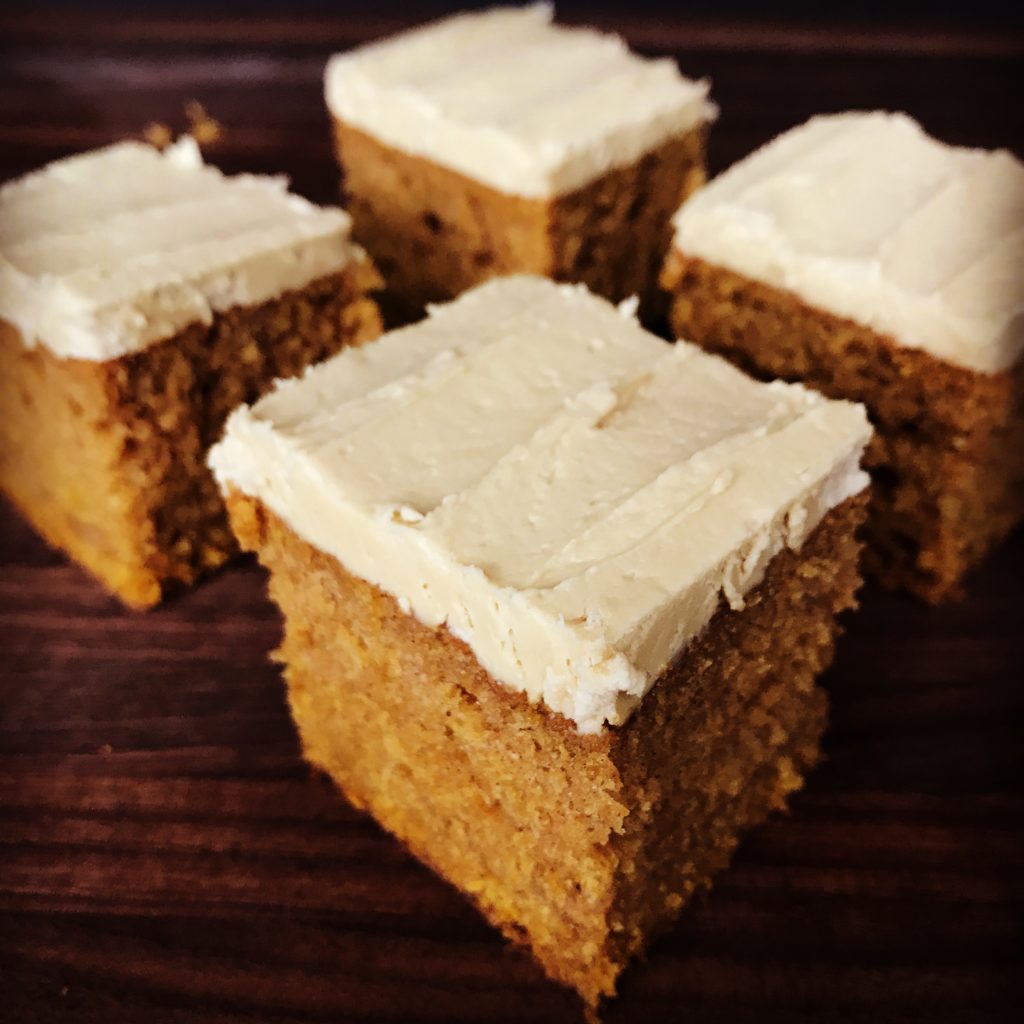 The resulting cake has deep, rich fall flavor and a moist texture.  The frosting really takes it to the next level.  This frosting would also be great with a spice cake, carrot cake, apple cake or even chocolate cake.  I've included directions for making this as a sheet cake in a 9×13 dish just in case you are not a nut like me and don't require every cake you make to have at least six layers.  If you make the 9×13 version, expect to have some leftover frosting.  Also expect to find yourself wandering back to the fridge throughout the day to eat it by the spoonful.  It really is that good.

This cake has the texture and spice of a carrot cake. The flavor of molasses in the frosting takes it to a whole other level. This frosting would also be great on a spice cake, carrot cake, apple cake or chocolate cake. Instructions for adapting the recipe to a 9x13 sheet cake are included.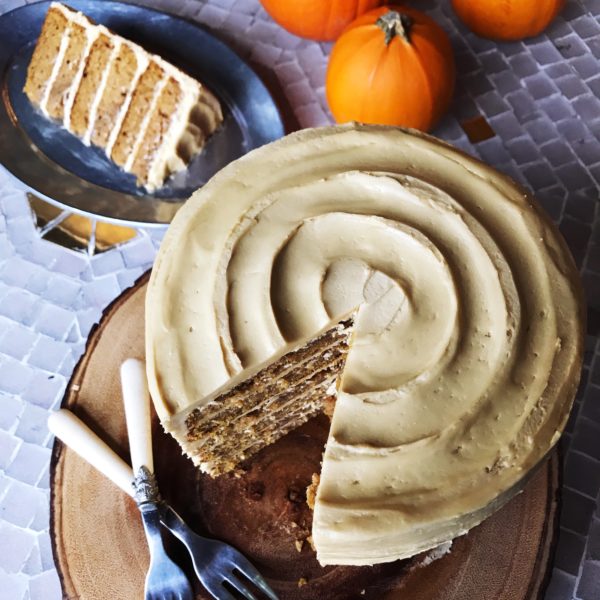 Molasses Cream Cheese Frosting
| | |
| --- | --- |
| Molasses Cream Cheese Frosting | |
Preheat oven to 350 degrees. Spray three 6" cake pans with nonstick spray, line with parchment and spray again OR spray a 9x13 dish with nonstick spray.

In a large bowl mix together dry ingredients. In a medium bowl whisk together wet ingredients. Add the wet ingredients to the dry ingredients and stir until smooth.

Divide the batter equally between the three pans or pour into 9x13 dish. Bake at 350 for 30 minutes for the three pans (or 35-40 minutes for the 9x13 dish) or until the top of the cake is set and a toothpick inserted into the center comes out clean.

Let cool completely in pans or dish.
To Make Molasses Cream Cheese Frosting:
Place all ingredients in the bowl of a stand mixer. Stir until combined, then beat on medium-high for 3-4 minutes until light and fluffy. Reduce speed to low and continue mixing for 1 minute to eliminate air pockets. If not using right away, cover and store in the refrigerator.

When ready to use, take the frosting out of the fridge for 15 minutes then beat again on medium-high for a minute or two. Make sure your frosting is warmer than your cake!
For the 6 inch layer cake: Split each cooled layer. Fill the layers and crumb coat. Refrigerate for 15 minutes. Using an offset spatula, generously frost the top and sides of the cake. Use the rounded tip of your offset spatula or the tip of a teaspoon to drag circles around the top and side of the cake.

For 9x13 cake: Spread frosting evenly over the top with an offset spatula, dragging the rounded tip of the spatula back and forth to make a ridged pattern.