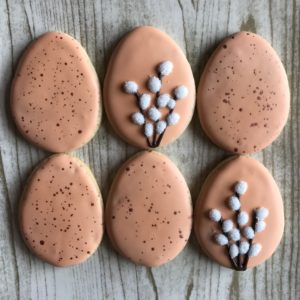 Man do I hate making royal icing.  I hardly ever do.  Most of the cookies I make, I just work the designs around what colors are available in Betty Crocker cookie icing.  But a friend of mine whose family ran a bakery posted some pics of cookies she had dipped in icing and they looked so lovely I thought I'd give it another try.  Royal icing is a simple mix of egg whites, powdered sugar and extract or lemon juice.  No big deal, right?  Am I not the Master Of All Baked Goods?  Do I not bleed icing?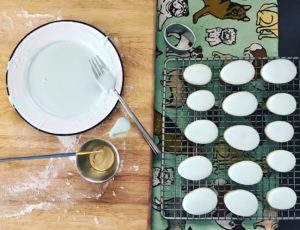 But royal icing and me are not pals.  The first batch I made, I walked away from the mixer for too long and it was turned up too high, so I ended up with a soupy meringue.  Straight into the trash.  The second batch was strangely foamy, I have no idea what I did.  Straight into the trash.  But the third batch!  Phew, the third batch was A-OKAY.  So I got to work.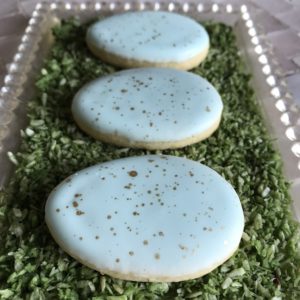 Getting the right consistency for dipping is key.  I made what is called a ten-second icing.  Basically that means if you drizzle the icing into the bowl it will take ten seconds for it to become completely smooth.  It is roughly the consistency of shampoo.  There's some great info here about getting the right consistencies for different cookie projects.  FYI, Betty Crocker cookie icing is a 17-second icing at room temperature.  I've timed it.  Ten-second is perfect for dipping because it's thin enough to dip and remove the excess and dries perfectly smooth.  I like to prop up a fork over the icing so I can remove the excess quickly by dragging the cookie across the tines.  Sure beats standing there like a dummy while it drips off slowly.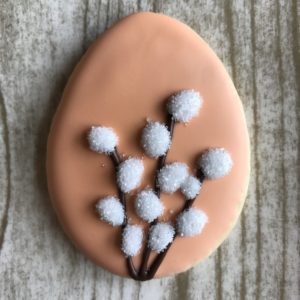 I made half of the icing peach and half the palest blue.  Using egg cookies made with this recipe, I frosted the biggest ones peach, and the smaller sizes pale blue and let them dry completely (about 4 hours).  I made the pussy willow pattern by piping branches of melted chocolate, letting it harden, then piping the white blobs (Betty Crocker cookie icing again, woot!) and covering the whole cookie in silver sanding sugar.  The sugar only sticks to the wet icing, giving the pussy willows their fuzzy texture.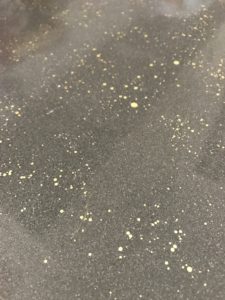 The eggs were speckled by making a paint of metallic luster dust and almond extract and flicking it onto the cookies with a paintbrush.  Which was fun but made it look like someone murdered a unicorn in my kitchen.  The peach cookies are speckled with rose gold and the blue ones with just-plain-gold.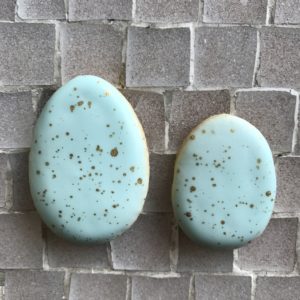 When I went to take pictures I had a hard time finding a background that looked nice with the cookies.  Turns out they perfectly matched a kitchen towel I got for my birthday last week.  Hooray for subconscious color schemes!
I have one more baking project planned for this week but just in case I get predictably distracted (squirrel!), Happy Easter!