Making gummy bears from your favorite cocktail, wine or even beer is easy! With a handful of ingredients and a gummy bear mold you can have these ready to enjoy in under 30 minutes. Just mix up a half cup of your favorite alcoholic drink, add sugar and gelatin, then use a dropper to fill your molds.  Want to learn how to make alcoholic gummy bears from scratch?  Read on!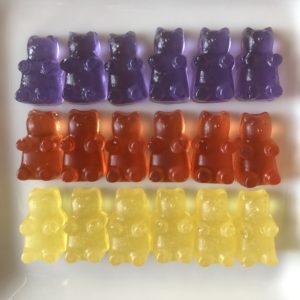 The Story Of Barfy Meat Bear:
This is a story of how something that was supposed to be delicious was absolutely disgusting then went all the way around to being beyond delicious.  I was reading an online article about how an $8 bottle of rose wine from Aldi had won second prize in some international wine competition.  I've been toying with the idea of some alcoholic gummy bears and had already ordered the molds (thanks Amazon Prime for fulfilling my every whim).  I got pretty excited and started to research wine flavored candies and gummies.  Right away I found this recipe, but I had two problems.
Problem the first, they seemed so basic and it is my personal mission to overgild the lily whenever possible.  Problem the second, I didn't want to like, drive to Aldi to get the rose.  So I hatched a plan to make my bears with some moscato I had on hand (yum!) and to add some extra yumminess with the real fruit flavor of strawberries.  I had powdered some dehydrated strawberries for another recipe so I was good to go.  Usually when I start to feel very smug about my superior recipe ideas it's right about time to make something truly and remarkably unpalatable.  And in case that's not enough foreshadowing for you, I was feeling VERY smug about these Strawberry-Moscato Gummy Bears.
First I cooked everything up according to the directions and added a few tablespoons of strawberry powder right at the end.  Then I poured them into the molds, let them set up for awhile and then unmolded them, super excited to see the mini-masterpieces I had just created.  The first problem was that the orange-ish red of the strawberry powder combined with the clumpy, gelatinous and mottled texture made these poor bears look like they had been crafted from discarded organ meats.
No biggie, I thought.  They are going to taste amazing and that's what counts.  I can work on the appearance.  Maybe add some red food dye or use the hand blender to get them smoother.  Nope, after tasting them I realized the their appearance was their best feature.  By some feat of hellish alchemy, I had perfectly balanced the mustiness of the wine with the acidity of the strawberries and achieved a flavor as close to barf as anything I have ever willingly tasted.  Then maybe I ate 5 more just to be sure they really were super-disgusting.  Then I made my husband eat some.  He is usually diplomatic but simply said, "Those are not good".
Since I sort of hate being wrong, I uncorked a bottle of rose I found lurking in the wine cabinet and decided to make them just as the recipe recommended.  These sure looked a lot better!  Pale pink, perfectly clear.  But they just didn't taste that good to me.  I guess I just don't like wine-flavored gummy bears.  But I do like fancy cocktails.
Cocktail-Inspired Gummy Bears From Scratch:
So here's how I've atoned for those Meat-Barf Bears:  Lovely, boozy, flavorful and fancy gummy bears based on a few of my favorite cocktails.  I started with the Aviation ones.  An Aviation is a mix of gin, maraschino liquor, lemon juice and Creme de Violette.  I didn't have the latter so I just added a drop of purple food dye to give the bears that iconic Aviation color.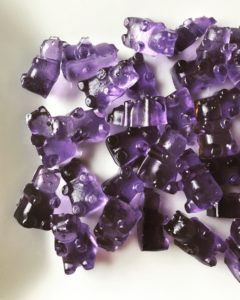 Next up, my personal favorite, Manhattan bears.  Whiskey, sweet vermouth, bitters and a hit of maraschino syrup right from the jar.  This is the recipe that made it necessary to carry my great aunt Helen down the stairs to the car on multiple Christmas Eves.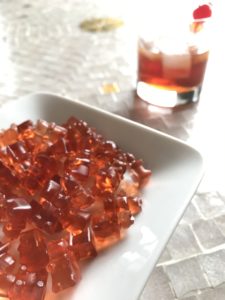 And finally, sweet limoncello bears.  Straight limoncello, fruity, frosty and a bit bitter.  The drink that reminds me of long, relaxed Italian meals served at an appropriately late hour.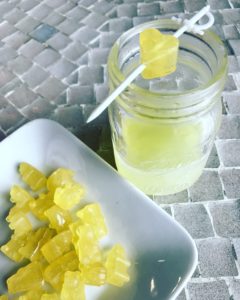 How To Make Alcoholic Gummy Bears From Scratch:
All three versions were delicious.  I think you could adapt this recipe to any favorite cocktail, spirit, or liqueur.  I'm thinking of trying some Chambord ones.  And maybe a batch with the new Absolut flavor:  Wild Tea and Elderflower.  I think the sky's the limit here.  The only special equipment you need to make these are the molds.  You can order a set of molds with a dropper here
.  This item is two molds that each make fifty bears and is just right for one batch.  If you want to double your recipe, you will need to have more molds on hand, as the mixture all needs to be dispensed right away before it sets.  I had some small silicone heart molds
 that I used too, just to try out a different shape.  And definitely use the dropper that comes with the molds.  I tried just pouring the mixture in and then smoothing with an offset spatula.  It actually took longer and was very messy.  The dropper makes it a quick and tidy job.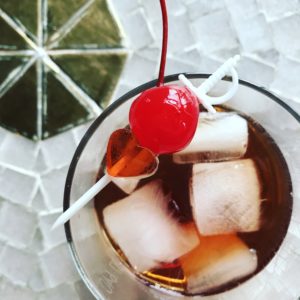 These are so simple.  They really take less than a half an hour from start to finish.  You could be mixing these up at 4:30 and popping them into your mouth at 5:00.  And it's got to be five o'clock somewhere.  Cheers!

More Alcohol-Inspired Treats From Bakers Brigade:
These versatile treats have a texture like mini jello-shots but a bit firmer. Use 4 ounces of any liquor, spirit or juice you like. Make sure to have a flat spot in your fridge ready to lay them while they set up in the molds. These can be done in about a half an hour start to finish.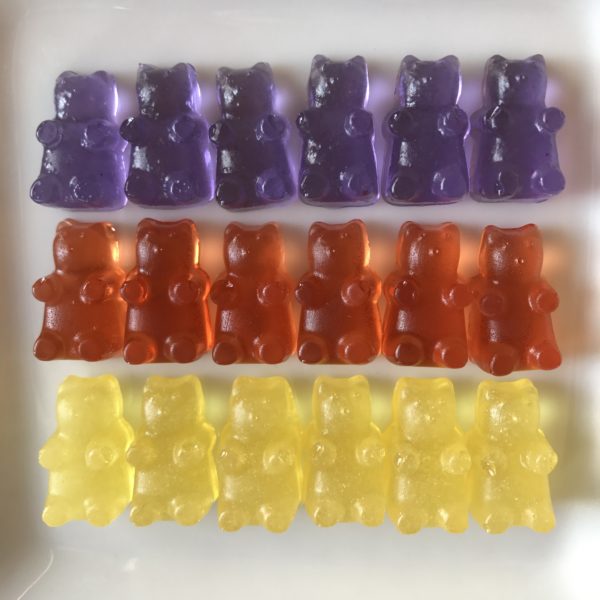 | | |
| --- | --- |
| | |
In a medium saucepan, stir the gelatin and sugar until well combined. Add the remaining ingredients and stir until smooth.

Heat over medium-low heat until the gelatin and sugar have dissolved. If you want to keep all the alcohol, use a candy thermometer to keep your mixture under 90 degrees F.

Once dissolved, use an eye dropper (included with the molds), to fill each gummy bear cavity. This recipe will fill two 50-bear molds.

Put in the fridge for at least 15 minutes to set, up to overnight. Unmold and refrigerate in an airtight container until ready to serve. Keeps for about a week.