I have a whole post here about the agony and ecstasy of my boozy gummy bear journey.  But this post is all about my new favorite gummy.  My husband had a particularly choice bottle of Bourbon County Stout from 2013 that needed drinking.  Unfortunately he happened to mention that right at the exact moment I was trying to figure out what type of alcoholic gummy bears I wanted to make for New Year's Eve.  So I managed to talk him out of 4 oz. of this precious beer for my experiment.  Boy are we glad I did.  These taste SO GOOD.  You wouldn't think beer gummy would be anything beyond a drunken dare, but the sweet, smooth, smoky flavor of the beer plays just right with the sweetness and texture of the gummies.  And this is a perfect way to share one precious bottle with a whole bunch of people because just 4 oz. will make over 1oo gummy bears!  I think it would be fun to make a batch of several different beers and then do a little tasting of each kind before your guests decide which beer they want to drink.  Fun!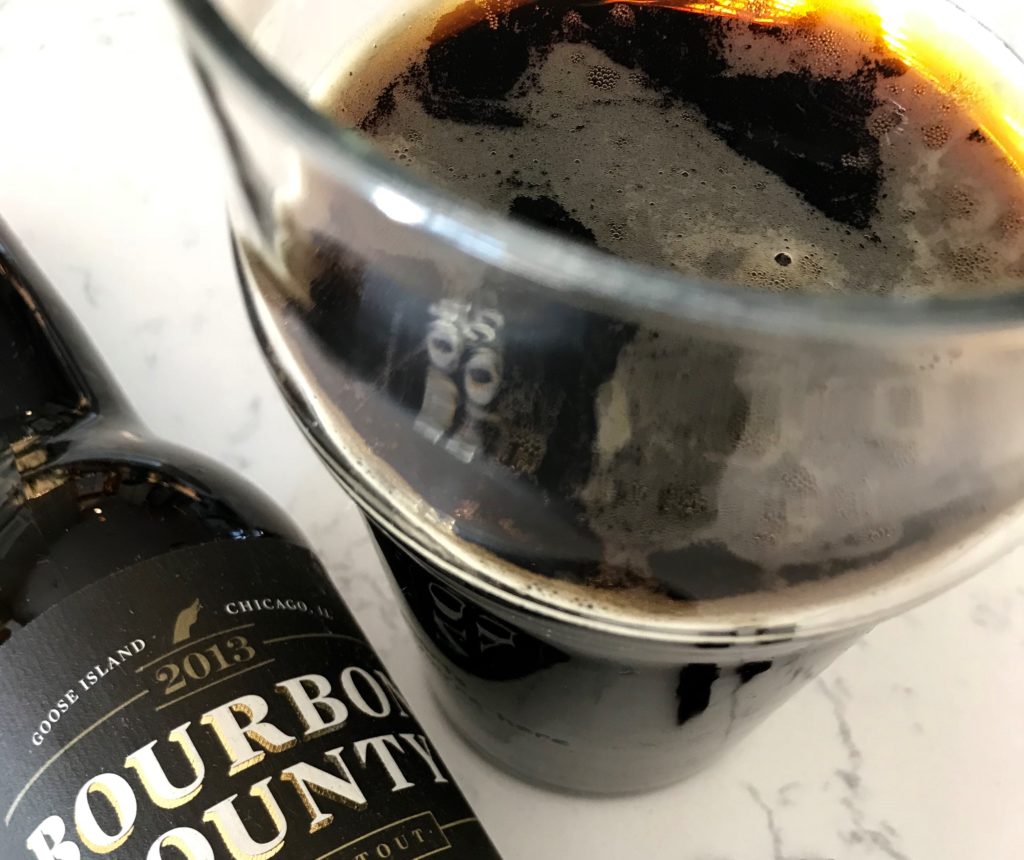 I think you could adapt this recipe to any favorite cocktail, spirit, or liqueur.  I'm thinking of trying some Negroni ones.  And maybe a batch with the new Absolut flavor:  Wild Tea and Elderflower.  I think the sky's the limit here.  The only special equipment you need to make these are the molds.  You can order a set of molds with a dropper here.  This item is two molds that each make fifty bears and is just right for one batch.  If you want to double your recipe, you will need to have more molds on hand, as the mixture all needs to be dispensed right away before it sets.  I had some small silicon heart molds that I used too, just to try out a different shape.  And definitely use the dropper that comes with the molds.  I tried just pouring the mixture in and then smoothing with an offset spatula.  It actually took longer and was very messy.  The dropper makes it a quick and tidy job.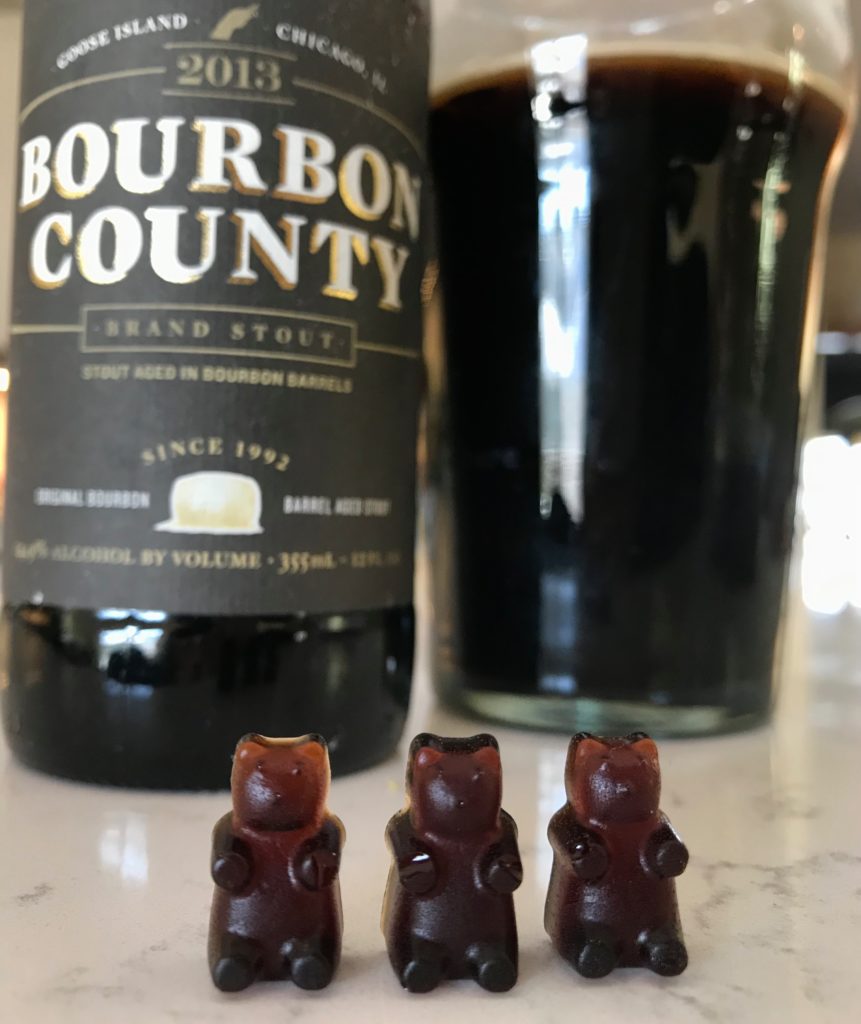 These are so simple.  They really take less than a half an hour from start to finish.  You could be mixing these up at 4:30 and popping them into your mouth at 5:00.  And it's got to be five o'clock somewhere.  Cheers!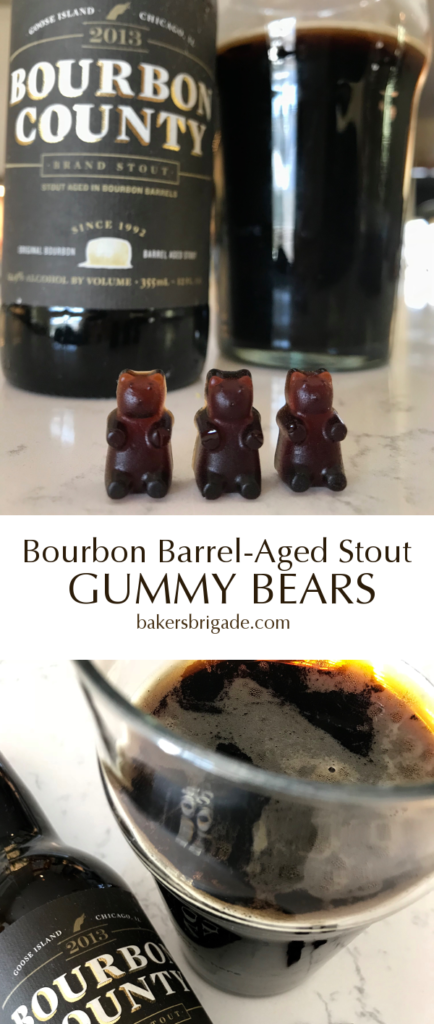 The stout has a sweet, smooth, smoky flavor that works so well as a gummy bear. Use 4 ounces of any liquor, spirit or juice you like. Make sure to have a flat spot in your fridge ready to lay them while they set up in the molds. These can be done in about a half an hour start to finish.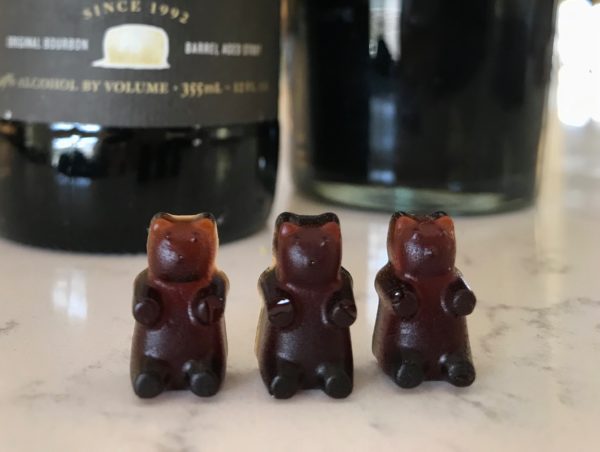 In a medium saucepan, stir the gelatin and sugar until well combined. Add the stout and stir until smooth.

Heat over medium-low heat until the gelatin and sugar have dissolved. If you want to keep all the alcohol, use a candy thermometer to keep your mixture under 90 degrees F.

Once dissolved, use an eye dropper (included with the molds), to fill each gummy bear cavity. This recipe will fill two 50-bear molds.

Put in the fridge for at least 15 minutes to set, up to overnight. Unmold and refrigerate in an airtight container until ready to serve. Keeps for about a week.