Mother's Day is just around the corner.  Last year I decided to forego the fancy brunches and forced outings and just spent some time working on a cake that pleased my palate.  And my palette!  I wanted something light and tart paired with something unexpected.  Something that could be made and assembled quickly but still look and taste impressive.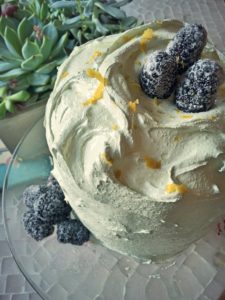 Am I the only one who is trapped in a hot dog/bun loop?  You know, you buy 10 hot dogs but the buns come in packs of eight.  So if you do the math you have to buy 4 packs of hot dogs and 5 packs of buns for it to work out.  And I'm not a nutter so I don't do that, I just live with the dull existential angst that comes with a household hot dog/bun imbalance.  Same with bagels and cream cheese.  AND, in my house I have the same problem with meringues and lemon curd.  The meringues take 5 egg whites and my lemon curd recipe calls for 4 egg yolks, so I'm basically in a constant state of using up either yolks or whites.  So this cake needed to use up some of that lemon curd I have clogging up my freezer.
I started with a boxed white cake mix, because EASY.  I baked three six inch layers, sliced each in half and alternated with lemon curd (you can use homemade or store bought) and blackberry jam filling.  It's such a pretty contrast and nice and light for spring.  But I didn't want a traditional vanilla buttercream which I thought might overwhelm things and a nice buttery swiss meringue buttercream was more hassle than I was in the mood for.  In the end I decided to go with a soft and light marshmallow frosting, flavored with matcha powder.
I love adding tea to baked goods.  I especially love using matcha powder (made with green tea) because of it's fine texture and deep flavor.  And it pairs well with so many things!  Green tea and lemon and blackberry are a great mix.  This buttery marshmallow frosting is not overly sweet and really allows the matcha flavor to come through.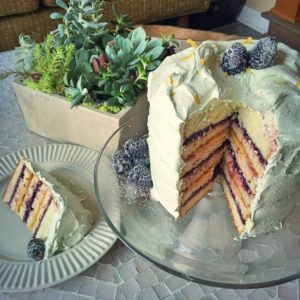 Some tips:
Don't worry about precision when frosting this cake.  It's meant to look like big clouds of frosting so irregular peaks and swirls will look just right.
Do chill the cake before frosting so that it sticks to the cake well instead of sliding right off.  15-20 minutes of chill time is fine.
If you don't have (3) 6-inch pans, you can use  (2) 8 or 9-inch pans, you'll just have fewer layers and the cake will be wide instead of tall.  Nothing wrong with that!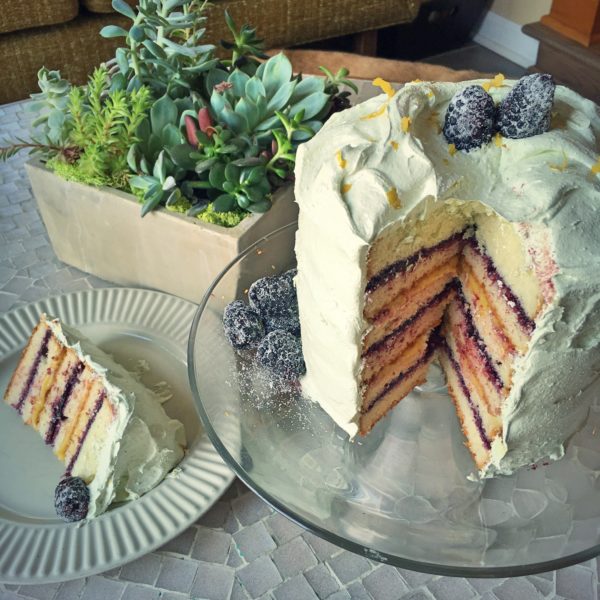 | | |
| --- | --- |
| | |
Fill the layers of your cake starting with the blackberry jam, alternating with the lemon curd until all the layers are filled. You may have extra filling leftover. Put unfrosted cake in the refrigerator to chill while you make the frosting.

Cream butter in a mixing bowl with an electric mixer on medium until butter is soft and fluffy. Gradually beat in confectioners' sugar, about 1/2 cup at a time; beat in almond extract and matcha powder. Gently fold the marshmallow creme into the frosting until thoroughly incorporated.

Frost the top and sides of your cake, using an offset spatula or the back of a large spoon. Decorate the top with sugared blackberries and lemon zest if desired.