Grassy matcha and ripe strawberry combine to make a meringue that tastes as cucurbit as it looks.  Stripe your piping bag with green food dye, line the sides with your matcha mixture, then fill the center with strawberry meringue.  Voila, Strawberry Matcha Meringue!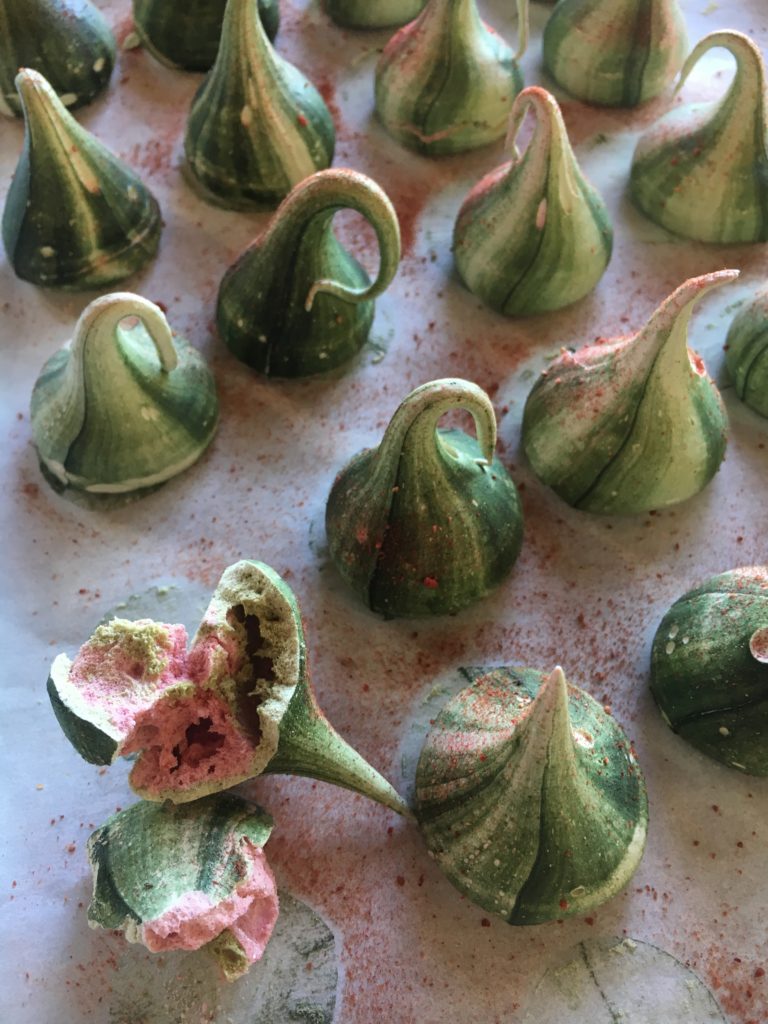 I'm founding a local chapter of the PWHGCMOM's, that's People Who Have Gone Completely Mental Over Meringues.  I am pretty sure meetings will be well-attended and sticky and borderline diabetic.  Meringues are just the best.
All Hail the Versatile Meringue!
They are easy to make, use only a few ingredients and look elegant every time.  And they're endlessly adaptable.  They can be modern, whimsical or exquisitely sophisticated.  I've made meringues that were tiny, like these unicorn tears.  I've made meringue kisses, meringue bars, and meringue mushrooms.  You can flavor them with chocolate, extracts, dried fruit powders, etc.  So believe me, when I say these Strawberry Matcha Meringue are the most interesting, surprising and imaginative meringues I have ever made, I am speaking from experience.  Vast, manic experience.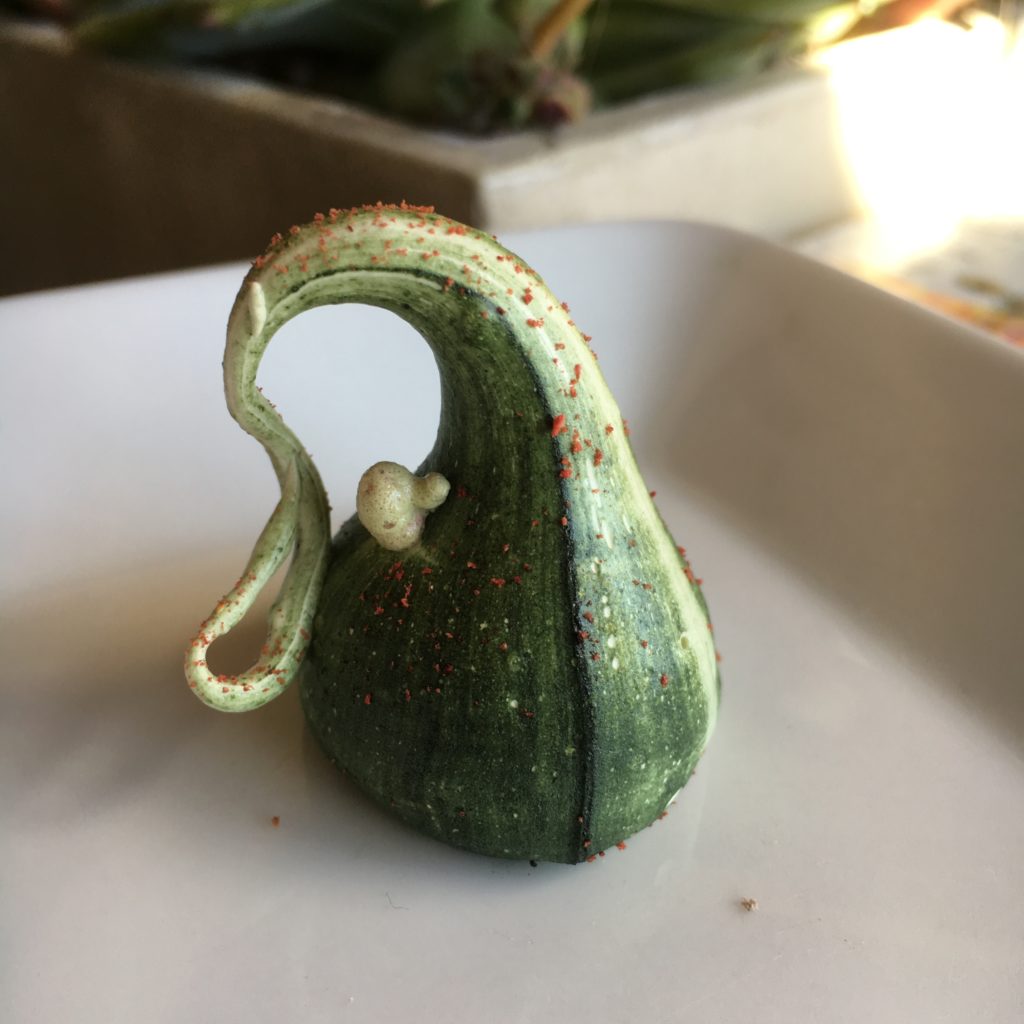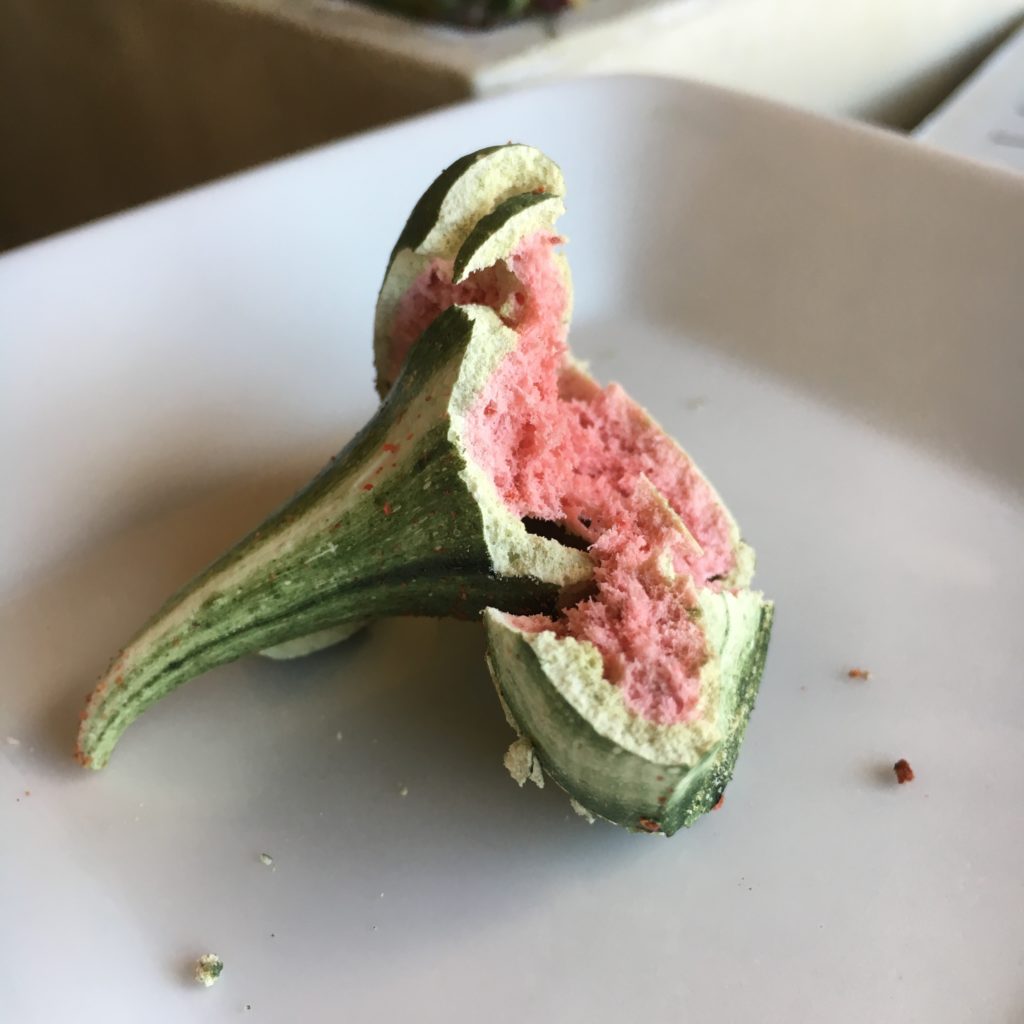 Is Strawberry Matcha Meringue Made by Fairies?  You Decide!
I was delighted that the appearance of these meringues matched their flavor.  The combination of the fruity strawberry flavor and cucurbit green tea flavor team up with the way they look, almost like a little squash, giving the distinct impression that you are tasting something straight off the Hogwarts dining table or plucked from the pages of a fairy book.  It's practically sorcery. A neighbor who tasted these without knowing what they were thought they tasted like watermelon, maybe because they look so much like a squash/melon type deal.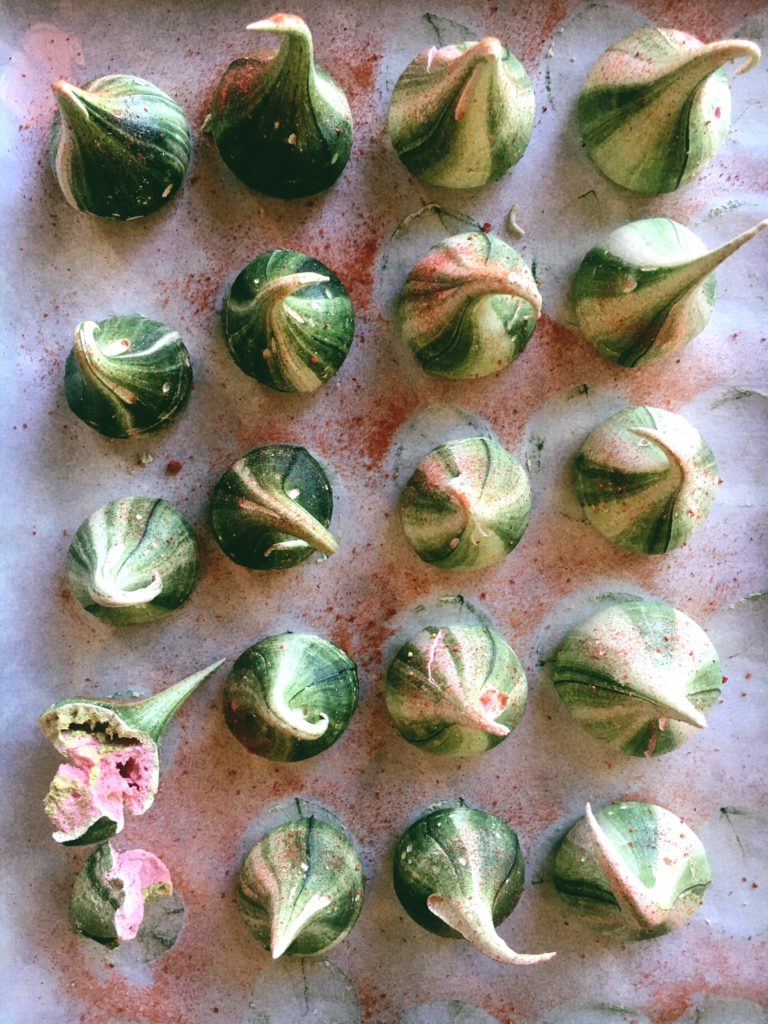 Preparing Your Piping Bag
You whip up your batch of meringue, divide it in two and add your flavorings.  Then you stripe the bag with dark green food gel (I used juniper green).  Next carefully line the striped bag with the green mixture and fill the center of the bag with the pink mixture.  When you pipe them out (just cut your bag so that the tip has about  7/8″ diameter opening), the green stays on the outside and the pink stays on the inside.  This does not have to be precise or fiddly.  Some will be darker and some will be lighter.  Some will have pink on the outside or no pink at all.  Don't worry!  Your Strawberry Matcha Meringue will all taste delicious and the combined effect will be charming.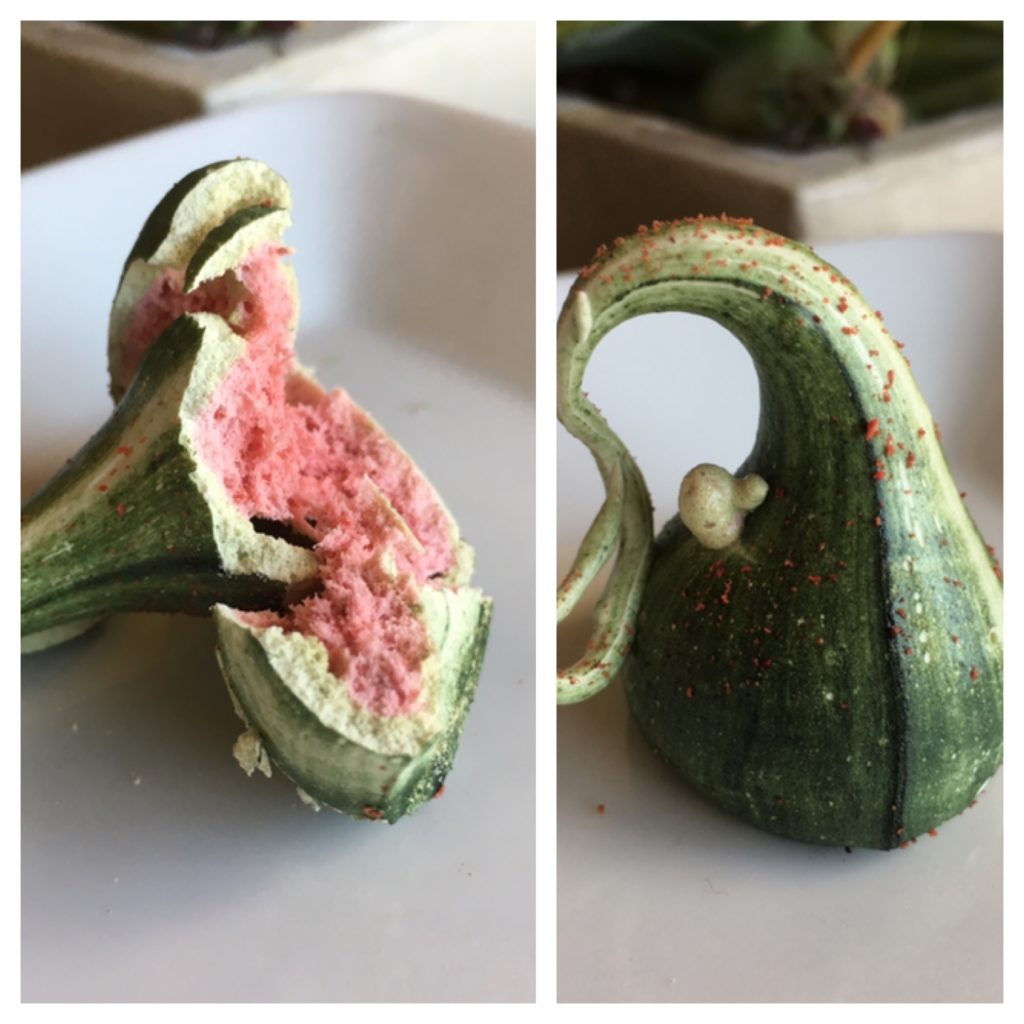 Some tips:
I generally use C & H Baker's Sugar.  It's a superfine (or caster) sugar that comes in as cardboard carton.  I have used the Domino Superfine Sugar, which they market as being easily dissolvable in drinks.  Unfortunately it is not quite as fine as it needs to be for this recipe.  It didn't completely dissolve and caused my meringues to crack and weep.  That's no bueno, especially when you're basically expecting Disney magic.
Do use matcha powder if you can.  Rishi makes a great one.  If you can't, you can also finely grind green leaf tea.
You can find freeze-dried strawberries in most grocery stores in the same aisle as the raisins and other dried fruit.  Make sure it's freeze-dried, not conventionally dried, otherwise it will not form a powder when ground.  I use a coffee grinder to grind it up, but a food processor will work too.
Use gel food coloring, liquid will be too runny and add too much moisture, which might make the meringues crack and will definitely prevent them from drying out properly.
Check out this link to make sure you understand the basics of meringues.  Failed meringues are a bummer.
Don't overmix while adding the fruit powder and tea.  You want to keep as much air in the meringue as you can.
Here's a tutorial on striping the bag.
Experiment with the tops of the kisses a bit.  I found that by varying the pressure on the piping bag and the speed with which I lifted the bag, I could get lots of different shapes.  Some had neat straight tips, some were floppier and some looked almost like plant tendrils.
I like to turn off the oven and leave these overnight without even opening the door.  That ensures that they will cook evenly and get nice and crisp on the outside while staying a bit chewy on the inside.  If you can't do that, no worries.  Just make sure you can lift them cleanly off the cookie sheet before pulling them out and turning off the oven.

More Strawberry, Matcha and Meringue Magic To Try: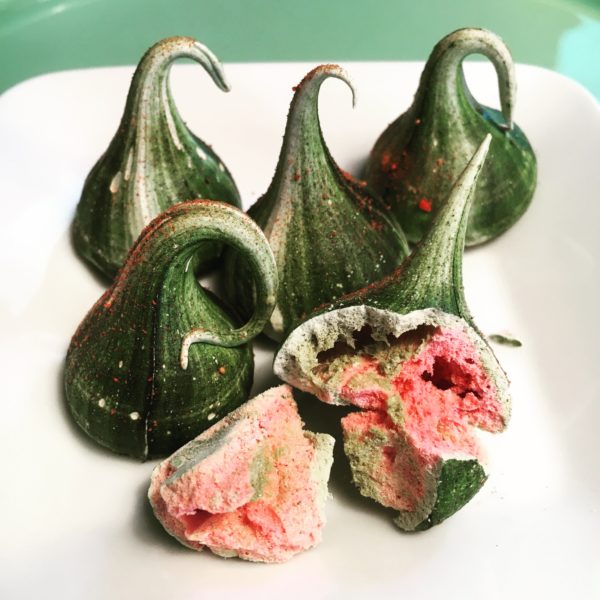 | | |
| --- | --- |
| | |
Line a baking sheet with parchment paper. Pour in the sugar and bake for about 5 minutes until the edges of the sugar are just starting to melt.

Reduce oven temperature to 200F.

Meanwhile, using the whisk attachment, beat the egg whites on low speed until bubbles start to form. Gradually increase the speed to high and beat until the whites form stiff peaks. You should be able to hold the bowl upside-down without them falling out.

Gradually add the hot sugar, a scoop at a time and continue to beat on high until the mixture is thick and glossy. Keep beating until the sugar is completely dissolved, about 5-7 minutes. You can check it by rubbing a bit if the meringue between your fingers. If it feels gritty, it's not quite dissolved.

Divide your meringue into two bowls. In the first, gently add the green tea powder. In the second, gently add the strawberry powder.

Stripe your piping bag with the gel food dye. Carefully line your bag with the green tea meringue and then fill the center of the bag with the strawberry meringue. Do your best, it does not have to be precise. Depending on the size of your piping bag, you may have to add the meringue in stages.

Dab a bit of meringue onto the corners of two cookie sheets and then put a piece of parchment on each sheet. The meringue in the corners will keep the sheet from curling while you pipe.

Cut the tip of your piping bag so the opening measures 7/8". Now pipe your kisses! Fit as many as you can on each sheet, leaving at least 1/2" between them. Sprinkle with remaining strawberry powder. Position your oven racks on the upper-third and lower-third positions. Bake in a 200F for 30-40 minutes or until you can lift them off the parchment cleanly. Turn off oven and cool in oven overnight or take them out and let them cool completely on the sheets.

Store in airtight containers for up to 2 weeks.