I had the pleasure of hosting a spring baby shower for a dear friend.  I wanted to make something really special for dessert.  The mom-to-be loves lavender.  I love lavender and Earl Grey!  I've made a lot of cakes that combine Earl Grey, lavender, and dark chocolate but this occasion called for something lighter.  So I decided on a lemon tart with a shortbread crust that I would top with an Earl Grey-lavender buttercream.  First step, the crust: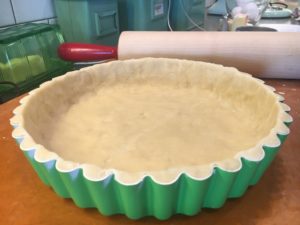 I pretty much always just google "best ___" whenever I make something.  Or "easy___".  I'll check out what's on Allrecipes.  If I stumble onto something by Ina Garten I'm always intrigued because I've found her recipes to be foolproof and full of flavor.  So, I gave this recipe a test run.  The crust was delicious and sturdy enough that it could be made a bit ahead without worrying about the filling weeping into the crust and making it soggy.
But the lemon curd had a metallic taste I didn't like and was a little rubbery like store-bought lemon curd.  So I consulted my Martha Stewart CAKES book and tried this recipe from the accompaniments section in the back of the book.  There are a bazillion MS lemon curd recipes online, but this is the one in the book.  And it is amazing.  Tart, buttery, a pudding-like consistency that melts in your mouth.  In the time since the shower I've made this over and over again.  It's great for filling cake layers and cupcakes and lays the base for a show-stopping lemon meringue tart.
Now for the buttercream!  Earl Grey and lavender are subtle flavors that I knew would need to compliment, and not compete, with the tart lemon curd.  An American buttercream would be too sweet and grainy.  A Swiss Meringue Buttercream would be heavy and oily against the dense crust and buttery lemon curd.  Italian Meringue Buttercream requires a candy thermometer and did I mention I was also making all these meringues?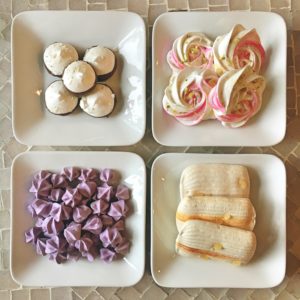 Four kinds!  Pineapple-Coconut dipped in Dark Chocolate, Rosewater-Pistacchio, Blueberry-Almond and Spicy Ginger.  All from the capable base recipe from this great, newish book.  Oh, and I also made a quilt.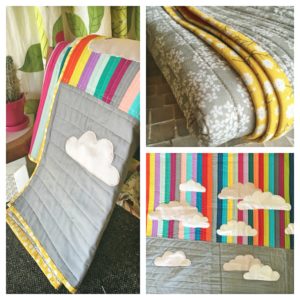 So you can see that I obviously don't have time for a candy thermometer.
Which is how I ended up making a German Buttercream.  This is the most obscure buttercream I think.  But I have no idea why.  It's amazing.  It tastes like room temperature ice cream.  Instead of using a meringue as a base to add butter, it uses custard.  I made this ambitious version from Local Milk, steeping lavender along with the tea bags.  I love the way this substitutes some of the butter out for mascarpone, the tang and texture of the mascarpone lightens the flavor and plays very nicely with the other components.  It did break on me, which means it curdled into a disgusting mess, but I managed to fix it using the microwaving tip from The Brewer and The Baker.  Genius!  And look how pretty, I tinted the buttercream with a bit of pink and purple food dye.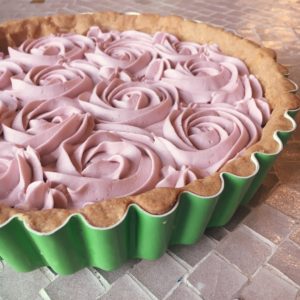 You can get this rosette effect with the frosting by using a 1M star tip stuck into a ziplock bag.  It looks pretty fancy but it is so easy and foolproof.  My 10 and six-year-old daughters could have done this tart top.  Just remember to start the rosette in the center and pipe a circle around that point.
This was a complex dessert to put together but almost all of it could be done ahead. If you don't want to commit to the whole thing, I recommend trying the buttercream with a simple chocolate cake or just making the lemon tart without the buttercream.  You pretty much can't go wrong with these flavor combinations.