I had the pleasure of hosting a spring baby shower for a dear friend.  I wanted to make something really special for dessert.  The mom-to-be loves lavender.  I love lavender and Earl Grey!  I've made a lot of cakes that combine Earl Grey, lavender, and dark chocolate but this occasion called for something lighter.  So I decided on a lemon tart with a shortbread crust that I would top with an Earl Grey-lavender buttercream.  First step, the crust: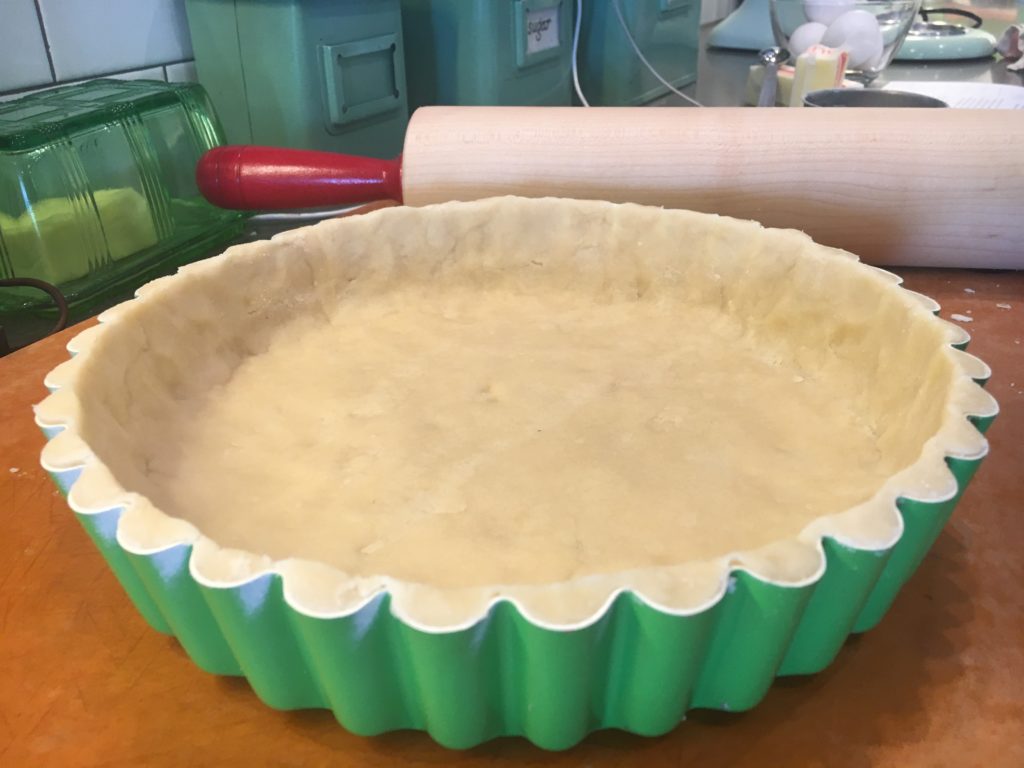 I pretty much always just google "best ___" whenever I make something.  Or "easy___".  I'll check out what's on Allrecipes.  If I stumble onto something by Ina Garten I'm always intrigued because I've found her recipes to be foolproof and full of flavor.  So, I gave this recipe a test run.  The crust was delicious and sturdy enough that it could be made a bit ahead without worrying about the filling weeping into the crust and making it soggy.
But the lemon curd had a metallic taste I didn't like and was a little rubbery like store-bought lemon curd.  So I consulted my Martha Stewart CAKES book and tried this recipe from the accompaniments section in the back of the book.  There are a bazillion MS lemon curd recipes online, but this is the one in the book.  And it is amazing.  Tart, buttery, a pudding-like consistency that melts in your mouth.  In the time since the shower I've made this over and over again.  It's great for filling cake layers and cupcakes and lays the base for a show-stopping lemon meringue tart.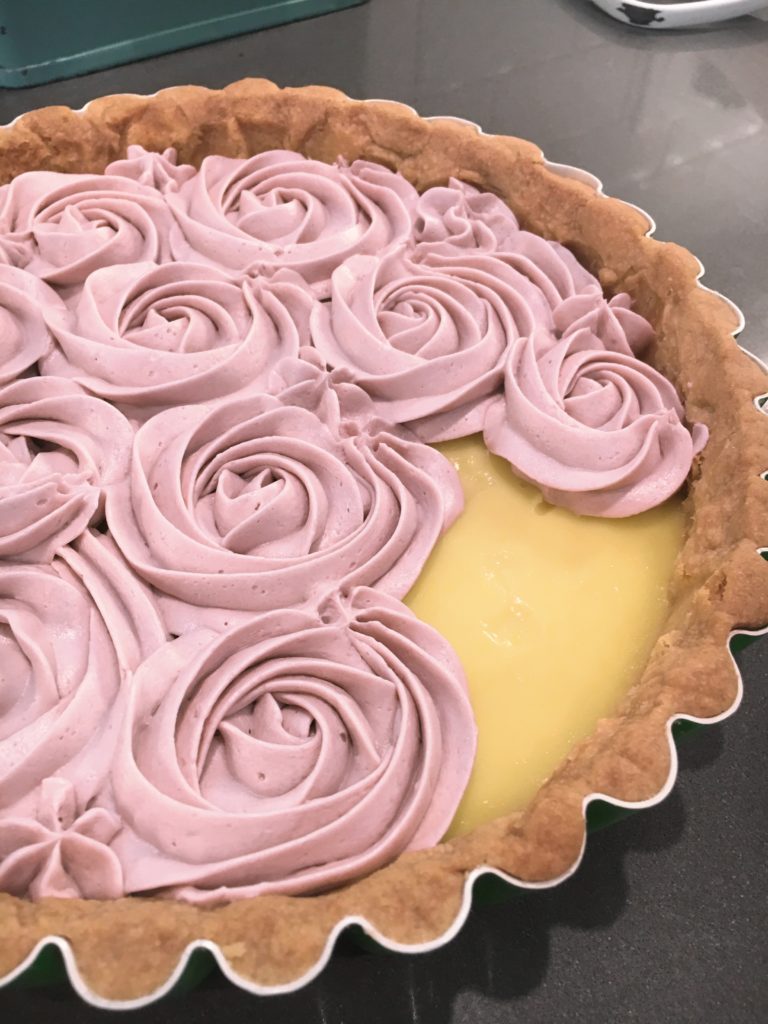 Now for the buttercream!  Earl Grey and lavender are subtle flavors that I knew would need to compliment, and not compete, with the tart lemon curd.  An American buttercream would be too sweet and grainy.  A Swiss Meringue Buttercream would be heavy and oily against the dense crust and buttery lemon curd.  Italian Meringue Buttercream requires a candy thermometer and did I mention I was also making all these meringues?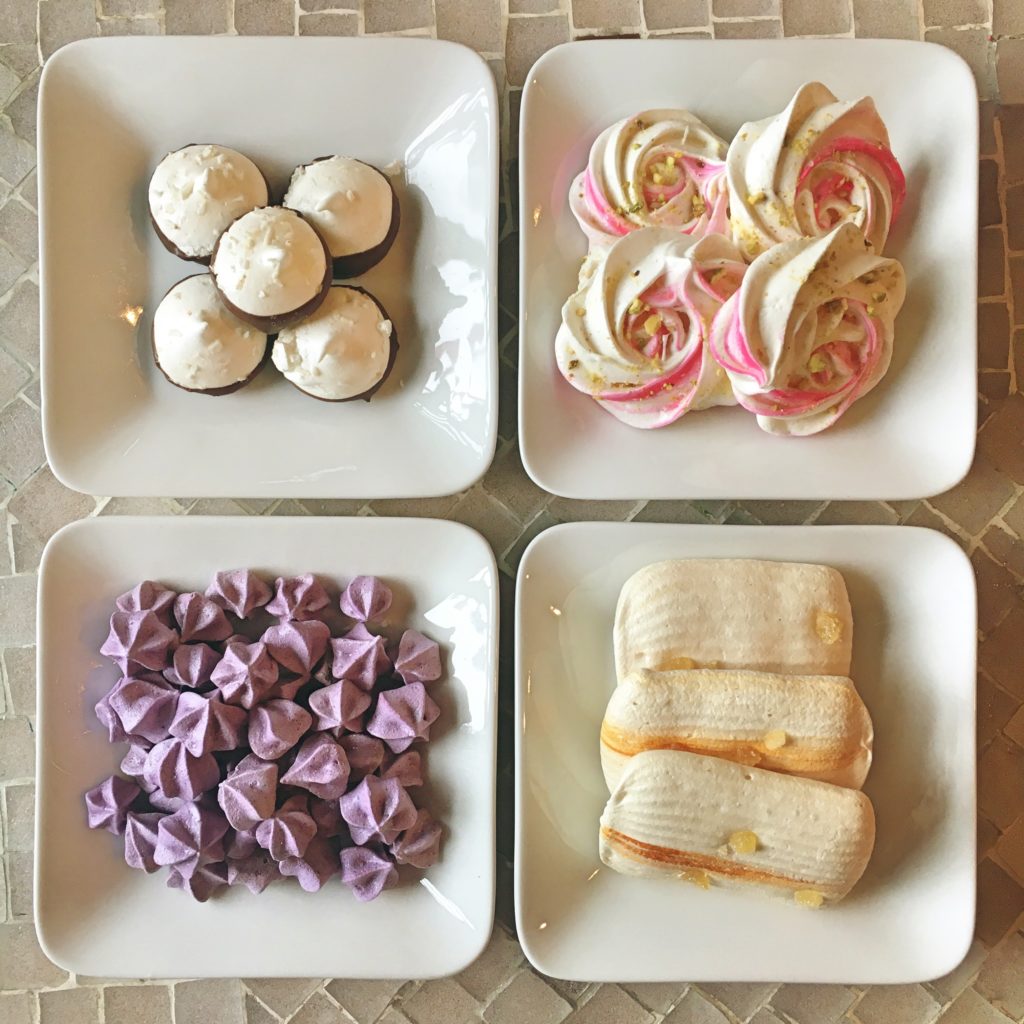 Four kinds!  Pineapple-Coconut dipped in Dark Chocolate, Rosewater-Pistacchio, Blueberry-Almond and Spicy Ginger.  All from the capable base recipe from this great, newish book.  Oh, and I also made a quilt.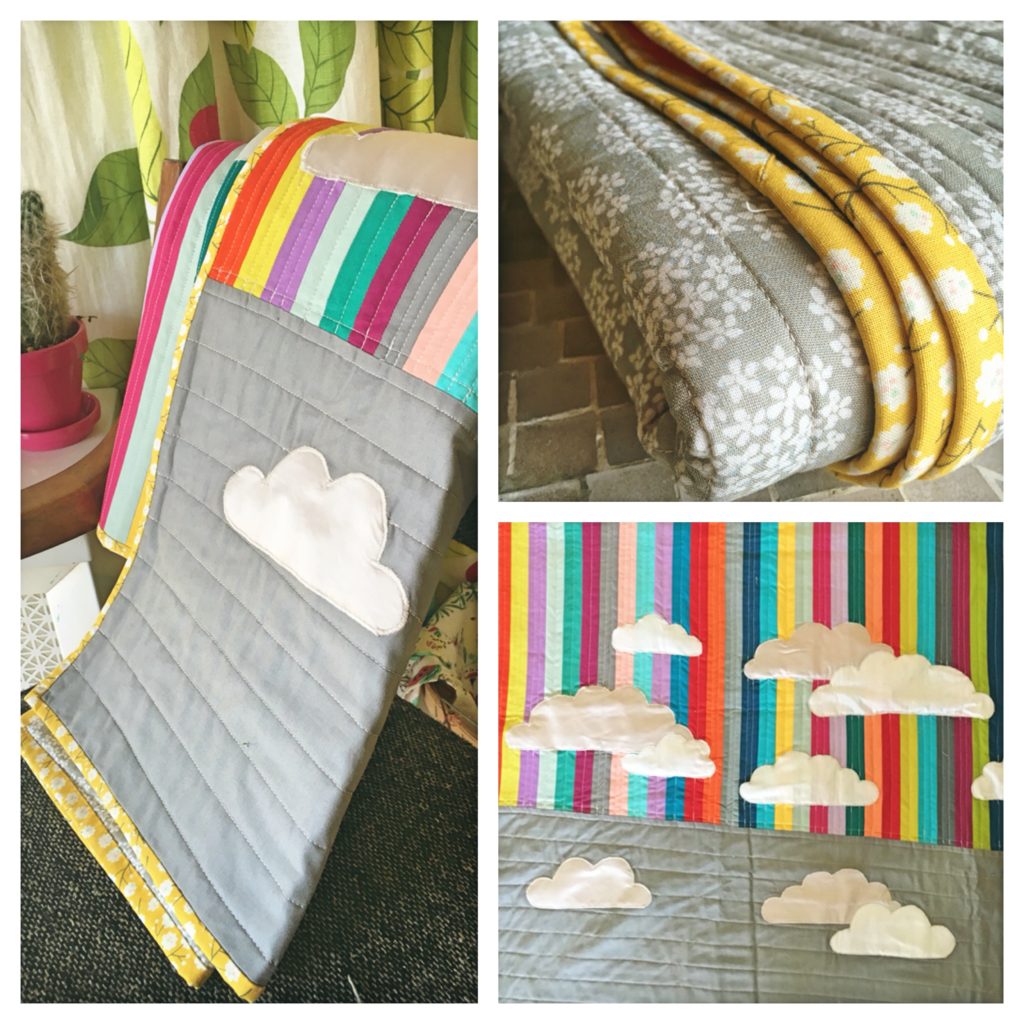 So you can see that I obviously don't have time for a candy thermometer.
Which is how I ended up making a German Buttercream.  This is the most obscure buttercream I think.  But I have no idea why.  It's amazing.  It tastes like room temperature ice cream.  Instead of using a meringue as a base to add butter, it uses custard.  I made this ambitious version from Local Milk, steeping lavender along with the tea bags.  I love the way this substitutes some of the butter out for mascarpone, the tang and texture of the mascarpone lightens the flavor and plays very nicely with the other components.  It did break on me, which means it curdled into a disgusting mess, but I managed to fix it using the microwaving tip from The Brewer and The Baker.  Genius!  And look how pretty, I tinted the buttercream with a bit of pink and purple food dye.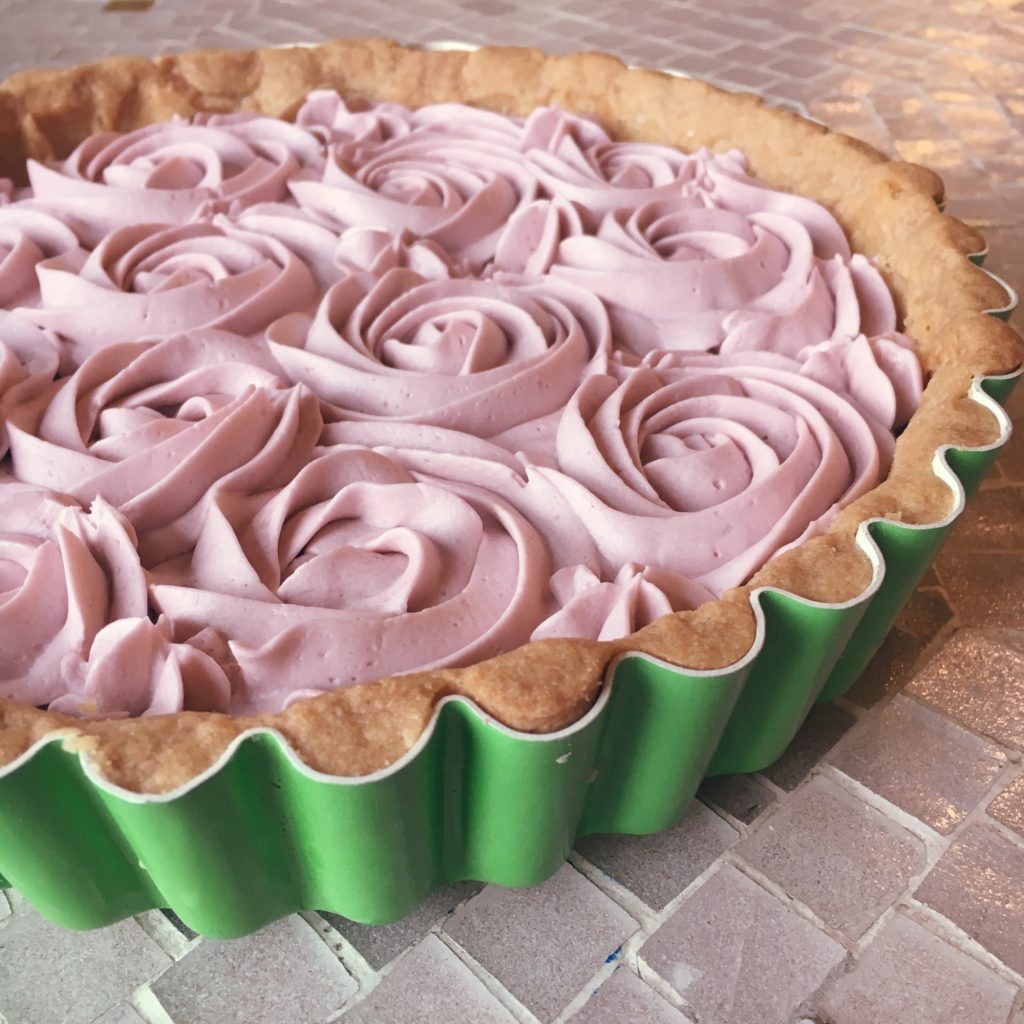 You can get this rosette effect with the frosting by using a 1M star tip stuck into a ziplock bag.  It looks pretty fancy but it is so easy and foolproof.  My 10 and six-year-old daughters could have done this tart top.  Just remember to start the rosette in the center and pipe a circle around that point.
This was a complex dessert to put together but almost all of it could be done ahead. If you don't want to commit to the whole thing, I recommend trying the buttercream with a simple chocolate cake or just making the lemon tart without the buttercream.  You pretty much can't go wrong with these flavor combinations.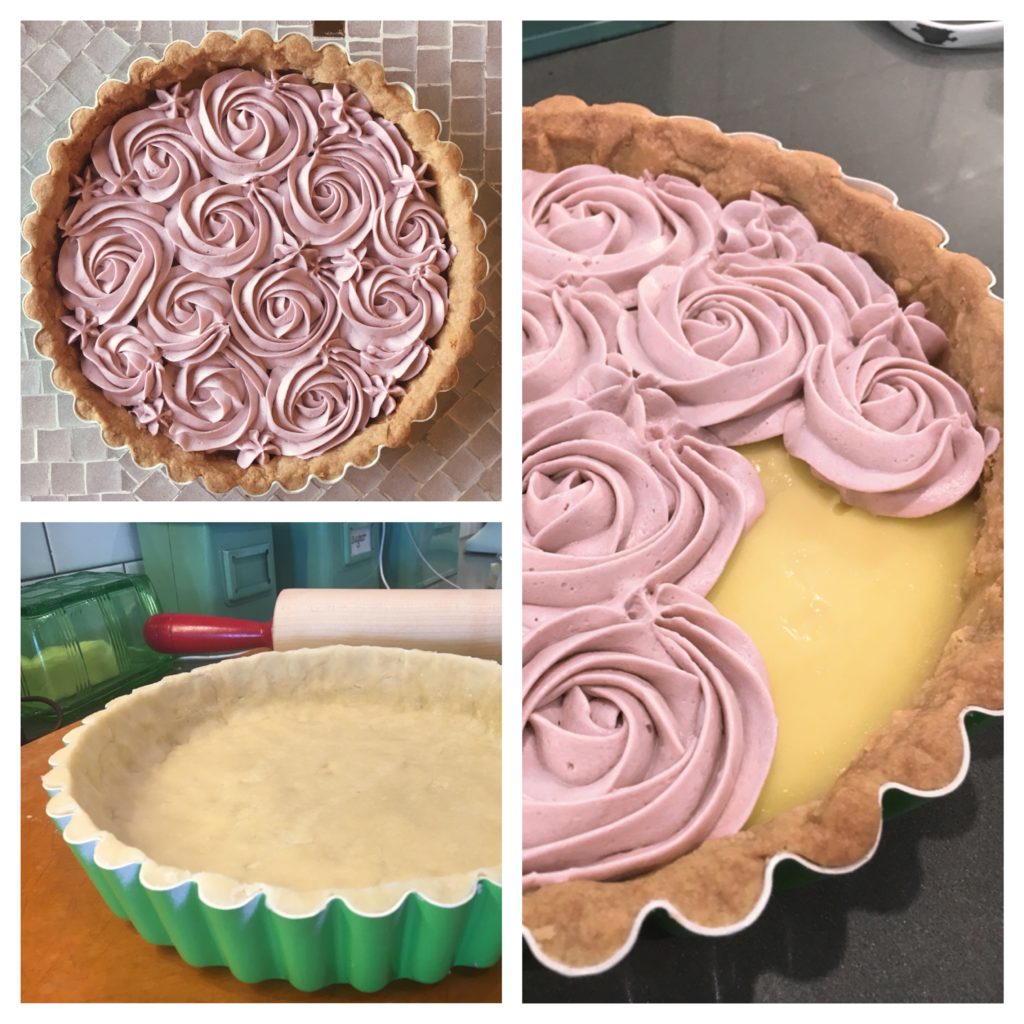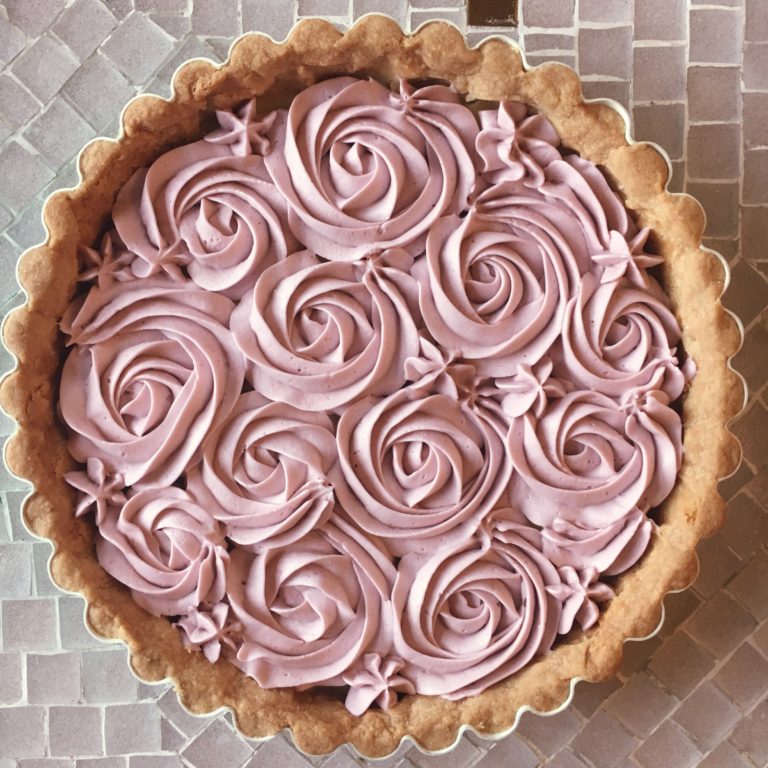 Earl-Grey Lavender Buttercream
| | |
| --- | --- |
| Earl-Grey Lavender Buttercream | |
Mix the butter and sugar together in the bowl of an electric mixer fitted with a paddle attachment until they are just combined. Add the vanilla. In a medium bowl, sift together the flour and salt, then add them to the butter-and-sugar mixture. Mix on low speed until the dough starts to come together. Dump onto a surface dusted with flour and shape into a flat disk. Press the dough into a 10-inch-round or 9-inch-square false-bottom tart pan, making sure that the finished edge is flat. Chill until firm.

Preheat the oven to 350 degrees F.

Butter 1 side of a square of aluminum foil to fit inside the chilled tart and place it, buttered side down, on the pastry. Fill with beans or rice. Bake for 20 minutes. Remove the foil and beans, prick the tart all over with the tines of a fork, and bake again for 20 to 25 minutes more, or until lightly browned. Allow to cool to room temperature.
Whisk together eggs and yolks, then combine with sugar and lemon juice in a small heavy-bottomed saucepan. Cook over low heat, stirring constantly, until mixture coats back of a spoon, 12 to 14 minutes. Strain into a small bowl. Add butter a little at a time, stirring until smooth. Stir in lemon zest. Pour into room temperature tart shell and smooth top with an offset spatula if necessary. If you are making the lemon curd ahead of time, press parchment or plastic wrap directly on surface of curd to prevent skin from forming. Store in refrigerator for up to 2 days. Allow to come to room temp before pouring into tart shell and smoothing top with an offset spatula. Place filled tart in refrigerator until completely chilled, up to one day.
For Earl Grey-Lavender Buttercream:
Bring milk to a simmer in a sauce pan, add the loose tea (in a tea ball if you have it), cover, and let steep 5 minutes. Try not to let it go too long or the tea will become bitter. Give it a good stir and strain out the tea, squeezing the tea leaves to get out as much flavor as possible.

Whisk the cornstarch, sugar, yolks, and eggs in a mixing bowl. Bring the milk to a simmer. Once the milk comes to a simmer, whisk a ladle of the hot milk into the eggs. I do about two ladles to temper the eggs and then pour the warm egg mixture into the hot milk, whisking constantly. Cook this mixture at a simmer until thick and bubbly sluggishly. Cook for a full minute to ensure the cornstarch is cooked out.

Remove from heat and transfer to a large mixing bowl. At this point you're either going to need to cool it in the fridge or cool it in a stand mixer. The latter is faster and is what I usually do. To chill in the fridge cover the surface of the pastry cream with plastic wrap and refrigerate until completely cooled. To cool in a mixer, mix constantly on medium until the bowl is room temp to the touch. It should not be at all warm. If it is, your butter and cheese will melt when you add them. And it will not be awesome. If you have put it in the fridge, mix for a few minutes on medium until creamy before proceeding.

Once your pastry cream is cool, add the very soft butter one tablespoon at a time and then do the same with the mascarpone. Add the lemon and salt and whip to thoroughly combine. It should be smooth and creamy. At this point the frosting can be used, refrigerated, or frozen. Bring to room temp and whip until fluffy before using.

If the buttercream breaks (becomes curdled), use the tips in the link above to fix it.
Once filled tart is chilled, fit a pastry bag (or ziplock) with a 1M tip and fill with buttercream. Cover the top of the tart with wide rosettes, filling in any gaps with small stars. You will have leftover frosting that can be refrigerated or frozen for another use. Place frosted tart in refrigerator and chill completely. When ready to serve take the tart out of the fridge for 10 or 15 minutes.