These chocolate covered strawberry cupcakes are a valentine favorite at our house.  The strawberry buttercream is insanely delicious and loaded with real strawberry flavor.  Because the cupcakes are made from a mix and the tops are dipped in dark chocolate candy melts they look fancy but are pretty simple to make.
We have Valentine's Day turned up to 11
Valentine's Day is special to our family.  Our middle daughter has had 14 heart surgeries and the very first one was on Valentine's Day.  The nurses at the time taped a valentine made by local school children to her crib.  That small gesture touched our hearts during a very difficult time.  Every year since we have been delivering handmade valentines, toys and books to the children spending Valentine's Day at the children's hospital.  We also bring a balloon for each child and cupcakes for the staff.  Our community has supported this effort over the years and last year we collected FOUR VAN LOADS of goodies to deliver to these deserving kids.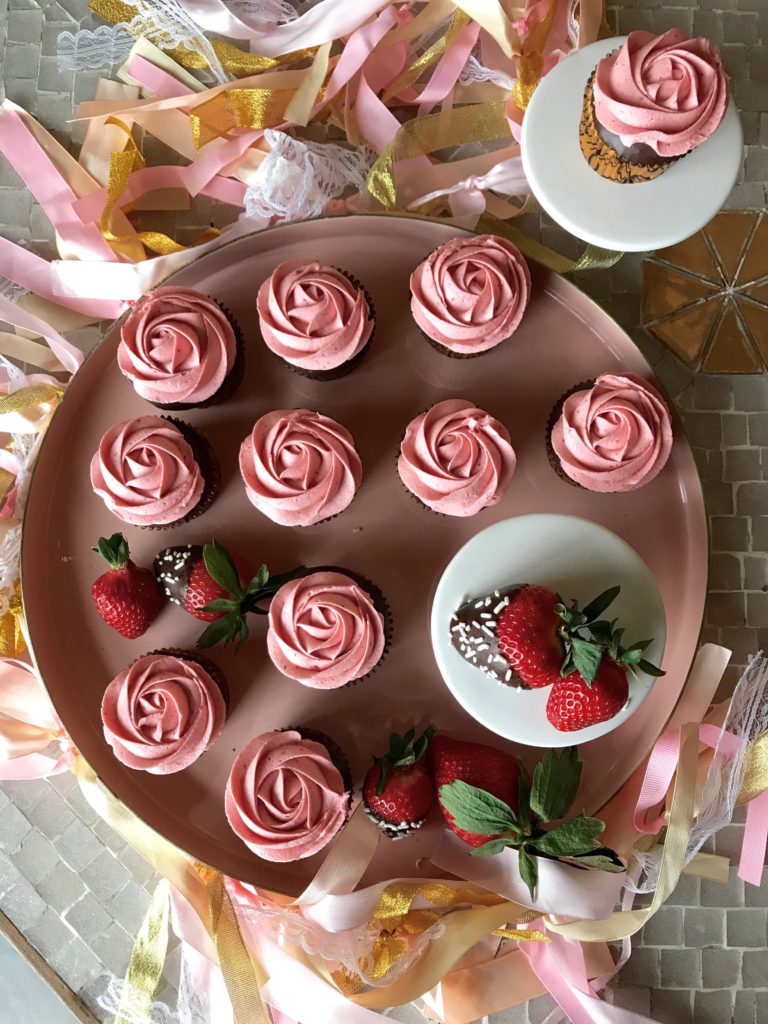 I cannot overstate how delicious this strawberry frosting is.
Of course my favorite part is dreaming up valentine-themed cupcakes.  And this recipe has become my favorite.  Chocolate Covered Strawberry Cupcakes!  Yum!  Moist yellow cake dipped in dark chocolate and frosted with a strawberry buttercream absolutely loaded with real strawberries.  The word "luscious" sort of creeps me out, but these actually are totally luscious.  This frosting tastes like room-temperature strawberry ice cream.  It is so good.  I took the cupcakes I made for this post to some girlfriends and they were literally groaning, when-harry-met-sally-style, as they ate them.  I'll have what she's having!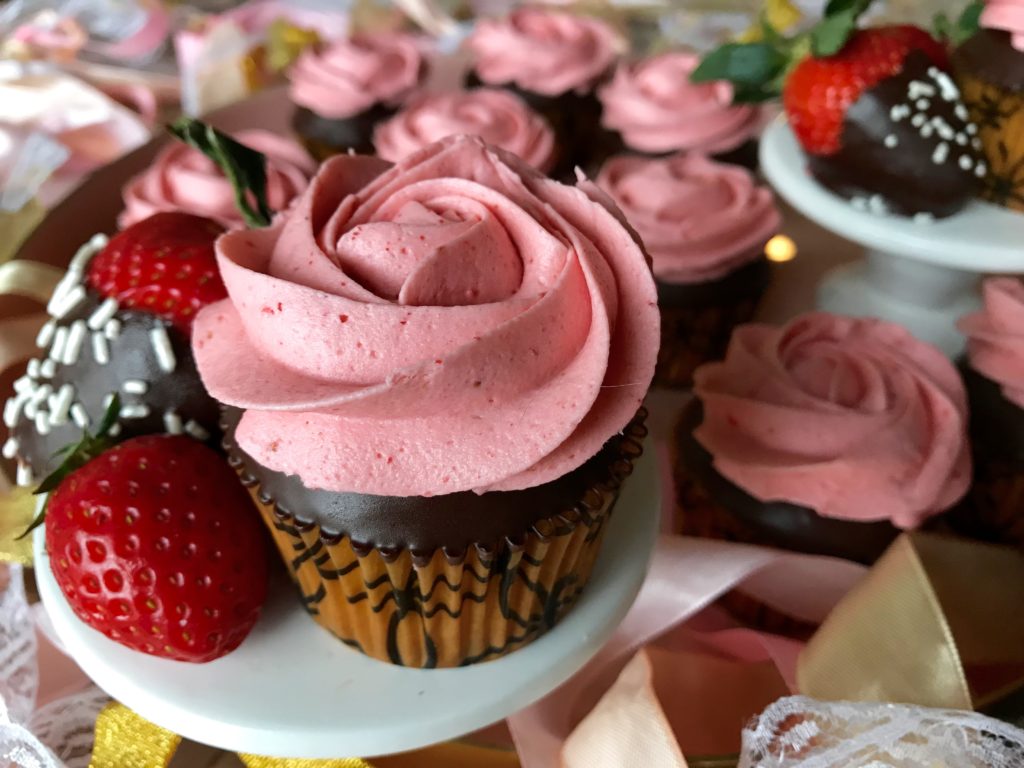 Assembling your chocolate covered strawberry cupcakes is easy!
The best part is that they're easy.  The cupcakes are from a  mix, the chocolate coating is made from Ghirardelli dark chocolate melts and the frosting is a five-ingredient dump and mix situation.  The frosting gets its big strawberry flavor from freeze-dried strawberries
that are ground into a powder in your coffee grinder or food processor.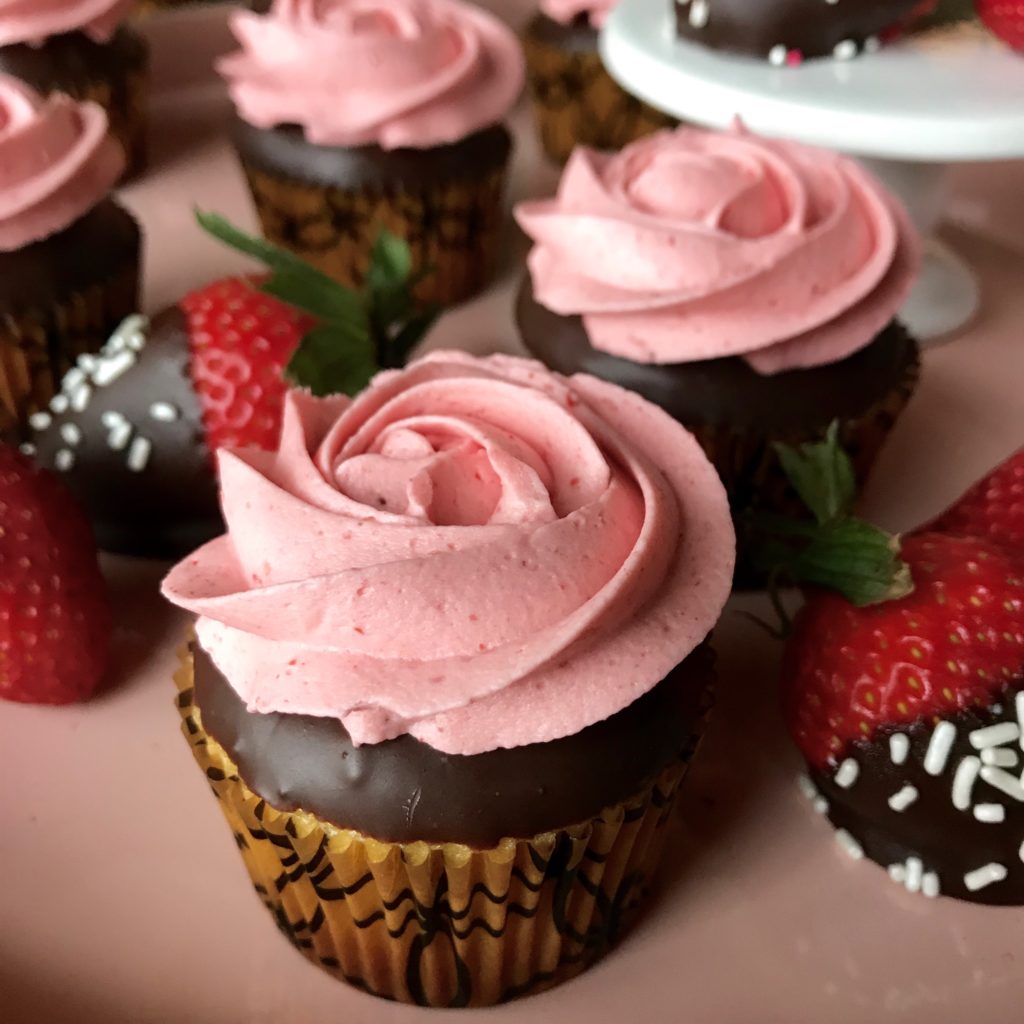 You can find freeze-dried fruit in your grocery store by the raisins and applesauce.  It's a miracle worker, allowing you to add fresh fruit flavor without any extra moisture to mess up your recipes.  I like powdered fruit in frostings, meringues, cookie dough and ice cream.  Mmmm, cookie dough ice cream.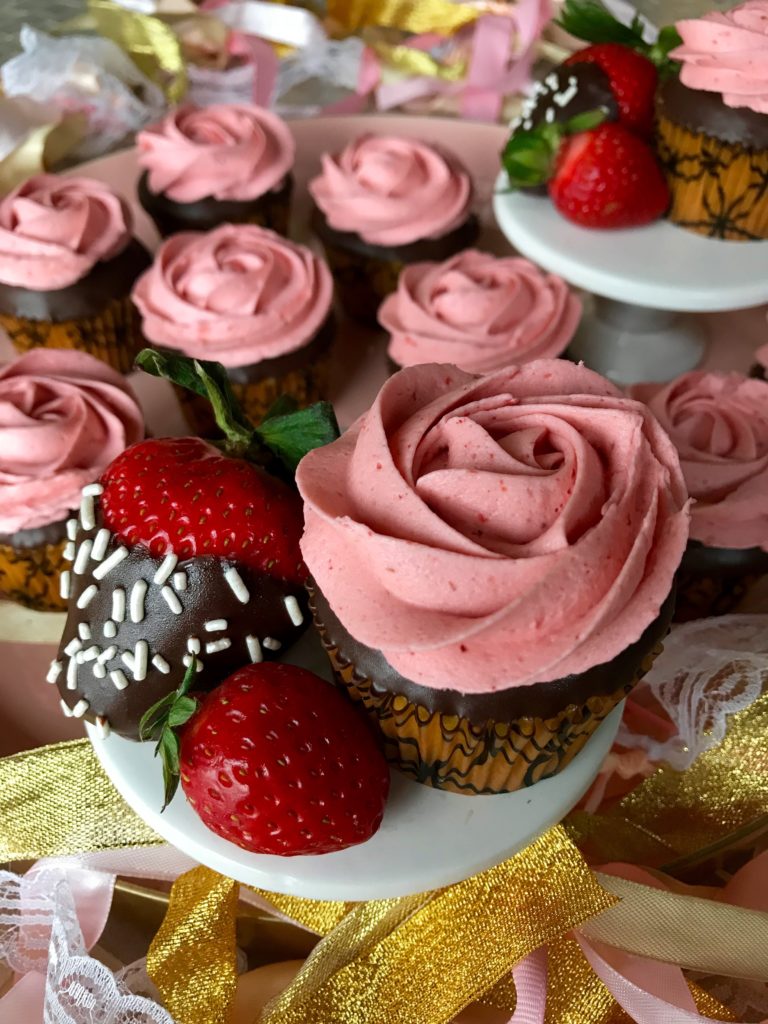 One important thing to watch for:  when you bake up your cupcakes be sure to fill each one with a scant 3 tablespoons (40ml) of batter.  It's important that the cupcakes form a nice dome above the paper.  Otherwise you won't be able to dip them in the chocolate without making a big mess.  I like to use clear vanilla extract because regular vanilla can make the frosting look a bit salmon-y colored.  But regular vanilla extract works just fine.  You can also brighten up the frosting a bit with a touch of pink or red food dye.  Optional!  I used a 1M tip
to pipe the frosting on top but you can also put the frosting in a  ziplock and snip the end and pipe that way.  Or just spread it on with a butter knife or off-set spatula.  These taste so good you will not care if they look imperfect.

Perfect Cupcakes Every Time
I have a thorough post here about frosting cupcakes and getting them all the right size.  This is my secret weapon for making every cupcake the EXACT SAME SIZE every time. When I drop off cupcakes people often ask me where I bought them (OCD fist pump!).  I think they look so professional because they are so consistent in size so they rise, cook and brown uniformly.  And this 60ml syringe makes it all happen.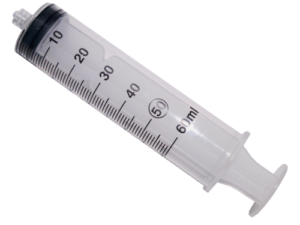 I bored out the opening in the tip a little so that the batter wouldn't get clogged, then I spray the plunger with some Pam spray so it dispenses easily.  Just draw up 40ml's of batter, dispense into your cupcake paper, and blammo.  Perfectly-sized cupcakes with no drips, no mistakes.  I know some people use muffin scoops or cupcake ploppers, but what if you got, like, 42ml's in there accidentally?  How could you show your face at the bake sale?  If you want to use a scoop use #24 cookie scoop, I've got details of how to choose the right size cookie scoop and which brand to buy here.
More Yummy Bakers Brigade Frostings:
These delicious cupcakes are deceptively simple. The frosting gets its big strawberry flavor from freeze-dried strawberries. Use a boxed mix for the cupcakes, or substitute your own recipe. Chocolate cupcakes would be nice here too if you want to be really decadent.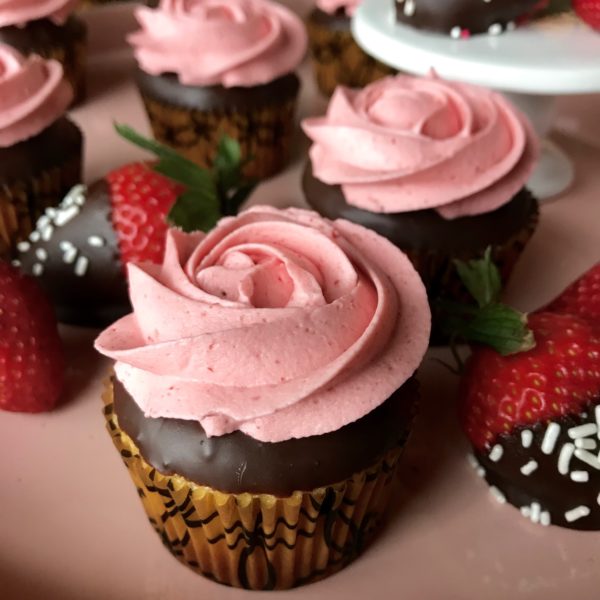 | | |
| --- | --- |
| | |
Once cupcakes have cooled, melt the chocolate in the microwave according to the package directions. Once it is melted and smooth, dip each cupcake into the chocolate, turning it as you go to make sure you're getting all the way to the edge of the cupcake paper. While it's still upside-down, remove some of the excess with the tines of a fork. Don't worry if you leave a small mark in the top of the cupcake, the frosting will cover it. Set aside to let the chocolate set, about 10 minutes.

Meanwhile, put the butter, powdered sugar, cream, and vanilla in the bowl of your stand mixer. Beat on low until ingredients start to come together then turn up to medium-high and beat for 2 minutes. Add 4 tablespoons of the strawberry powder (reserve the rest for another use) and beat for an additional two minutes. Add food dye, if desired and beat until combined. Then turn down to low and let run for about a minute to get rid of air bubbles.

Using a 1M tip or a ziplock with the corner cut off, pipe wide rosettes onto the top of the cupcake, starting in the middle and working outwards. Allow the frosting to set for 15-20 minutes before moving to your serving tray or storage container.