This recipe is my baby.  It's the first recipe I ever developed myself and it's the recipe I'm most often asked for. When I ask people what I should bring to their picnic, bake sale, birthday party, the answer is invariably MEXICAN HOT CHOCOLATE COOKIES. DUH.  They are spicy, chewy, chocolatey and just the right size.  If you usually just window shop when you look at baking blogs, I encourage you to give these a try. They're memorable, foolproof and delicious.
The Best Mexican Hot Chocolate Cookies
These are soft and chewy like a molasses cookie.  By blooming the cocoa in warm butter you get a deep, rich chocolate flavor.  And the hint of spice and heat from the cinnamon and cayenne makes this cookie stand out.

Perfect Size, Even Bake
But did I mention how easy they are? Oh, they are easy.  It takes two bowls and a fork. You do not even need a mixer.  Sometimes I just dump everything in one bowl. You can whip up this dough, stick it in the fridge for up to three days, and then bake them whenever. If you have a cookie scoop they will all be the EXACT SAME SIZE, which is great if you like to intimidate others with your baking powers.  I have done an embarrassing amount of research on cookie scoops (quality, volume, gauge) and have found that this Zeroll EZ Disher in size 50 is the way to go.  It makes perfectly sized cookies.  Unlike some other cookie scoops I've bought in the past, it doesn't break after a few uses.  It holds about 1.3 tablespoons of dough, so if you don't have a scoop and want to measure it out, one tablespoon+one teaspoon of dough (or 23 grams if you have a digital scale) will do it.  Or you can just eyeball it, they'll pretty much taste and look amazing no matter what.  You can use any #50 cookie scoop, I've got details of how to choose the right size cookie scoop and which brand to buy here.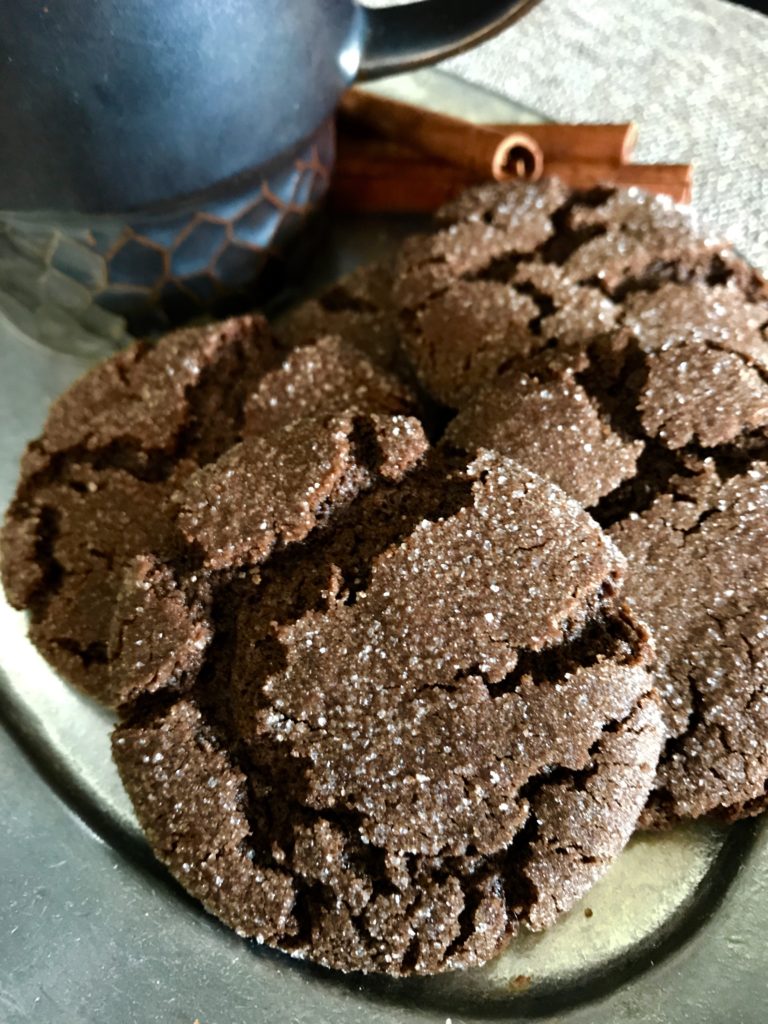 Best of all, these store well and are sturdy enough to ship. I always include a half dozen Mexican Hot Chocolate Cookies in my Xmas cookie boxes because I know they'll still taste fresh and delicious no matter how far they travel.  These Chewy Molasses Cookies also make a perfect pairing.  And also check out my most pinned cookie recipe:  Chewy Chocolate-Espresso Cookies.
More Foolproof Cookies from Bakers Brigade:
And Everything You Ever Wanted to Know About Cookie Scoops:
This is my most-requested recipe, no contest. These have the texture of a traditional chewy molasses cookie plus deep chocolate flavor, the warmth of cinnamon and a nice little heat from the cayenne pepper. You can mix it up in one or two bowls, no mixer needed. These are great for make-ahead and store and ship well.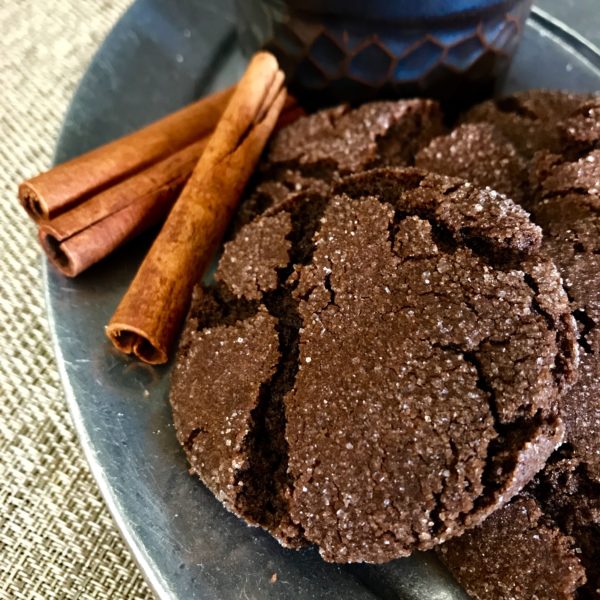 | | |
| --- | --- |
| | |
In a large bowl, stir the cocoa and molasses into the warm butter. In medium bowl combine flour, baking soda, salt, cinnamon and cayenne pepper. Add sugar, egg and vanilla extract to the large bowl. Stir dry ingredients into the wet. Cover and chill dough for as little as an hour or up to 3 days.

When ready to bake, preheat oven to 350 degrees. Roll 1 tablespoon of dough into balls (a cookie scoop is great for this), and roll them in the remaining white sugar. Place cookies 2 inches apart onto ungreased baking sheets.

Bake cookies, one sheet at a time, for 12-14 minutes, until cookies are puffed, centers are set and they are beginning to form cracks. Do not overbake.

Leave on sheets until they are cool enough to transfer to a wire rack and let cool completely.