These beauties always pop into my mind as I wait for the first snow of the year to fall.  They're sweet and crisp, crunchy and buttery, with just the right amount of orange and cardamom.  And they are EASY.  My friends like to say, "Oh, maybe for you that's easy!  Mine wouldn't look like that."  But I swear to sweet baby carrots, these are the most straightforward sugar cookies you are ever going to meet.  And because no snowflake is alike, variations and "mistakes" just make them more charming.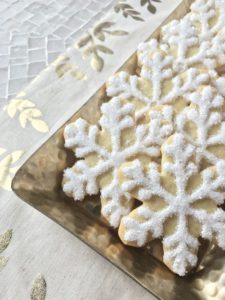 All my favorite bakes are ones that look like they took ages and taste amazing but really don't require any special equipment or fussy techniques.  This is one of those.  The dough can be made ahead of time.  You can roll out and bake the cookies and then hold onto them for a while before decorating.  I usually make these snowflakes 15 minutes at a time for the better part of a week.  It's just the kind of project that fits into my busy days.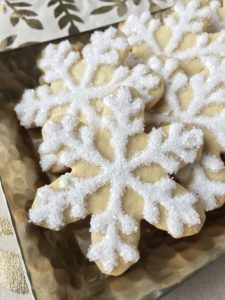 Here are some tips for success:
Don't try and do it all in one session.  The cookies actually turn out better if you let the dough sit overnight in the fridge and the cookies dry out in a container on your counter for a few days.  It's also just less overwhelming to do one stage at a time.  I usually make my dough 2-7 days before I need the cookies.  I do dough one day, bake the cookies another day and decorate them on a third day.  Doing it this way you also get the bonus smugness of feeling like your life is organized and under control.
Skip the royal icing.  Royal icing doesn't taste great to me.  It's also really tricky to get the consistency right if you're inexperienced.  When I make royal icing I actually get out a timer and count how many seconds it takes for the drizzled icing to get smooth, then adjust it by adding infinitesimal amounts of water with a spray bottle.  You don't want to do that right?  Betty Crocker cookie icing can be found in the baking aisle of most major grocery stores.  It comes in a range of colors and sets up hard like royal icing so you can put them in treat bags or stack them.  It comes with a piping tip attached that you can cut to make any size line you like.  It also tastes pretty darn good!  I actually prefer it to royal icing, it's more like a corn syrup glaze.
I usually recommend sticking to one design for cookie decorating projects but these cookies are a great opportunity to mix it up a bit.  I like my design (my 7-year-old would tell you it's a stellar dendrite!) but there are so many different snowflake designs that would look great so have a little fun if you want.  The simple white color palette will tie everything together.
For my design just follow the steps below.  After all the icing is on, sprinkle the whole cookie with sparkling sugar.  I like Wilton White Sparkling Sugar, it's super glittery.  I ordered some from King Arthur Flour recently and was disappointed with how opaque and dull it was.  You'll need plenty of sugar, just dump it on.  You can collect it from the tray and reuse it over and over.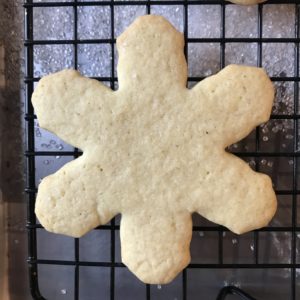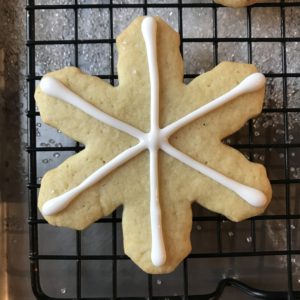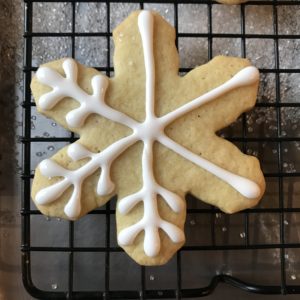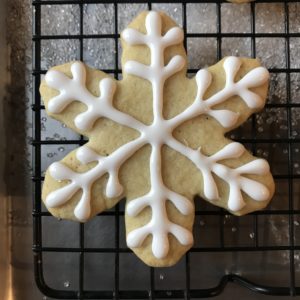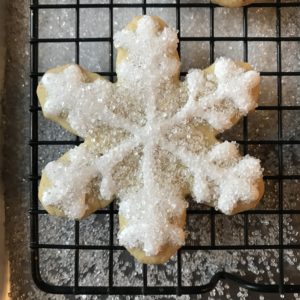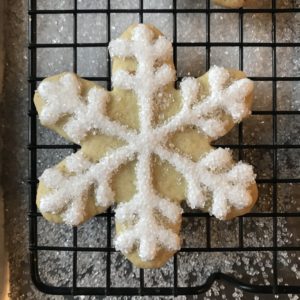 Heed the directions.  These sugar cookies are super buttery and have lovely crisp edges.  Because of all that butter they need to be chilled in the fridge between cutting out (I use a cutter from a set like this) and baking or they will lose their shape.  If you can't wait the full 15 minutes, you can put them in the freezer for 5-7 minutes instead.
Bake one sheet at a time.  This will give you the most consistent results.  You want to bake them until the edges are just starting to brown, for me that's right at the 11 minute mark but my oven is temperamental and trying to mentally break me.  If you take them out too soon, they may get mushy when you add the moisture of the icing.
Most importantly, remember that they're only cookies and that they will still taste good no matter how goofy they look.  I get a kick out of making pretty things and taking pretty pictures and sharing on the inter webs.  But cookies are meant to be eaten, not viewed, so just go for it.More Foolproof Cookies From Bakers Brigade: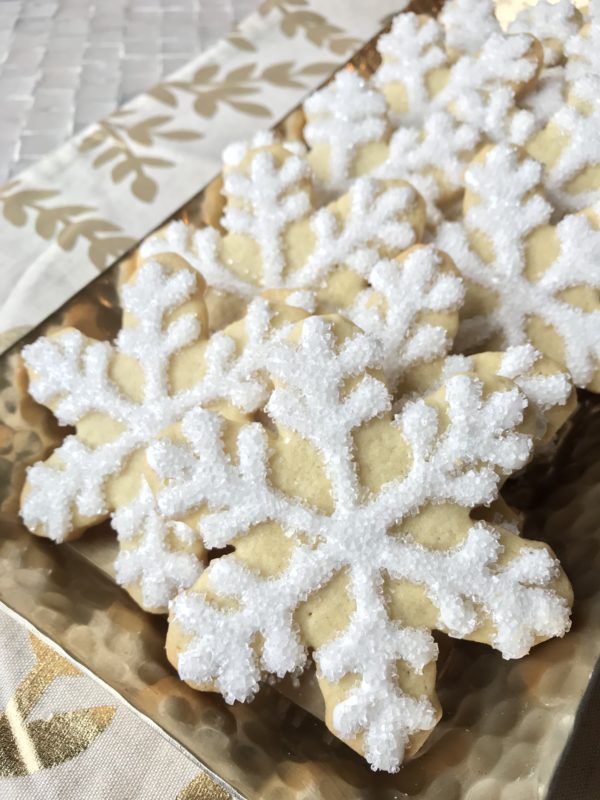 | | |
| --- | --- |
| | |
In the bowl of your electric mixer (or with a hand mixer), beat the butter and sugar until light and fluffy (about 3 minutes). Add the eggs, vanilla extract, and orange extract and beat until combined. Add the salt, baking soda, and cardamom and beat to combine. Add the flour and beat until you have a smooth dough. Divide the dough in half and wrap each half in plastic wrap. Refrigerate overnight.

Preheat oven to 350 degrees.

Remove one half of the chilled dough from the refrigerator and, on a lightly floured surface, roll out the dough to a thickness of 1/4 inch (1 cm). (Keep turning the dough as you roll, making sure the dough does not stick to the counter.) Cut out your snowflakes and transfer cookies to baking sheet. Place the baking sheets with the unbaked cookies in the refrigerator for about 15 minutes to chill the dough which prevents the cookies from spreading and losing their shape while baking.

Bake cookies for about 8-11 minutes (depending on size) or until the edges are just starting to brown. Remove from oven and let cookies cool on baking sheet for a few minutes before transferring to a wire rack to finish cooling. Decorate the snowflakes using the steps shown above. Be sure to let the icing dry at least 4 hours before storing.