Every year our family collects and delivers valentines, toys and books for the children at Lurie Children's Hospital.  We have a special connection there because our middle daughter has undergone multiple heart surgeries under their care.  I also make some cupcakes for the staff as a small thank you for all they've done for our family.  Her first surgery took place on Valentine's Day and every year since it's been our privilege to shower the patients in the cardiac unit with love.  And sugar.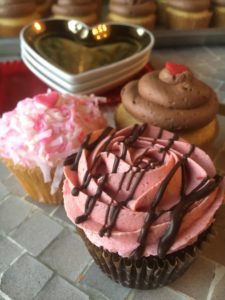 After all these years it's a challenge to come up with something new to bring.  This year I stopped at the local drug store and looked through their candy aisle for inspiration.  SO MUCH CHOCOLATE.  And strawberries.  And a lot of coconut.  So I decided to go with three flavor combinations:  Chocolate-covered Strawberry, Lemon-Coconut and Chocolate-Almond.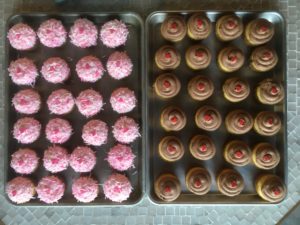 With cupcakes, I always start with a box of cake mix.  Gasp!  I've found that although I prefer to make cake layers from scratch, I get the best results with cupcakes when I use a mix.  Occasions for cupcakes also frequently skew more casual and kid-friendly and my kids definitely prefer cake from a box.  It's also an advantage in terms of quantity because scratch recipes vary a lot in the volume of batter they produce but a box of cake mix makes two dozen every time.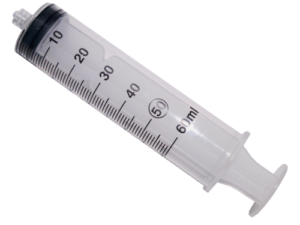 I bet you're wondering what this weird syringe is doing near these fancy cupcakes.  This is my secret weapon for making every cupcake the EXACT SAME SIZE every time. When I drop off cupcakes people often ask me where I bought them (OCD fist pump!).  I think they look so professional because they are so consistent in size so they rise, cook and brown uniformly.  And this 60ml syringe makes it all happen.  I had my husband bore out the opening in the tip a little so that the batter wouldn't get clogged, then I spray the plunger with some Pam spray so it dispenses easily.  Just draw up 40ml's of batter, dispense into your cupcake paper, and blammo.  Perfectly-sized cupcakes with no drips, no mistakes.  I know some people use muffin scoops or cupcake ploppers, but what if you got, like, 42ml's in there accidentally?  How could you show your face at the bake sale?
Chocolate-Almond Cupcakes
The Chocolate-Almond ones came together easily.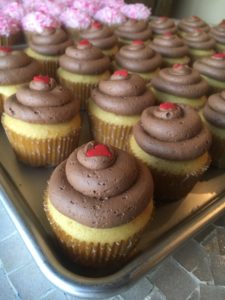 I used a box of yellow cake mix and
batch of this chocolate buttercream frosting (using 1 tsp. vanilla extract and 1 tsp. almond extract).  I have tried about a dozen basic chocolate buttercreams and
this is by far the best.  I don't bother with sifting and just dump everything in at nce and beat the heck out of it for 4-5 minutes.  Decorate them with the largest round piping tip you have or just cut the end off a ziplock and live with a little bit of imperfection.  Finish off the tops with a jumbo red heart sprinkle and you're done.
Lemon-Coconut Cupcakes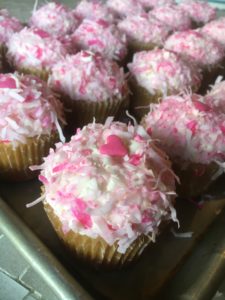 Now the Lemon-Coconut.  I used a white cake mix and added a little Lorann's Coconut Baking Emulsion to the batter.  While those were baking I tinted some shredded, unsweetened coconut with some pink liquid food dye.  You put the coconut in a bag, drop in a few drops of dye, shake it like crazy, then air dry or toast it in the oven.  The frosting is Amy Sedaris' vanilla buttercream with an extra stick of butter, the zest of one lemon and some lemon extract.  Same method, just dump it all in the bowl and beat it within an inch of its life.  Frost the cupcakes and then roll the tops in the tinted coconut and top with a
pink heart sprinkle.
Chocolate-covered Strawberry Cupcakes
The Chocolate-covered Strawberry ones were the most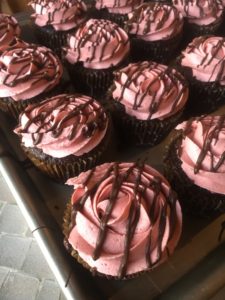 involved.  Start with a box of Double Chocolate cake mix.  For the frosting use the same Amy Sedaris recipe above but this time add an extra stick of butter and some strawberry powder.  You're going to have to make the strawberry powder.  Buy a bag of freeze-dried strawberries, thy're usually in the aisle with the raisins, and powder them in a food processor or co
ffee grinder.  I usually get 1/4-1/3 cup of powder from each bag.  Dump it all in the frosting bowl and beat away for 4-5 minutes.  Decorate the cupcakes with a 1M star tip, starting in the center and piping in a circle outward from that point.  Then drizzle with some melted chocolate, I like the Ghiardelli Dark Chocolate Melting Wafers because they stay shiny when cool without tempering and taste pretty good too.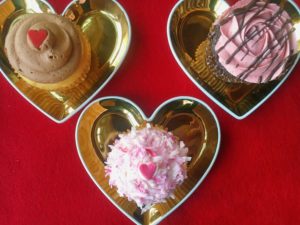 If you want to read more about why I would go so crazy with six-dozen cupcakes every year, you can read more about our journey with Congenital Heart Disease here.  Happy Valentine's Day!