During all those walks around the neighborhood gathering violets and dandelions for jelly, I started to notice that baking inspiration literally grows on trees around here.  There are lilacs, redbuds and magnolias galore.  They all have edible parts but I was all flowered out.  Then I happened to see a post from Once Upon A Weed about spruce syrup and remembered there's a spruce growing in the parkway just a few blocks from here.  It's about 40 feet tall and absolutely covered in itty-bitty spruce tips.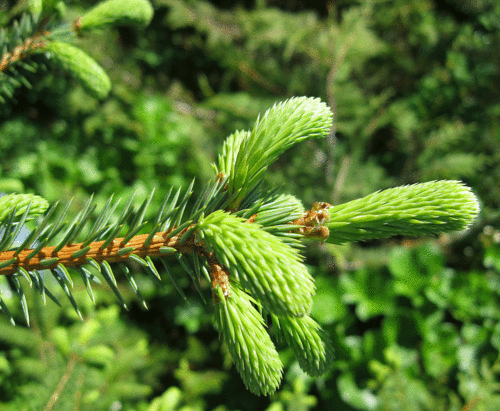 Spruce tips are 100% edible, as are pine tips and fir tips.  You can eat them raw, pickle them, dry them in salt, powder them.  They are versatile!  But I've been toying with the idea of an IPA-inspired dessert for a while and thought a deep amber spruce syrup would be a perfect companion to the grapefruit and hops flavors I already planned to use.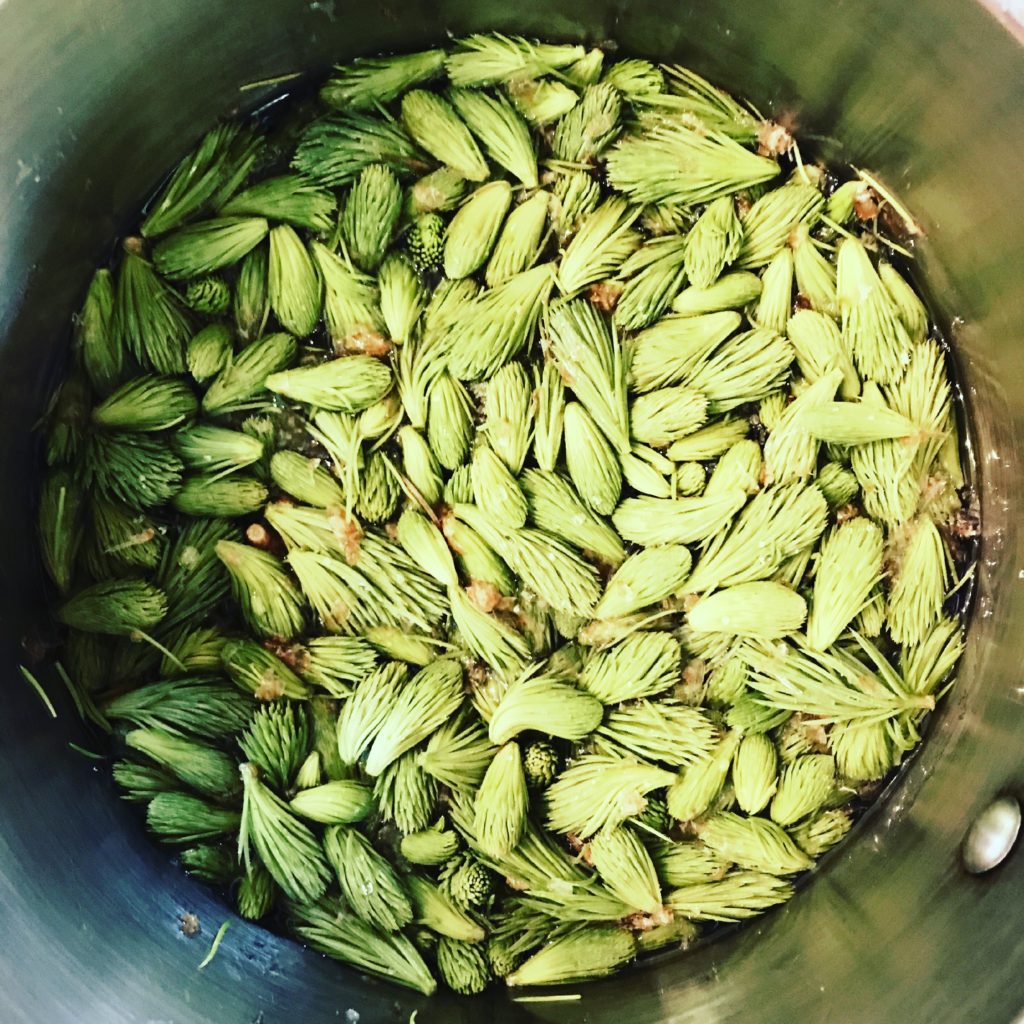 This recipe is so simple to make.  It's just boil, wait, strain, simmer.  The simmer allows the carmelizing to happen.  I let mine get very dark.  Mostly because I wanted it to be very dark and also because I was watching Parks and Rec reruns and sort of forgot it was on the stove.  The syrup in the pictures is very thick!  You may want to shoot for a lighter color by keeping an eye on it and not wandering off.  The flavor was so unusual, not at all what I expected and super hard to describe.  It's a bit tart, also fruity and herbal.   It reminds me a little of the horehound candies I used to buy at the drugstore as a kid.  And there is a cooling menthol finish to the flavor. I think next time I can get my hands on some pine tips, I'll try my hand at hard candy.  I think these would make heavenly throat drops because of the cooling aftertaste.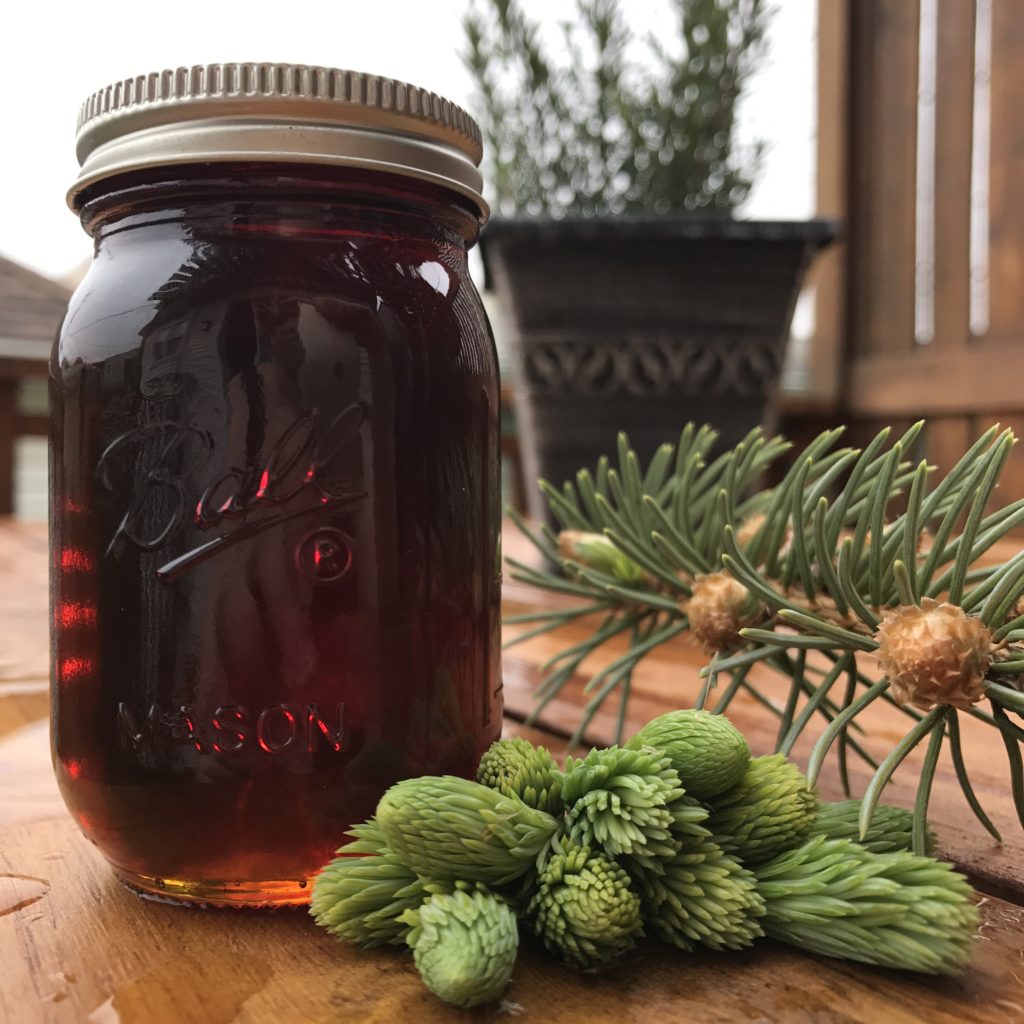 I took this lovely picture on the deck, but it didn't really show off the color very well.  And I'm a little Type A so I decided to try for another picture.  That little photo session devolved quickly into a set up that looked a little something like this: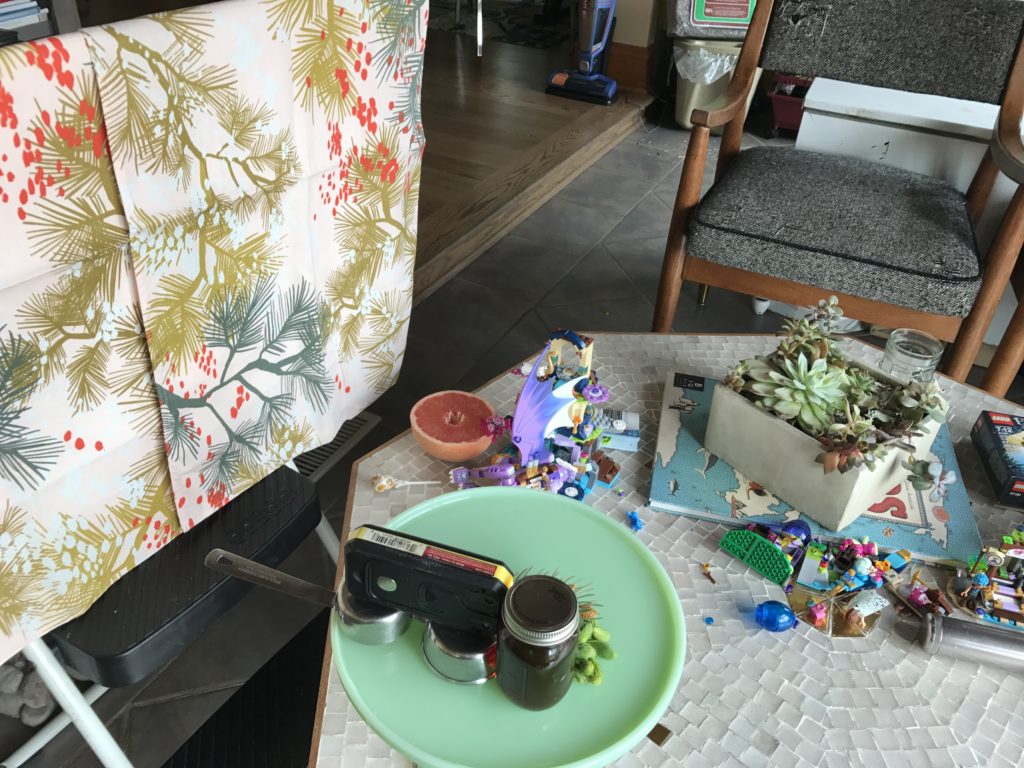 Please note the lego confetti and random grapefruit half.  And the syrup still wasn't a glowing amber.  So obviously I had to prop up a flashlight on some measuring cups and hang two kitchen towels over a piece of foam core and practically rupture a disk contorting myself into the perfect angle: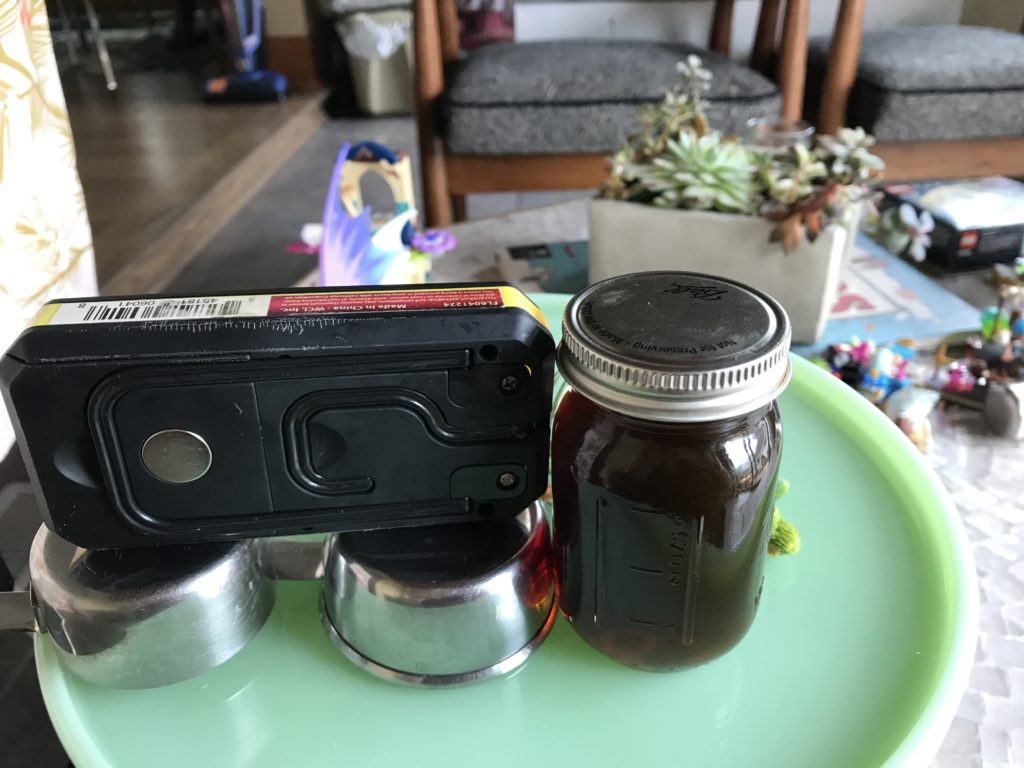 All to make it look effortlessly simple, lol.  And here's the image I got which, despite being sort of embarrassed at the lengths I went to to get it, I am quite happy with.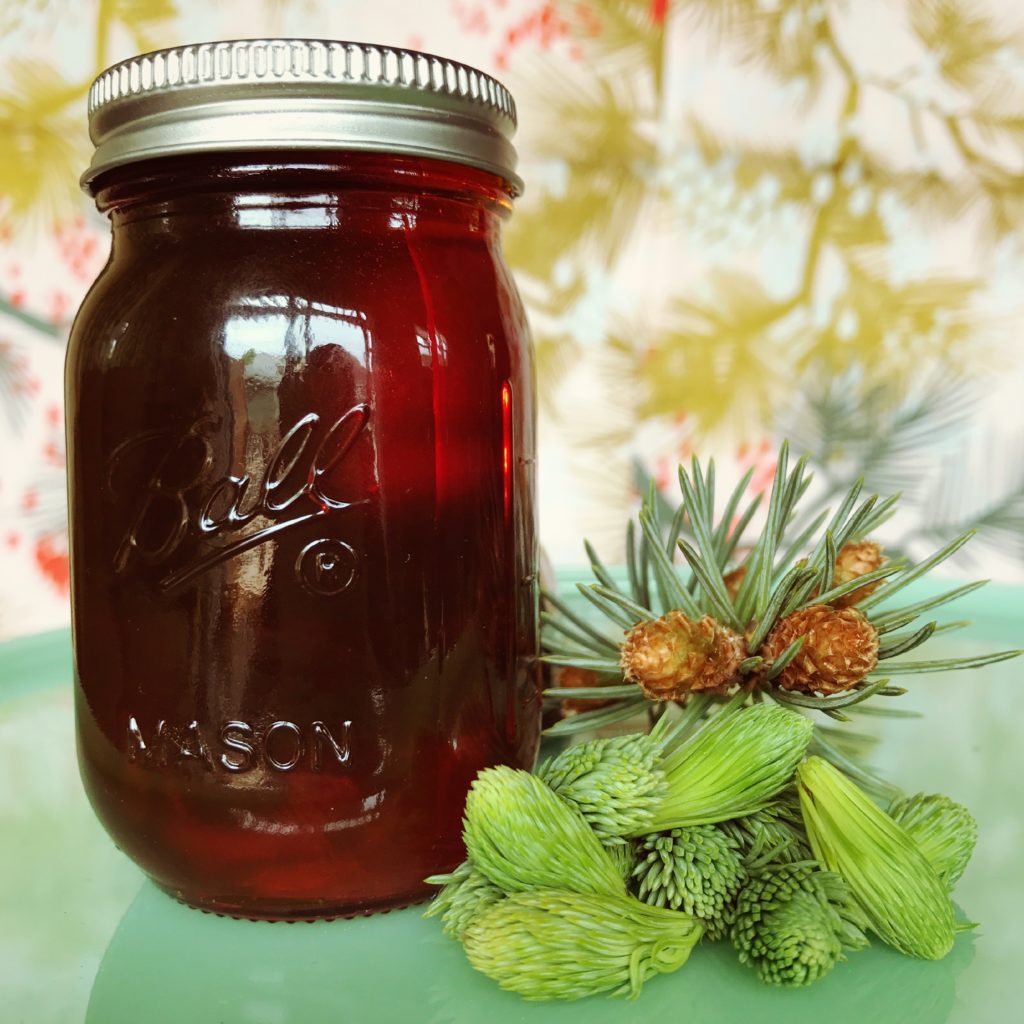 Some tips:  (Get it?  Tips?)
Gather tips that are very new, 1 1/2″ or less.
Do try to slough off the flaky brown stuff, I think the flavor will be better without it.
If you take the syrup too far and it it is incredibly thick, pour it in long strands onto a cookie sheet full of powdered sugar.  As soon as it's cool enough to handle you'll be able to snip it into little candies.  Problem solved since candy >syrup.
This makes just 4oz.  I decided to go for a small batch because I didn't think I'd need very much.  If you want more, you can double it no problem.
I'm not very confident with "real" canning so I usually plan to refrigerate my goodies.  If you'd like yours to be shelf stable you could water bath can it.  There's a link here that's very helpful.


More Wild Edible Plants Recipes From Bakers Brigade: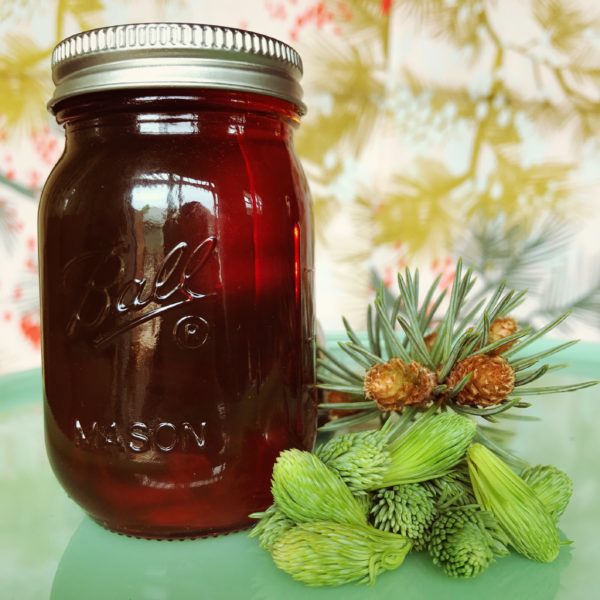 | | |
| --- | --- |
| | |
Combine the tips, water and sugar in a medium sauce pan and bring to a boil. Turn off heat, cover and let sit overnight.

Line a colander with a paper towel and strain into a bowl, squeezing the mixture to get al the liquid out.

Return the liquid to the pan, it will still be quite light in color. Cook on medium-low for 20-30 minutes, watching carefully until the desired color is reached. The darker it is, the thicker it will be.

Pour into 4 oz. jar and refrigerate for up to a month.