So, I know this is a baking blog and dandelion jelly is not really a baked good. But if some joker can put bacon on a maple donut, I think I can put jelly on my baking blog. Bacon started it.  And this dandelion jelly recipe is worth breaking all the rules for anyway.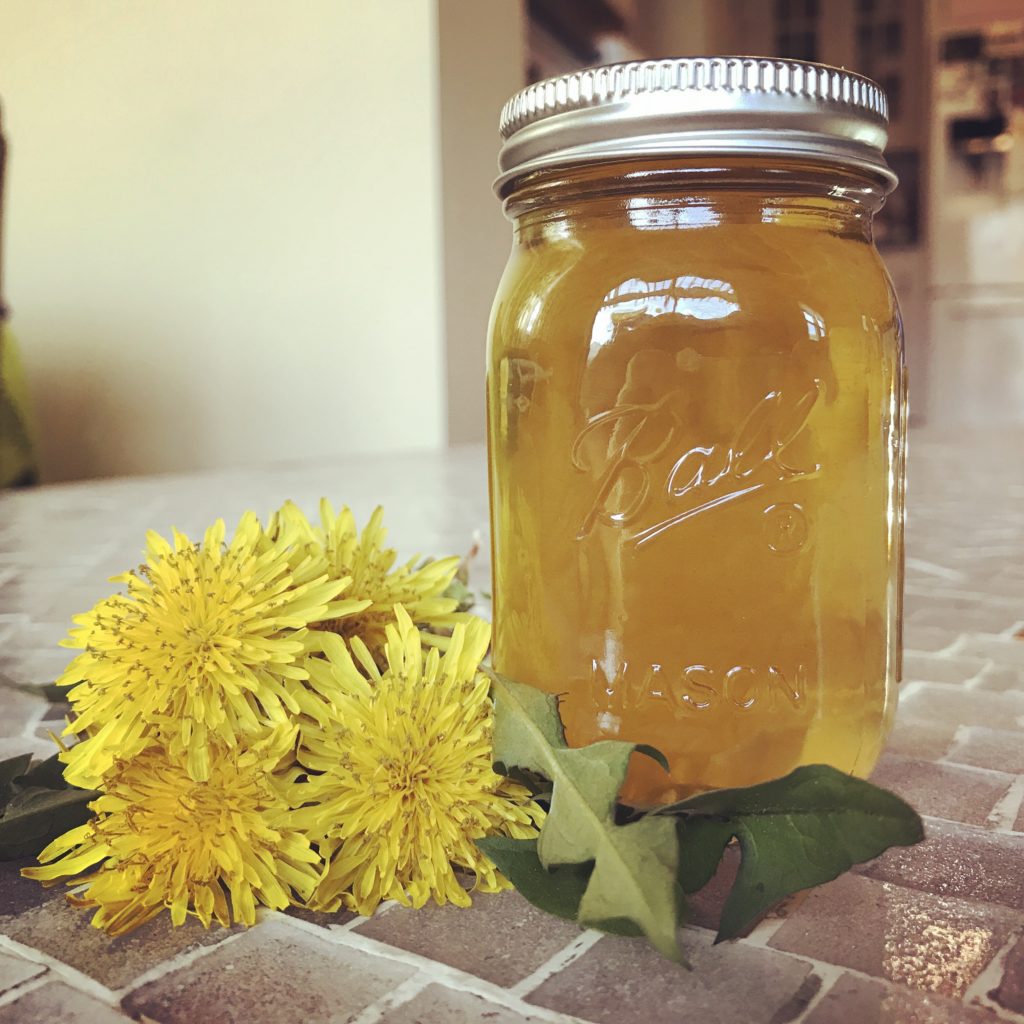 Dandelion Jelly is the First Rite of Spring
Dandelion jelly means spring to me. When I was a kid, my mom was (and still is) very into edible plants, foraging and wildflowers. We made elderberry fritters, cattail pancakes and violet jelly. But the dandelion jelly was always the first thing we made in spring, because the dandelions are always first! The jelly is made from the bright yellow petals of the flowers, not the greens. It has a beautiful golden color and a delicate honey-like flavor. I'm not a masterful canner like my mom so I usually just boil up a batch, dump it in the jars and tell anyone I give some to, "You should probably refrigerate this because my canning skills are pretty dodgy." No deaths have been reported.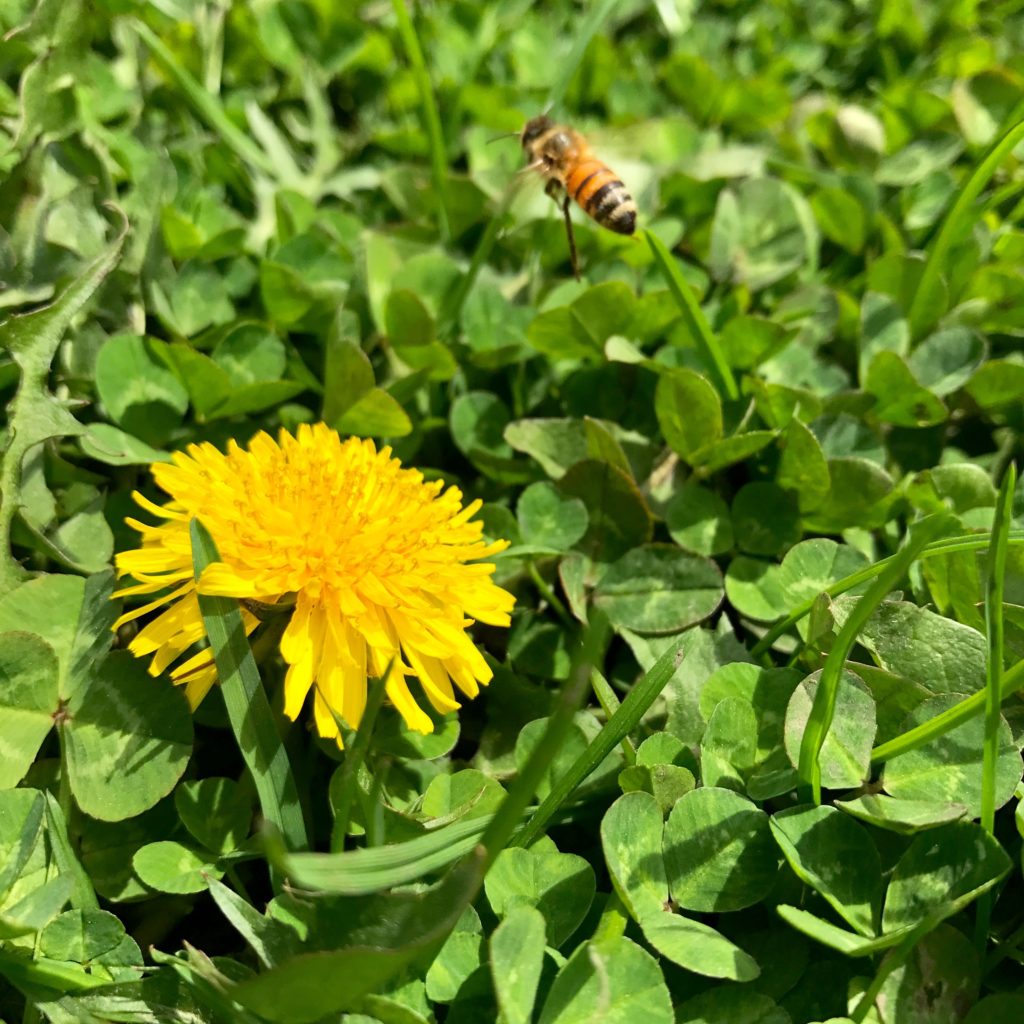 Collecting your dandelions is fun!
It's time-consuming to snip all the petals without getting any of the green bits.  But the rest is easy. And collecting the dandelions is fun, especially if you have little people in your house. My girls love to help fill our bag and my son loves any excuse to take his nerf gun to the park. We collected enough in about 15 minutes. This jelly is the definition of a seasonal treat. 11 months out of the year I would have to force-feed this to my kids.  But the first weeks of spring, they will put this shiznit on everything. I'm thinking I might try it between some cake layers, but really it's most beautiful in a jeweled jar with those rare, low beams of spring sunshine illuminating it from behind.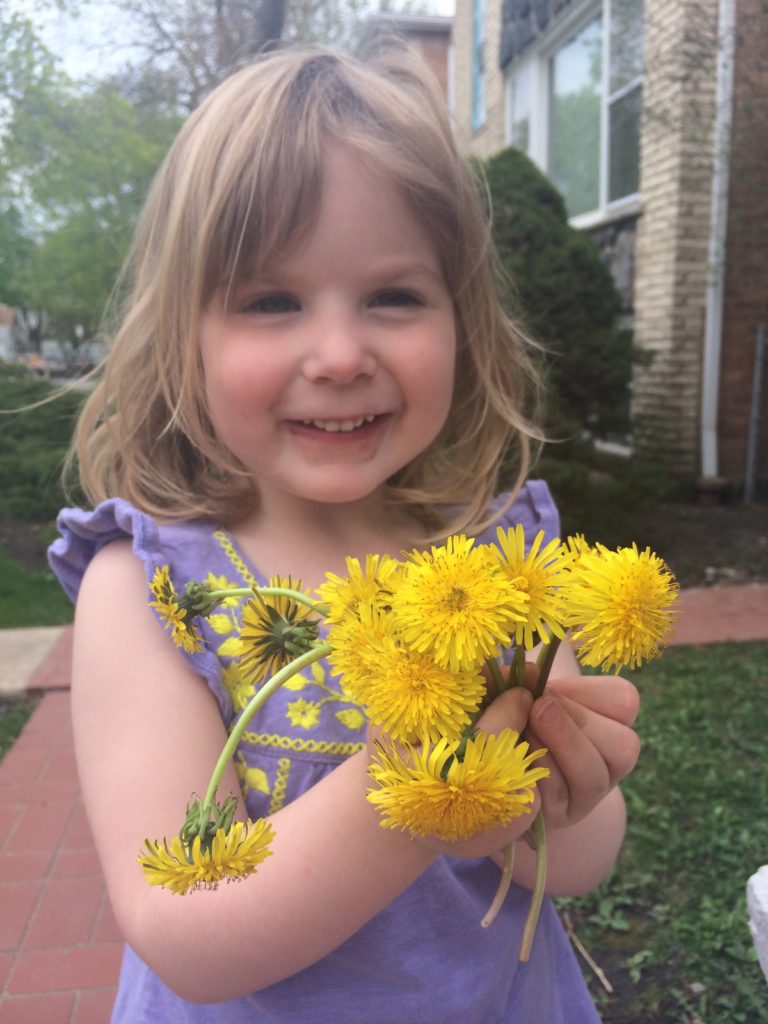 Some tips for perfect dandelion jelly on the first try:
Try to gather on a dry day. Muddy flowers mean muddy jelly.  Ew.  And they really shouldn't be washed as it makes getting the petals off a total pain in the butt.
Which leads me to my next tip, which is to gather flowers in an area you feel confident is not loaded with pesticides and dog pee.
Make your dandelion tea as soon as you can after picking, while the petals are still a nice bright yellow. A few hours is fine.
Don't be in a hurry when cutting the petals.  It really is a bit tedious, think of it as an opportunity to be zen. Or do it while you watch a baseball game like I did.
To trim the petals, grasp the flower by the petal end and snip the stem and base of the flower off. Then separate the green part from the yellow petals.  Here are some pics in case that makes no dang sense.  My daughter Ramona is the hand model.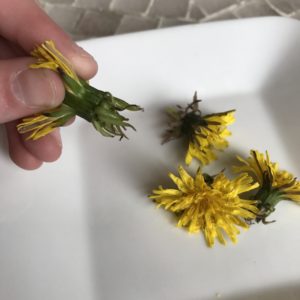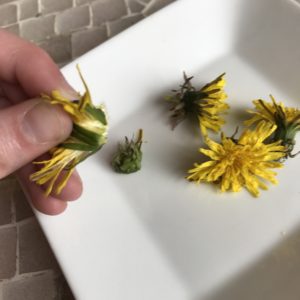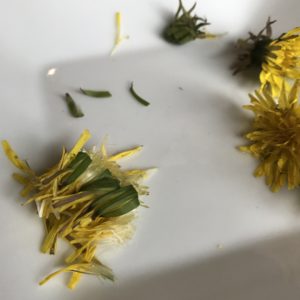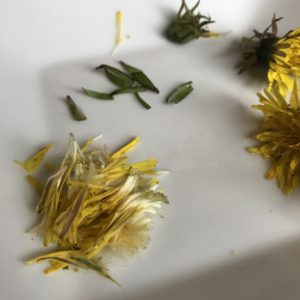 You need 4 cups of petals but you don't have to pack them in.  Just toss them in and when you have 4 cups, make your tea.
After making your tea and straining, it may look a bit murky.  Maybe a little greenish-brownish and cloudy.  That's normal.  When you add the lemon juice it will brighten up quite a bit.
Now You're Cooking!
There is liquid pectin and powdered pectin and they behave differently.  This calls for powdered pectin.  Call ahead to make sure your grocery store stocks it.  When I called mine, they had me spell it four times and then asked me if it was a "medical thing".  But they did carry it, just took some coaxing.
I've gotten a lot of questions about the pectin in terms of quantity.  I use one package of powdered pectin.  The box is labeled Sure Jell Original, 1.75 oz. and is the powdered pectin most readily available on grocery store shelves.  I measured it out by volume and it's a scant 1/3 cup.  Please note that not all pectins are the same.  If you are using low sugar pectin or a different brand, I encourage you to do a little googling first to make sure you are using the right amount, as an ounce for ounce substitution might not get you the result you're expecting.
The orange extract is optional.  I'm a tweaker.  Not in a Breaking Bad way, in a creative way.  I just can't help adding my own touch to a recipe.  In this case, if you want the purest, most delicate flavor, leave out the extract.  If you want a little fruity touch, use it.
Ditto on the yellow food coloring.  I'm pretty sure my mom thinks this is cheating, but after all that work getting the petals, I just can't bear the idea of this jelly not being YELLOW.  Up to you if you want to pollute it with dye or not.  But it's only one drop so…
Use the deepest pot you have because boiling jelly is no joke.  It boils up very high and can be a real menace if it overflows.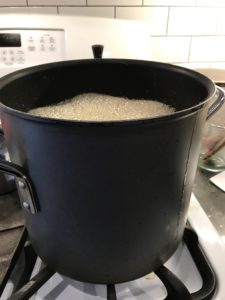 The recipe calls for 80z. (half pint) jars.  I also put this jelly in smaller 4oz. jars for gifts.  Ball sells a 4oz jar at Target with a one-piece lid that I like.
The recipe says to put these in "processed jars".  This means the jars and lids have been boiled and prepared like you do with legit canning.  There is a pretty good tutorial here if you'd like your jelly to be shelf stable.  I usually make 8 jars and give 7 away, so I'm fine with just refrigerating.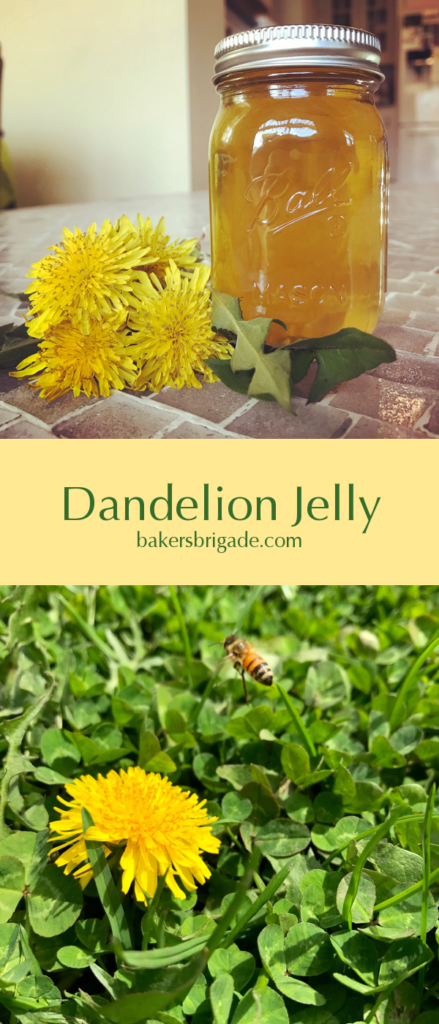 More Wild Edible Plants Recipes From Bakers Brigade: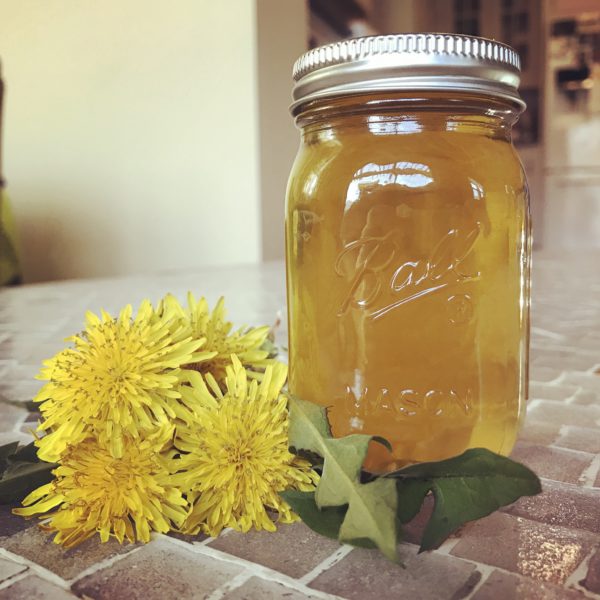 Prep Time

one

million years
Prep Time

one

million years
Snip off stems and the base of each flower, removing as much green as you can. You need a total of 4 cups of yellow petals. If you have picked in an area free of spraying and animal traffic you can brush each flower off to remove any debris. Once you wash the blossoms they become very difficult to handle so try to avoid doing that.

In a large pot boil the petals in 2 quarts water for 3 minutes. Cool all the way down even if it takes several hours. This give your jelly the deepest possible color. Line a colander with a paper towel or coffee filter and strain the tea.

Measure 3 cups dandelion liquid. Add lemon juice and pectin. Bring mixture to a boil using your deepest pot. Add the sugar all at once and stir constantly, boiling at a high rolling boil for 2 ½ minutes.

Turn off heat and skim off any gunk from surface. Using a wide funnel, pour into your processed jars.