A few years ago, one of my favorite friends got her big break and landed the female lead in the FX series Fargo.  It was her first big job and an all-around, life-changing BFD.  We were all so excited for her!  When she came back to Chicago to watch the premier in a local bar, I was determined to make something really special for dessert.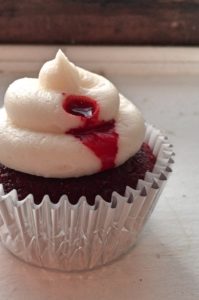 I went through tons of ideas:  embroidered cakes, snowball truffles, etc.  But ultimately I decided that cupcakes were best.  Easy to distribute and no big event to cut into it that might distract from the show's airing.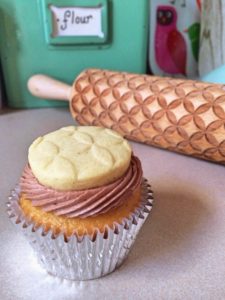 I made three kinds:  A pretty yellow-cake cupcake with chocolate-almond frosting and a "quilted" sugar cookie on top.  A chocolate cupcake with vanilla bean frosting.  And these gruesome bullet hole ones, red velvet with cream cheese frosting.  The combo of creepy and quaint was a great fit for a show that juxtaposes Midwestern hospitality with shocking violence.  They were such a hit that I've been making them every Halloween since and you should try them too.  The beauty of these beauties is you can make them from a box of cake mix.  Heck, you could just get some store-bought red velvet cupcakes and a bottle of red dye and go to town.  If you want to make them from "scratch", here are the directions:
Bake up a box of red velvet cupcake mix into two dozen cupcakes, then frost with Perfect Crusting Cream Cheese Frosting (recipe below) using a big round piping tip.  You can also just put the frosting in a ziplock bag and snip off the tip.  You will also need a bottle of red food dye, some vegetable oil and a sharpie.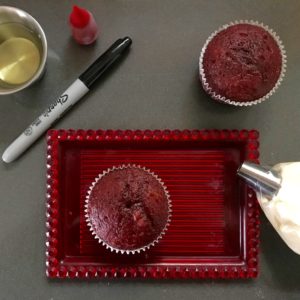 To fill your cupcake papers you can use any #24 cookie scoop, I've got details of how to choose the right size cookie scoop and which brand to buy here.
Once your cupcakes are frosted, dip the end of a clean sharpie into the vegetable oil.  Use the oiled tip to make a hole in the side of your cupcake about 1/4″ deep.  Remove it with a twisting motion.  The oil makes sure the sharpie doesn't stick and the twist makes sure you don't just suction the frosting right back out when you take out the sharpie.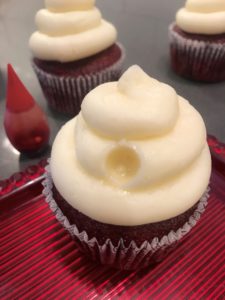 Next, take your red food dye and drip it slowly into the hole until it starts to run out and down the side.  If you get lucky it will follow the line of the frosting swirl and drain onto the top of the cupcake.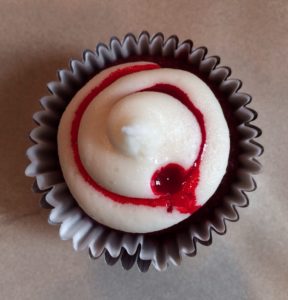 And that's it!  They will all look a bit different and that's okay.  I think any good forensics expert will agree that no two bullet wounds are alike.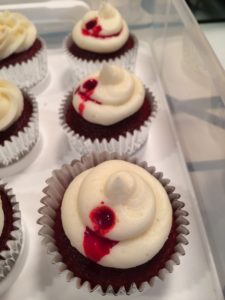 Happy Halloween!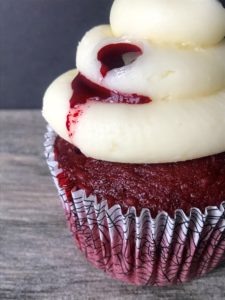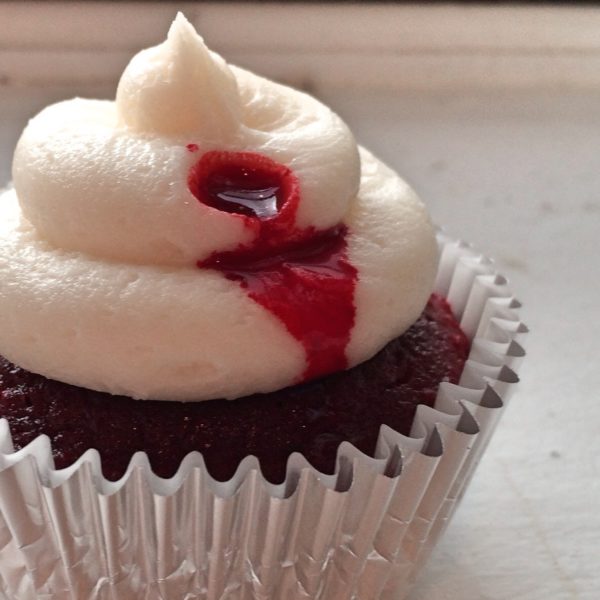 | | |
| --- | --- |
| | |
Fit a pastry bag (or ziplock) with a large round tip and fill with cream cheese frosting. Pipe frosting onto cupcakes in a swirl starting at the outside and moving inward.

Dip a cleaned Sharpie, or other round bottomed marker, into the vegetable oil. Make a 1/2 inch-deep hole in the side of the frosting on each cupcake. Drip red food dye into the hole until it runs out onto the cupcake. Refrigerate until ready to serve.
This is your go-to recipe for crusting cream cheese frosting. Of course it's delicious with carrot cake and red velvet anything. But it's best feature is how suitable it is for piping and decorating special occasion cakes. Use this for the cake that you want to make ahead of time, for the cake that needs to withstand sitting out for the entire party and for the cake that needs to really show off your decorating efforts.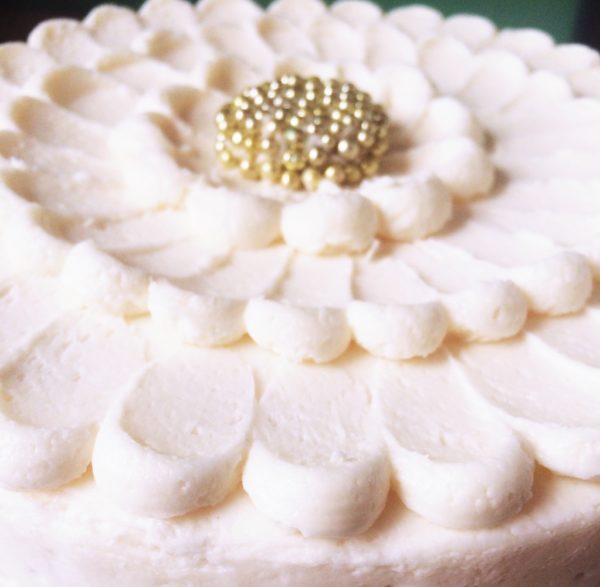 | | |
| --- | --- |
| | |
Cream the butter, cream cheese and shortening on medium speed until it's creamy, about a minute.

Add the the rest of the ingredients beat slowly until combined and then beat the heck out of it for 4-6 minutes until it's fluffy and smooth. You may want to scrape the bowl down halfway through.

Scoop into a ziplock, either with a tip or with the corner of the bag snipped, and get piping.

This will keep for about a week in the fridge and for about three months in the freezer. Just let it come to room temperature and fluff it up again in your mixer before you use it.