I love homemade peanut butter cookies with the little fork marks on top.  And those puffy ones with the hershey kiss plopped in the center.  Those are the best honestly.  But when I bake I'm always looking for ways to make classic flavors and recipes conform to my rather strict visual standards.  I like things to have a consistent, clean shape and tidy edges.  I especially like to make things one level fancier than is necessary.  These yummy peanut butter sandwich cookies do just that.
To get tidy edges I decided to roll out and cut my dough with a square cutter.  I like using square cutters because you can really fit a lot of cookies in without wasted space and a lot of re-rolling, which can make the dough tough and dry.
The crowning touch here was the pumpkin seed pattern embossed on the top with my special rolling pin.  (there are some really cool designs in this Etsy shop, so many designs to choose from!).  I was concerned when the cookies came out looking very puffed and the pattern had disappeared.  But after cooling on the tray for a few minutes it reappeared like magic.  I experimented a bit and found that the colder the cookies are when you put them in the oven, the more distinct the pattern will be.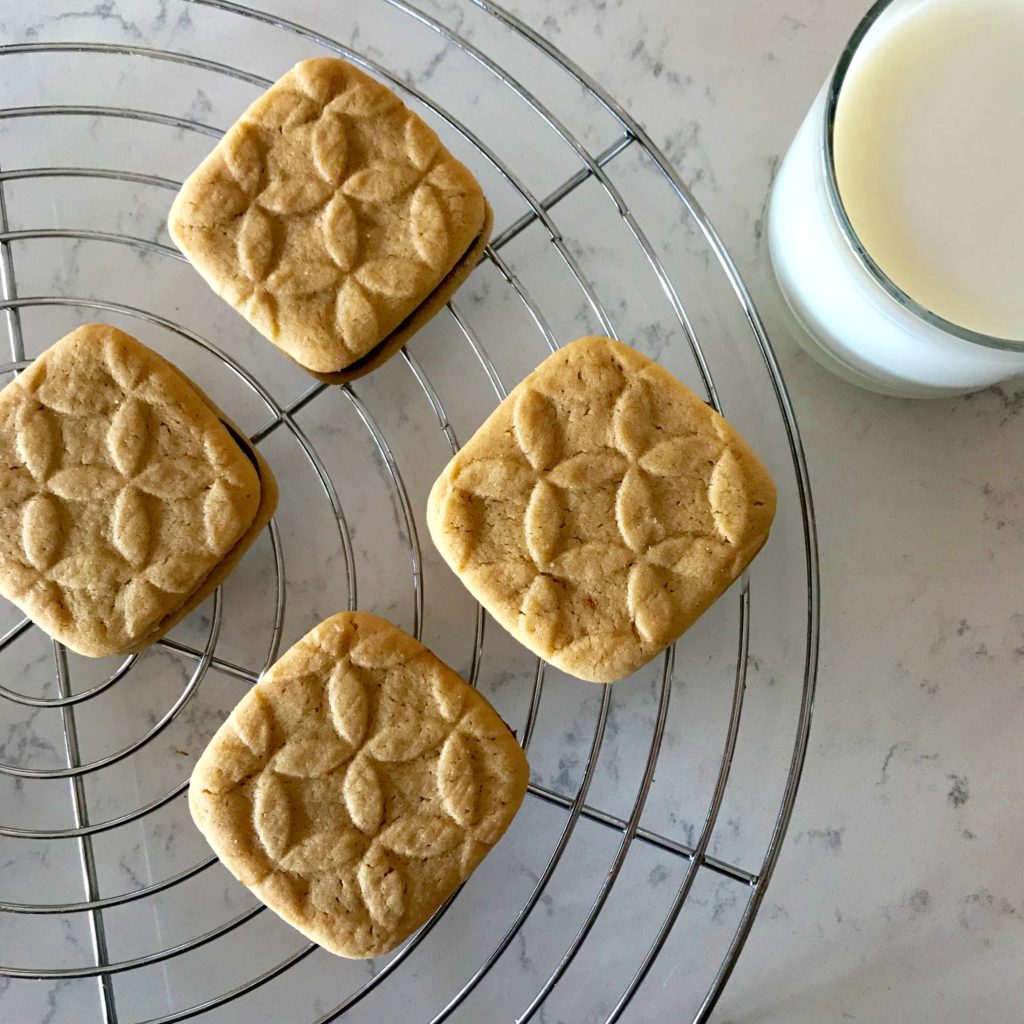 The cookies themselves are soft and a little chewy.  If your cookie is too crunchy, the soft filling gets squished out the sides.  No bueno.  The filling is the same chocolate ganache used in classic french macarons.  I used semisweet chocolate chips (I prefer Nestle for budget and availability), but you could substitute any fancy chocolate you want.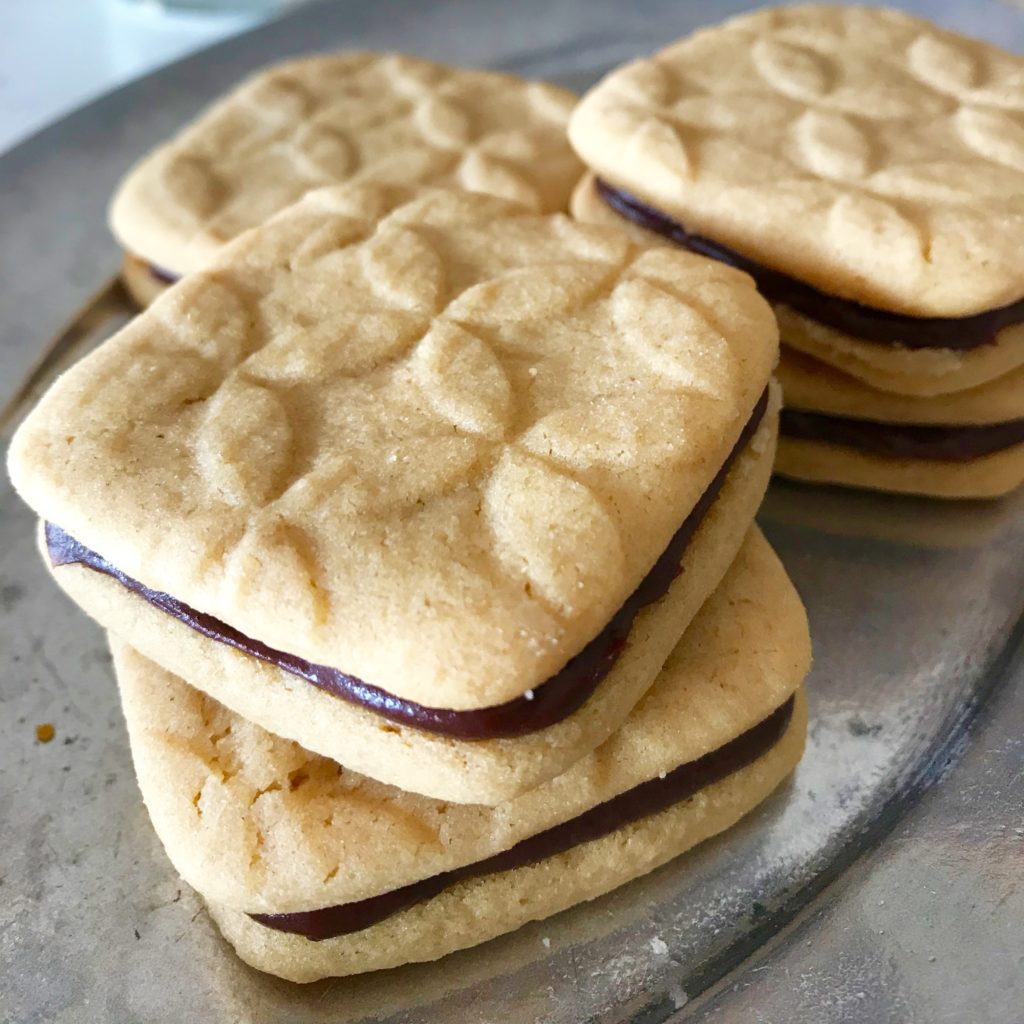 The ganache has to cool for awhile so I usually make the filling the day before I need the cookies.  I like breaking up baking tasks over a few days, it makes it feel less like a chore and more like a little retreat.  But if you're in a hurry you could also pop the filling into the fridge.  Just make sure to check it every 15 minutes because if it gets too hard, it's difficult to go back.  The finished cookies should be refrigerated in an airtight container until ready to serve to keep the filling nice and firm.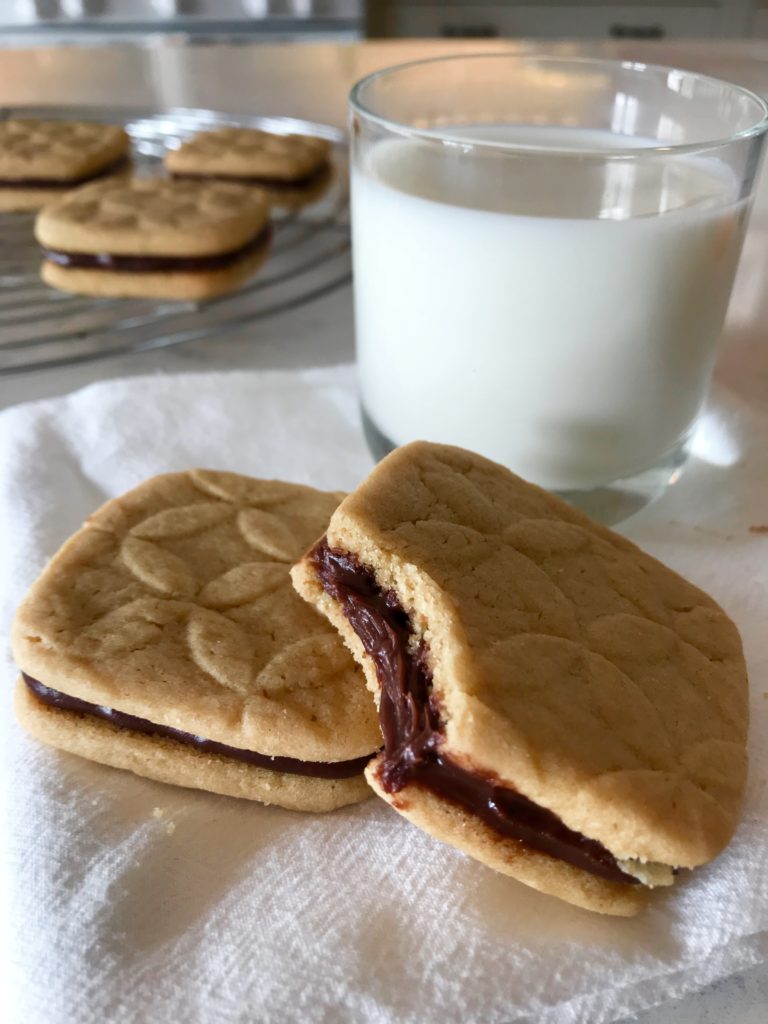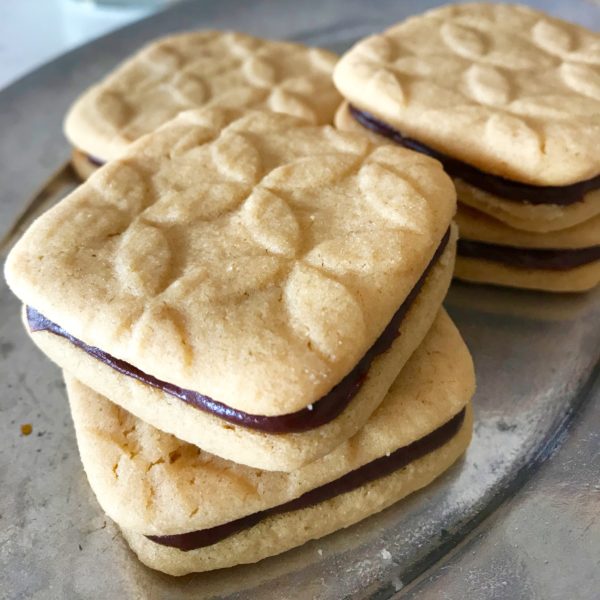 | | |
| --- | --- |
| | |
Heat cream in a small saucepan until the edges are bubbling but it is not boiling. Turn off heat and pour in chocolate chips adjusting to make sure the cream is covering the chips. Put the lid on and wait 5 minutes.

Stir the mixture until smooth and then allow it to cool for approximately 3 hours, or until it is a spreadable consistency.