Sometimes I like to overly complicate things.  For instance, I once based an entire dessert around a Caramelized Spruce Syrup that gets brushed onto the cake layers and is made by collecting spruce tips in the spring and tenderly caramelizing them.  Then I coordinated the rest of the cake around an IPA palate, frosted it twice and covered it in gold leaf, oversized gold-plated sprinkles and chocolate work.  I'm low-key like that.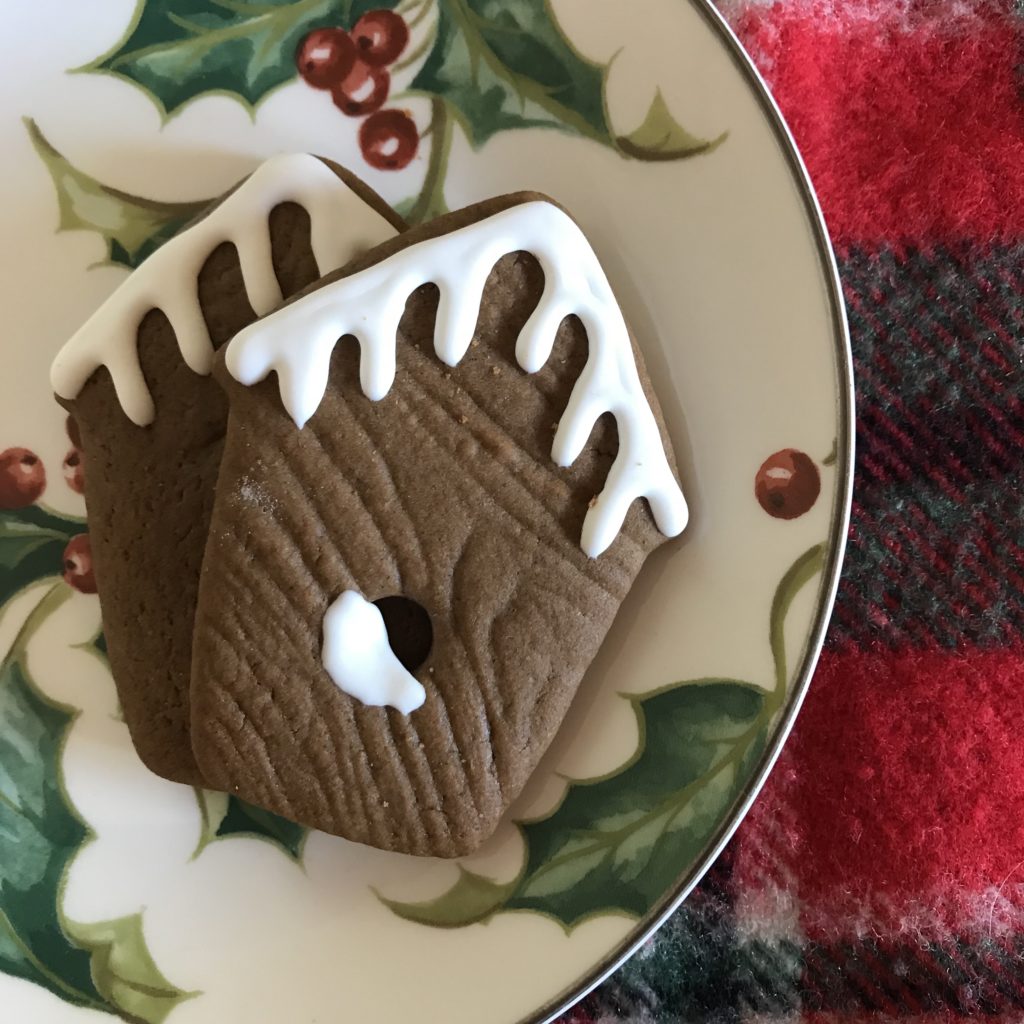 But during the holidays, I like to keep things simpler.  I have so many things I want to do with the family and non-baking projects I want to try.  So as Christmas approaches, I tend to return to my trusted favorite recipes and use techniques that are tried and true.  These Gingerbread Birdhouse Cookies look charming and the woodgrain effect looks impressive but they really are quite simple to make.  You make a batch of gingerbread, roll out the dough using a mat with a woodgrain pattern on it, then cut out your birdhouses.  Icing them is easy because the snowy effect you're going for doesn't require precision or artistry, or even patience.  I frosted 6 dozen of these babies in about 30 minutes.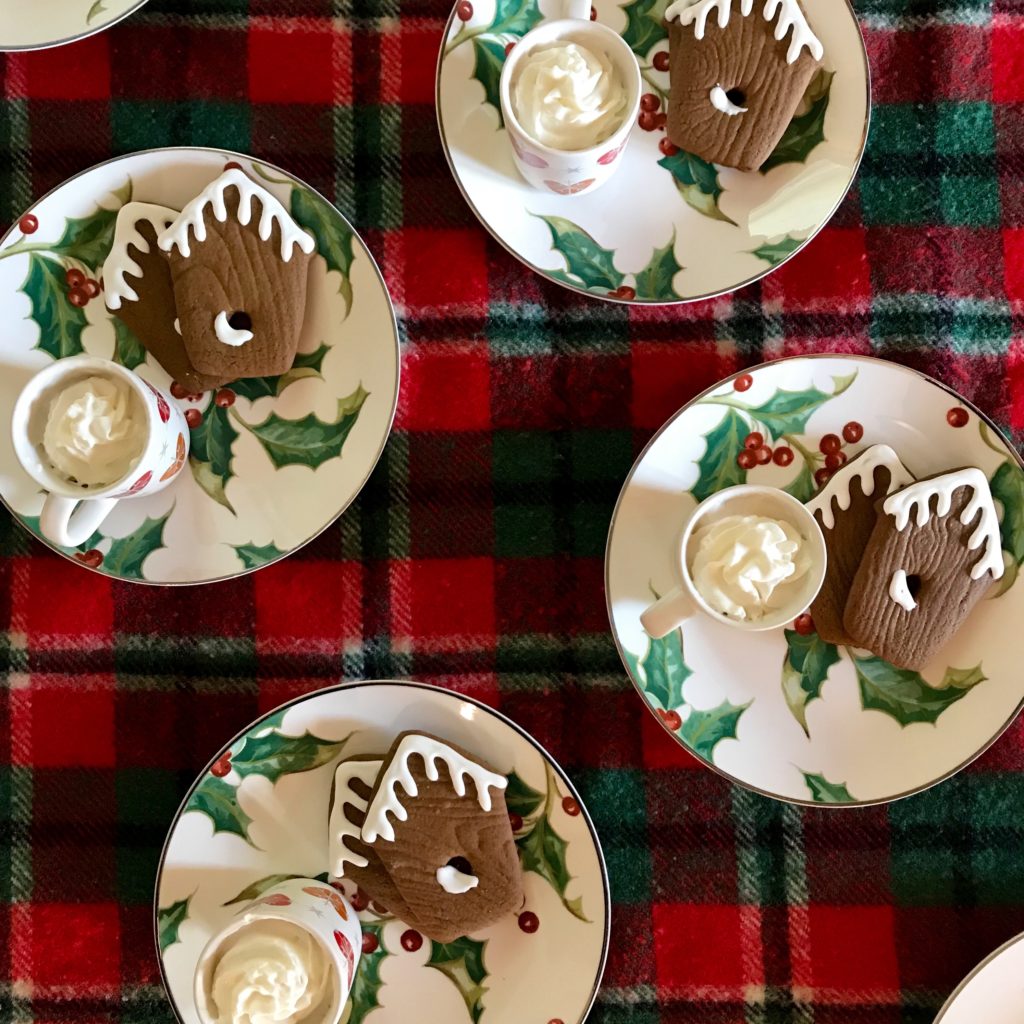 Here are some tips for success:
Use fresh spices if you can.  These make your whole house smell like Christmas died and went to heaven then came back to life as a cookie.  The more potent the spices, the better your Christmas afterlife of a cookie will be.
Let the dough chill overnight.  Cold dough is essential to getting these rolled out easily and having the woodgrain mat release cleanly.  You can buy a mat here.  
After rolling out the dough, cut out your birdhouses.  You can buy a cutter like the one I use here.  I used a small fondant cutter to cut out the hole but you could use a drinking straw or a round piping tip to cut your hole.  I like to have the grain run top to bottom but if you run out of space and cut a few at odd angles, they still look cute.
Definitely put these in the freezer for at least 5 minutes in between cutting out and baking.  If the dough is too warm, the woodgrain pattern on the top will disappear.  Boo!  You want a nice crisp pattern on top, it's what makes these cookies special.  Plus, you bought that woodgrain mat and you definitely cannot justify that non-essential baking equipment purchase if you can't even see the pattern.
After these are baked and cooled, the fun part starts.  Icing these should be quick and easy.  Don't fuss too much, they don't all need to be the same.  Once you see them all lined up, they will be so adorable you'll forget about criticizing your work.
Let these dry for four hours before stacking or storing.  They should last for a few months in the freezer in an airtight container.  Just be sure to let the container come to room temperature before opening it up so that condensation doesn't ruin the shiny finish of the icing or make your cookies soggy

Happy Baking!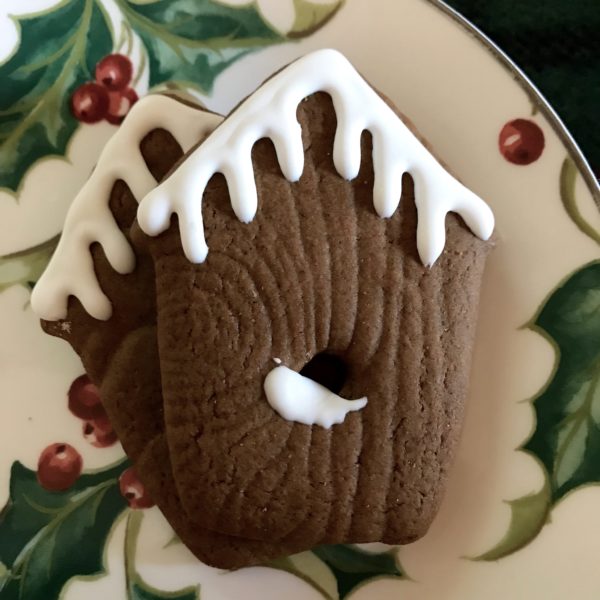 | | |
| --- | --- |
| | |
In the bowl of your electric mixer (or with a hand mixer), beat the butter and sugar until light and fluffy (about 3 minutes). Add the eggs, molasses, vanilla extract, and orange extract and beat until combined. In a large bowl combine flour, baking soda, salt and spices. Add the flour mixture to the wet ingredients and beat until you have a smooth dough. Divide the dough into thirds and wrap each third in plastic wrap. Refrigerate overnight.

Preheat oven to 375 degrees.

Remove one third of the chilled dough from the refrigerator and, on a lightly floured surface, roll out the dough to a thickness of 1/4 inch (1 cm). (Keep turning the dough as you roll, making sure the dough does not stick to the counter.) Lay your woodgrain mat over your dough and then roll your rolling pin over the mat. Use enough pressure to leave a pattern but not enough to significantly thin the dough. Remove the mat. Cut out your birdhouses and transfer cookies to baking sheet. Place the baking sheets with the unbaked cookies in the freezer for about 5 minutes to chill the dough which prevents the cookies from spreading and losing their shape while baking.

Bake cookies for about 9-10 minutes or until the edges are just starting to brown. Remove from oven and let cookies cool on baking sheet for a few minutes before transferring to a wire rack to finish cooling. Decorate the birdhouses with the white icing as shown above. Be sure to let the icing dry at least 4 hours before storing.