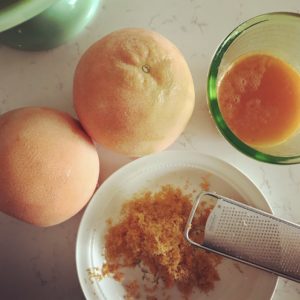 I've been on a quest for the perfect IPA-inspired dessert.  Spoiler alert:  this post is not about that dessert because I'm still mulling it over and tinkering and drinking beer for research.  But I know a few things about this mythical sweet.  It must have hops.  It must have conifers.  And it must have grapefruit.  My love for lemon curd borderlines on fetish, so I thought grapefruit curd had to be even better.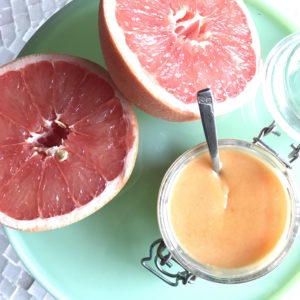 For this recipe you cook down the grapefruit juice by half to concentrate the flavor.  I reduced the sugar a bit to make up for how sweet the grapefruit reduction is.  I added a bit of pink food dye to make it look the color of grapefruit juice but you can leave it as-is too.  This yummy curd has the bright flavor of grapefruit with just a hint of bitterness.  It's great anywhere you would usually use lemon curd.  This particular grapefruit curd was layered with caramelized spruce syrup and vanilla buttercream between layers of white cake for a decadent cake. Since it was the cutting cake for one of my favorite friend's wedding, I topped it off with some white chocolate "sails" brushed with edible gold and her lovely vintage toppers.  So fancy!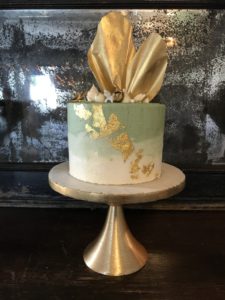 I spent a lot of time driving myself crazy over the perfect cake but in the end I just went with a version of this cake and I think it was just right.  The gold stand, gold leaf, gold sails, gold sprinkles, #goldeverything really glam-ed up the simple green ombre frosting that hinted at the spruce flavor inside.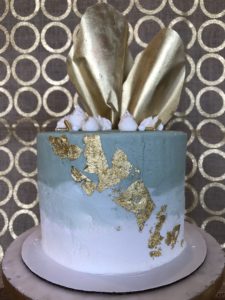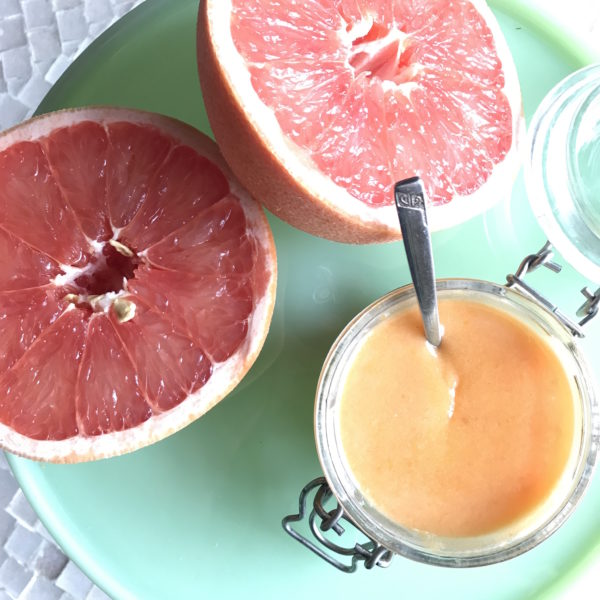 | | |
| --- | --- |
| | |
In a medium saucepan, reduce the grapefruit juice by half to 1/2 c over medium-high heat. Allow to cool slightly.

Add eggs, egg yolks and sugar and cook over low heat until mixture begins to thicken and coats the back of a spoon, 10-12 minutes. Remove from heat and stir in butter one tablespoon at a time until smooth. Stir in grapefruit zest.

Pour in bowl or jar and cover top with plastic wrap to prevent a skin from forming. Keeps in the fridge for a week, in the freezer for a month.