I am always looking for new ways to use lemon curd.  If it were socially acceptable, I would put it on my breakfast cereal.  These Lemon-Rosemary Linzer Cookies were a bit of late night inspiration but will now be a standard in my rotation.  The rosemary is a just-barely-there flavor note that compliments the lemon and brings out the hint of salt.  They're addictive.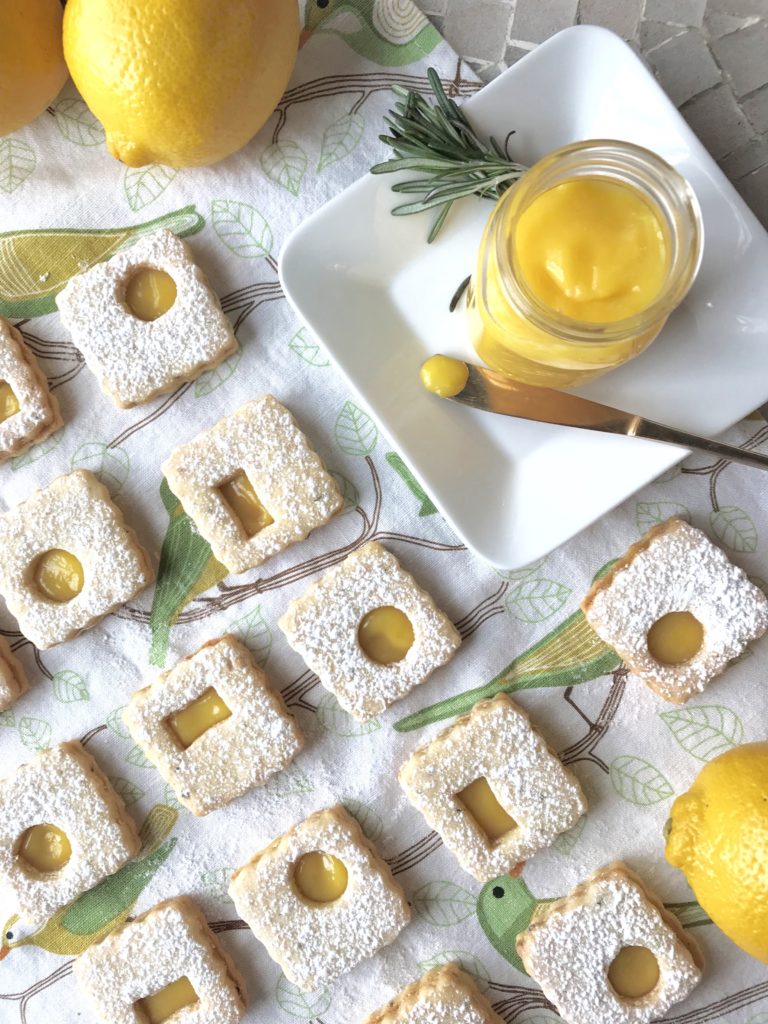 But I admit that this is not the one-bowl wonder that many of my cookie recipes are.  You don't just need a bowl and a fork.  You need a bowl and a fork and a food processor and a stand mixer.  There is rolling and cutting.  Then more cutting.  Then baking.  Then you make some lemon curd on the stove top.  After writing that all out it seems a little crazy.  But it is a labor of love.  I swear if you take the time you will love these and it will be worth it.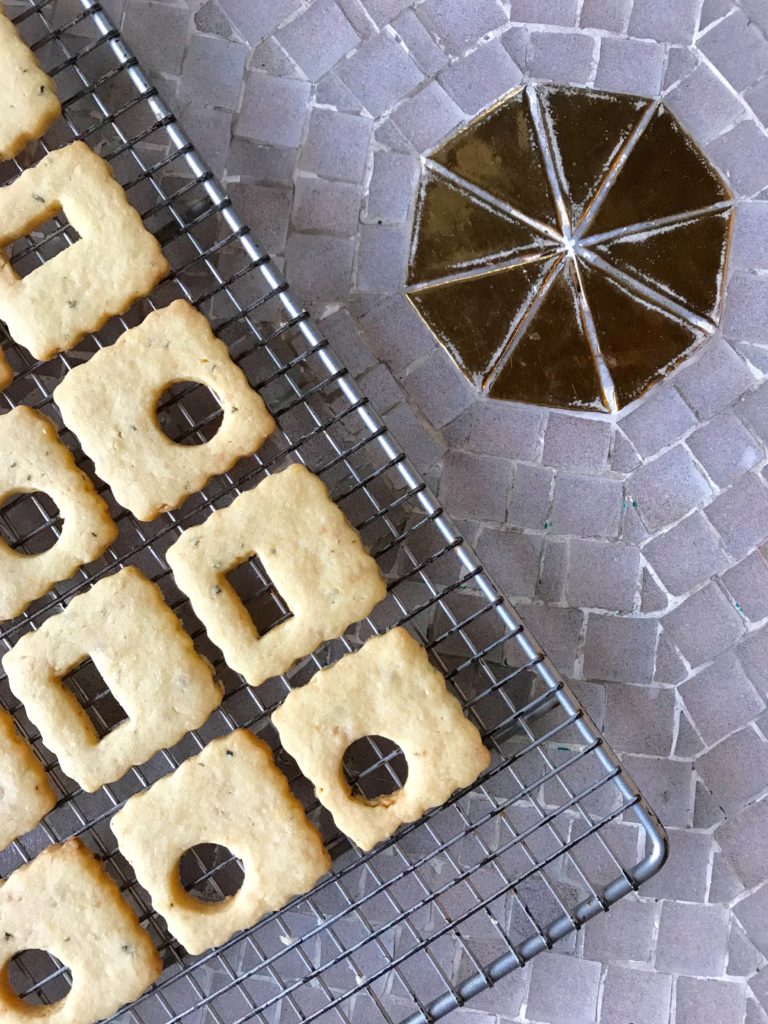 You can do these in stages.  Both the dough and the lemon curd can be made ahead.  You can also bake the cookies ahead of time and just assemble them the day you want to eat them.  I made mine with lemon curd I had frozen from a  previous project.  I suppose you could also use prepared lemon curd if you're not planning to brag later about making the lemon curd from scratch.  Bragging is a big part of my baking process.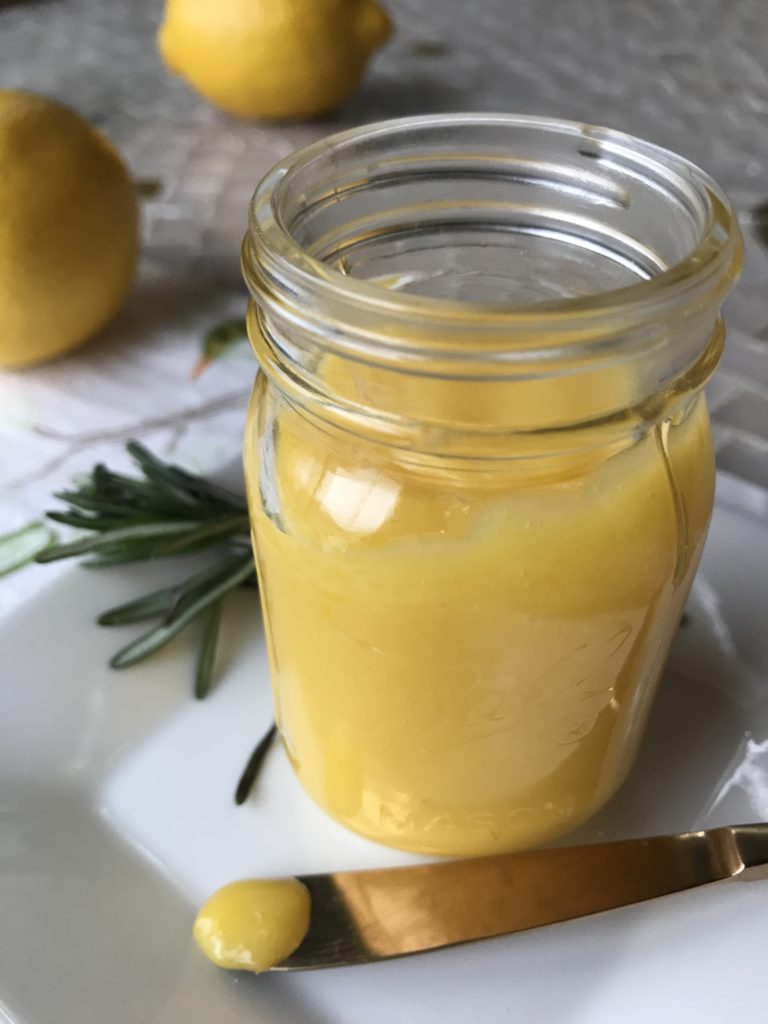 A few tips for these:
Keep your dough cold.  Warm dough will lose its shape and make your cookies lose their shape which makes these a lot less tidy looking and hard to match up in sandwiches.
Make sure the cookies are starting to brown at the edges.  I usually err on the side of underdone so I don't end up with rock hard cookies.  But there will be a lot of moisture migrating from the lemon curd into your cookies once you assemble them and you really don't want them to get mushy so you've got to start with nice crisp cookies.
Fill these as close to serving as is practical.  I've had some success putting them together a few days before and storing them at room temperature.  But you may have to re-dust them with powdered sugar.
Traditionally you would fill the little window with a bit more filling after putting the sandwiches together but I found that the lemon curd started to drown out the rosemary if I added that last little bit.  And the extra filling means more of that unwanted moisture too.
If you're ready to put in a little more effort to make something unique and memorable, this is your cookie.  These are an elegant and unexpected ending to a lovely meal with friends who appreciate good food.  My family loved them.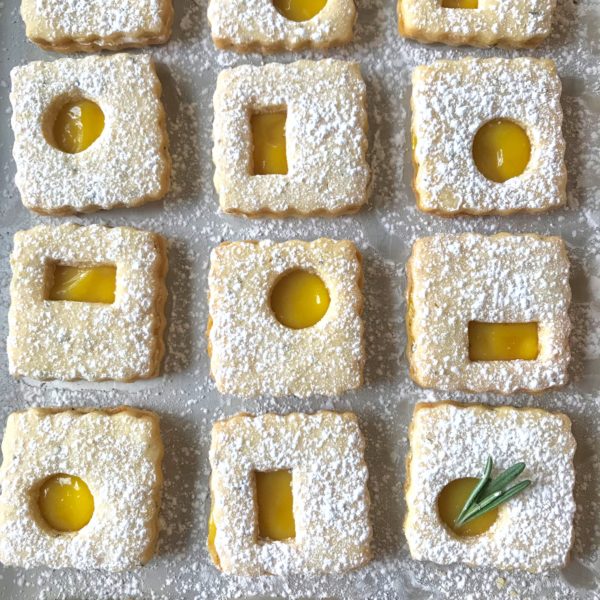 | | |
| --- | --- |
| | |
To Make Lemon Curd Topping and Assemble:
Whisk together eggs and yolks, then combine with sugar and lemon juice in a small heavy-bottomed saucepan. Cook over low heat, stirring constantly, until mixture coats back of a spoon, 12 to 14 minutes. Strain into a small bowl. Add butter a little at a time, stirring until smooth. Stir in lemon zest. Press parchment or plastic wrap directly on surface of curd to prevent skin from forming. Store in refrigerator for up to 2 days, in the freezer for up to 3 months. Allow to come to room temperature before using.

Place the baked cookies on a cookie sheet and dust the tops with powdered sugar. Spread a thin layer of lemon curd on the bottom sides of the full cookies. Place the cut-out cookie on top and lightly press together. If you like, use a small spoon or piping bag to fill the cut-out with a little more lemon curd.

The cookies will get soft if stored so assemble as close to serving as possible, preferably the same day.